With the NHL Entry Draft this weekend in Buffalo, the St. Louis Blues will be holding the 28th overall pick to get their day started.
In past years, St. Louis has stock-piled picks and has been fairly successful. In the last 10 years alone, they've drafted and developed the likes of Jake Allen, Alex Pietrangelo, Colton Parayko, Robbi Fabbri, Jaden Schwartz, Vladimir Tarasenko and Patrik Berglund. All of these talented young players are mainstays in their respective positions. But with some changes incoming for the Blues this summer, lets take a look at five other prospects that could make the jump and take advantage of a new-look roster.
Forward
Ty Rattie may be a name some fans recognize. Rattie spent shorts stints with the big club last season and has been touted as a high-valued prospect by the St. Louis organization since his draft year in 2011. He had an exceptional WHL career, scoring 70-plus points three times and has been a top three scorer with the Blues' AHL affiliate, the Chicago Wolves, since arriving.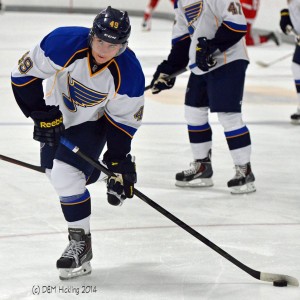 In his limited 28-game NHL career, he's amassed just eight points. It's possible that the 23-year-old forward could find a niche spot alongside other youngsters like Fabbri, adding to the speed general manager Doug Armstrong says he's looking for.
Ivan Barbashev is probably best known for his huge point-scoring season this year. The 20-year-old Russian has increased his junior point totals for three seasons with the Moncton Wildcats, including 95 points in 57 games in 2014-15. Last year, he skated alongside Rattie in Chicago, posting 28 points on the year. While that's a steep decline in points, Barbashev isn't only known for his hands and scoring. Many prospect reports state that the Russian centreman is very well-tuned to the North American game and can use his strength and size to his advantage, much like the (current) Blues captain, David Backes.
Defence
Picked in the first round and the same draft as Colton Parayko, Jordan Schmaltz is looking to crack a tough St. Louis back end. The 22-year-old American-born defenceman could be a young replacement if Kevin Shattenkirk is on the move. While and Alex Pietrangelo may be the leading offensive scorers on the Blues' blue line, it never hurts to have another. Schmaltz had a big offensive year in the AHL this season, leading all Wolves' defencemen with six goals and 30 assists. At 6 feet 2 inches and about 185 pounds, he could be another big body on a d-core that isn't afraid to push their opponents around.
Between the Pipes
Back in 2012, Jordan Binnington (pictured) played an impressive 50 games for the OHL's Owen Sound Attack, winning 32 of those games. Since then, he's grinded through the ECHL and the AHL, splitting some time with fellow prospect Ville Husso.
What Binnington needs to do now is continue his strong play and attempt to squeeze between the talented duo of Brian Elliott and Jake Allen. He's only appeared in one game for the Blues but is still high on the team's radar.
Husso, on the other hand, is a Finnish goaltender with a bit more size and some deep Liiga experience in recent years. Last year, he helped his team make it to the league finals and rocked a solid 25-8-6 record with five shutouts.
Both goaltenders have their work cut out for them, but with so much speculation and rumors surrounding the Blues this offseason, why not make it even tougher for the coaches and front office to decide?