The Boston Bruins have a number of restricted free agents to address to start the 2017 offseason. While many will find themselves as Bruins next season, a handful could be moved in a variety of ways for a variety of reasons.
This article will cover five restricted free agents that Bruins fans should be watching closely as the re-signing phase approaches.
David Pastrnak
David Pastrnak is showing the signs of an elite goal scorer. At the age of 20, Pastrnak netted 34 goals and assisted on 36 in 75 games for Boston last season. At the same age, Patrick Kane of the Chicago Blackhawks scored 25 goals and assisted on 45 in 80 games during the 2008-09 season.
Pastrnak is just one of many Bruins restricted free agents entering the offseason. No. 88 will, no doubt, be general manager Don Sweeney's top priority. With an estimated $10 million worth of cap space at his disposal, Sweeney has the ability to lock up Pastrnak with a long-term deal.
Pastrnak has no reason to leave Boston either. While past players have been discouraged by Boston's unforgiving sports culture (Dougie Hamilton and Nathan Horton are examples that come to mind) Pastrnak is a fan-favorite. The young winger has won not one but two NESN 7th Player Awards for exceeding fans' expectations.
Now 21 years old, Pastrnak finds himself as the youngest of Boston's top six forwards. With Providence whipping up some prime prospects at the forward position, Pastrnak should be encouraged to re-sign. He will undoubtedly become the fulcrum of the Bruins' team at the forward position in a few short years.
Ryan Spooner
Ryan Spooner's days in Boston could be numbered. Both former coach Claude Julien and current coach Bruce Cassidy were not impressed by his performance last season. The 25-year-old is likely the odd man out this offseason. Boston already has a surplus of centers, and a handful of rookies will be fighting for bottom-six minutes in minicamp.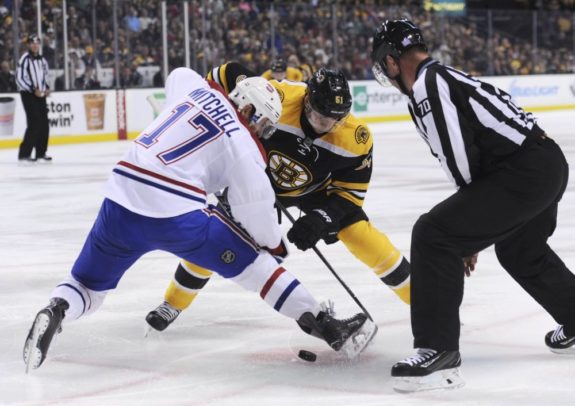 While Spooner's value to the Bruins is dropping, his value to other teams is a factor Sweeney should look to capitalize on. If Boston is to go after a guy like Jonas Brodin, Spooner could very well be a part of that deal. The Bruins also lack a third and fifth-round pick, so Spooner's RFA status could be flipped during the NHL Entry Draft.
If the Bruins do decide to re-sign Spooner, he will have to fight for playing time. Jake DeBrusk, Jakob Forsbacka-Karlsson, Austin Czarnik, Sean Kuraly, and Danton Heinen will all be looking to break into Boston's lineup.
Joe Morrow
Like Spooner, Joe Morrow's future with the team is in question. Morrow will either be re-signed to be the Bruins' seventh defenseman or he will be shipped off in exchange for a draft pick or as a part of a bigger deal.
With Adam McQuaid and either Colin or Kevan Miller likely being exposed to the upcoming expansion draft, Morrow will most likely not be on the Golden Knights' radar. With that said, McQuaid or one of the Millers will likely find themselves in Las Vegas next season, with the remaining two making up Boston's bottom defensive pairing.
Morrow has not been impressive enough to be a day-to-day starter in Boston but seemed solid enough in the postseason to stick around. Whether or not Morrow is a Bruin next year will likely depend on what he is looking for in terms of salary. If he is looking for something too expensive or long-term, he will likely get booted for a pick. If not, Morrow would make a good seventh defenseman next season.
Zane McIntyre
With just two years of professional experience, Zane McIntyre will not be exposed to the NHL's expansion draft. This should be celebrated by fans in Boston as McIntyre is currently the Bruins' most promising goaltending prospect.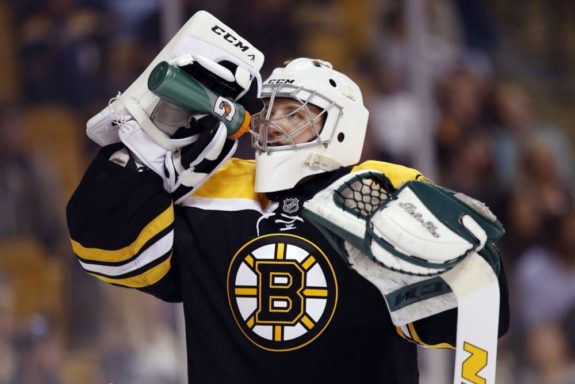 The 24-year old netminder appeared in eight NHL contests last season while only starting in three. His performance to this point has yielded zero wins and four losses in Boston, but his numbers in Providence are more impressive.
In 31 games in Rhode Island last season, McIntyre finished with a record of 21-6-1. His goals-against average of 2.03 and his save percentage of .930 make him a candidate for a backup role next season if he continues to improve.
The Bruins will definitely re-sign McIntyre this offseason, especially with Malcolm Subban being a big question mark.
Malcolm Subban
Subban could find himself elsewhere next season. McIntyre has bettered his performances at the AHL level, while his appearances at the NHL level have resulted in scoffs, to put it lightly.
Subban has appeared in two NHL contests, resulting in a 5.81 goals-against average and a save percentage of .727.
The 23-year-old will most likely remain exposed to the NHL expansion draft, though it is unlikely he will be a Vegas Golden Knight next season. What is more likely is for the Bruins to trade the rights to the former first round pick.
While the goaltender has yet to reach his ceiling, that ceiling seems to be falling rather than rising. The Toronto-native finished the 2016-17 AHL season with a record of 11-14-1. Bruins fans and management alike are unimpressed with Subban's performances to date.