Christopher Ralph is a hockey writer with a focus on prospects and the entry draft, as well as the Leafs' correspondent here at THW.
"Full Potential" Prospect Profile: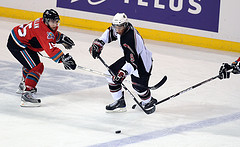 Please "Click Here" for "Notes Up Front" and the "Legend" for various topics covered below, as well as a running live updated NHL 2009 Draft rankings.
5. Evander Kane – Vancouver, BC – 6'1″ – 181 lbs – WHL – Vancouver – C

One-Timer: Kane is a physical forward with sniper-like instincts. He is ultra-competitive, consistent and has an innate ability of knowing where to be on the ice at all times. Put that with his great hands and goal-scorer's touch and you have yourself an elite forward in the making. He notched 15 points in 17 WHL playoff games, after a great regular season where he had 48 goals and 48 assists in 61 games. His performance at the WJC-U20s on Team Canada's gold medal winning team may be enough to catapult him ahead of Brayden Schenn on more than one NHL scout's rankings. Kane is actually named after Evander Holyfield – a favourite of father and grandfather.
NHL Player(s) Comparison: Iginla-lite
Bio/Interview Links:
https://thehockeywriters.com/evander-kane-goes-hollywood/
Scouting Combine Performance:
Eug Sorokin gave this account: "Great all around showing from him, and was very open to interviews and what not. Constantly smiling, he looks like he wants to be a star at the next level. My understanding is that his game doesn't translate well to the next level because though he's ripped, he's not overly big. He is 17 after all, and I recall in 1995 when the skinny on Iggy was that he's going to be a player, but never a star. Evander "don't call me Holyfield" Kane might just pull off the same kind of surprise."
Gare Joyce noted Kane received an "A" (average) rating for both upper and lower body development.
International Tournaments: After initially getting cut, Kane got his chance as an injury placement and made his mark on Team Canada's WJC gold medal winning squad. He posted 6 points in 6 games in a very impressive performance, with the coaching staff giving him increasing responsibilities as the tournament moved forward.
ETA = 2 years
Risk-Reward Analysis: Risk = 2/5   Reward = 5/5
NHL Potential: 1st line power forward
Fantasy Hockey Potential: Offensive = 8.5/10   Defensive = 7.5/10
Other Rankings:
ISS: 4
CSB: 3-NA
TSN: 4
THN: 5
This document is the intellectual property of Christopher Ralph and cannot be used or duplicated in anyway without expressed written consent. Any use of this document without the expressed written consent of Christopher Ralph will result in public exposure and legal prosecution.