It was baseball legend Reggie Jackson who once famously said, "fans don't boo nobodies." If you are being booed on a regular basis by opposing fans that must mean you are pretty good. Growing up a Sharks fan, the booing was reserved for Ed Belfour, a good goaltender who deserted San Jose for Dallas and future hall of fame defenseman Chris Pronger. That got me thinking, league wide, which current star players are the most hated? While the most severe hate is reserved for role players like Raffi Torres and Max Lapierre, due to their antics, a number of star players are very much disliked by fans around the league. For various past indiscretions or primarily jealousy in the case of the most hated star, the following five high-caliber players are the most disliked in the league.
5. Corey Perry
Ducks star Corey Perry is annually amongst the top goal scorers in the NHL but he often crosses the line with cheap shots. Now I'm never one to deny a bias being a Sharks fan but Perry viciously slashed Marc-Edouard Vlasic in the side of the face when the defenseman had fallen in the corner. Furthermore there was the cross-check to the hamstring area of goaltender Evgeni Nabokov. These are the two incidents that come to my mind but fans of other teams are well aware of Perry's antics. He speared Stars forward Jamie Benn in the playoffs after taking a hard hit. Nobody in the league seems to get more upset about receiving a good hard clean hit than Perry. The video below ends with a montage of Perry nastiness that makes him universally hated in Sharks territory.
https://www.youtube.com/watch?v=ott1msRHaOM
4. Ryan Kesler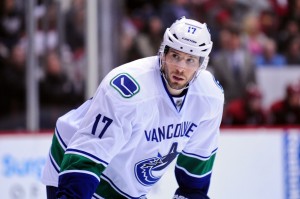 When Ryan Kesler was traded to the Anaheim Ducks, it was very fitting move. While his former team the Vancouver Canucks are known for being one of the most guilty teams when it comes to diving, Kesler was the poster boy. Therefore, going from one of the most hated teams in the league to another hated team was just too perfect. Kesler has been a solid two-way center over his career and currently gives the Ducks a second scoring threat behind Perry and Ryan Getzlaf. However, outside Ducks and Canucks fans, you would be hard pressed to find any hockey fan who says they are a big fan of Kesler.
3. Milan Lucic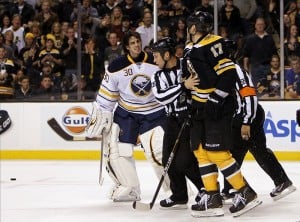 Speaking of poster boys, Milan Lucic is the epitome of the "Big Bad Bruins." One of the few remaining power forwards left in the NHL today, Lucic is a terrific player when he has his head on straight. He is pretty much money in the bank for 20 goals and 60 points but for some reason he got spear happy in recent years. Not to mention Lucic broke hockey etiquette rule no. 1 and that is you don't touch goaltenders. Anyone who has played hockey knows that playing without goalies is no fun at all. Nobody wants to play "posts" with empty nets. Goalies get special treatment because there are far fewer of them available. Lucic however ran over Sabres goaltender Ryan Miller after losing the puck. Not cool bro, not cool.
2. Brad Marchand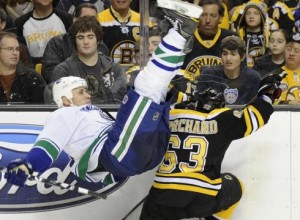 Lucic's teammate Brad Marchand is likewise a terrific player when he isn't crossing the line. Marchand is a consistent 20 plus goal scorer every year and can play a gritty clean style but chooses to cross over the line into dirty territory. Not only did he recently get suspended for slew-footing Derick Brassard but he has also been suspended for other cheap plays. The video below is a cheap low hit on the knees of Sami Salo, aka clipping, which is illegal and extremely dangerous.
1. Sidney Crosby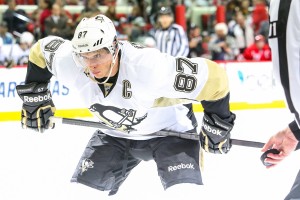 Let me be clear that yours truly is not amongst those who hate the best player in the game. However, like LeBron James in the NBA, there is simply a lot of animosity towards the NHL's best player. The majority of the Crosby hate comes from pure jealousy. It's not as if Crosby aired "The Decision" of where he was going to sign like LeBron did, but regardless, fans don't like Crosby because of how good he is at torching their favorite teams. There is something to be said for Crosby having embellished calls in the past, but league wide, that reputation isn't nearly as prevalent for Sid the way it was for Kesler and the Canucks.
.