Although the season is still young, we have already seen a lot of NHL debuts and first career goals. There is a strong rookie group out there that goes beyond Connor McDavid and Jack Eichel. However, there are some prospects which are still waiting for a call-up to play in their very first NHL game. Here's a list of some of those prospects which truly deserve a call up soon:
Esa Lindell (D, Dallas Stars)
The Dallas Stars signed their third round pick from 2013 last year. He didn't make the opening night roster and was sent to the Texas Stars in September. Esa Lindell, who spent last season with the Finnish team Assat, was the most productive defenceman on that team and was invited to join Finland for the World Championship where he had a very good tournament.
He played five games for the Texas Stars last season and adjusted his game quickly to North America. He currently has nine points in 14 AHL games, which means he is the most productive defenceman on the team. Lindell is a towering defenceman listed at 6'3 and 198 lbs. He uses his big body perfectly to neutralize attackers along the boards and is effective in corner battles. Lindell is ready for a call up.
But with Jason Demers and John Klingberg playing extremely well this season, the question remains where he would fit. He could take over fellow Finnish Jyrki Jokipakka's place for a couple of games.
By the way, D Esa Lindell is very quietly 1-5=6 with a plus-7 rating through 4 games. #txstars

— 100 Degree Hockey (@100degreehockey) October 19, 2015
However, I would be surprised if Lindell doesn't make his NHL debut this season. He should be the first defender called up in case of an injury on the Stars' blue line.
William Nylander (C, Toronto Maple Leafs)
The time is now for William Nylander. As my THW colleague James Tanner describes, it's time for the Leafs to call up Nylander, who leads the AHL in scoring with 20 points in 15 games. And he is right – Nylander deserves a call up to debut in the NHL. He proved that he is ready for the next step in his strong last season in Sweden and the AHL as well as a fast start to this season.
Prospect William Nylander has 34 points in his last 25 AHL games dating back to last season. 22 goals, 51 points in 51 career games now

— Kyle Cicerella (@KyleCicerella) November 15, 2015
In a Leafs organization that is currently rebuilding, there must be a spot for such a gifted offensive player like Nylander. There is no reason to delay his NHL debut any further. However, sooner or later the son of former NHLer Michael Nylander will get called up by the Leafs, likely when injuries or trades occur. "I think the best course of action, if realistically assessing this team, is to get rid of Bozak and Phaneuf, bring up Nylander and continue on as they've been doing," Tanner said.
Michael McCarron (C/RW, Montreal Canadiens)
The Montreal Canadiens are off to a great start, and if you are on a winning streak you try to make as few changes as possible to your line combos. However, their first round pick from 2013, Michael McCarron, is making a strong case for being called up sooner rather than later. He is leading the St. John's IceCaps in goals scored and is second in points. With the Habs signing Tomas Fleischmann and claiming Paul Byron off waivers, two spots were taken away from their own prospects. Personally, I would have liked the team to give one of their prospects a chance to fill those positions.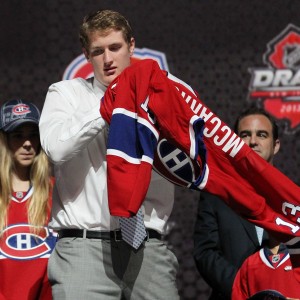 Big winger McCarron can also play at the center position. In his first season with the OHL's London Knights, coach Dale Hunter tried McCarron at center: "There was not that much room on the right side in my first year in the OHL and he put me at center," McCarron recalled. "I think the first game I went 10-0 on faceoffs and he goes, 'You're not going back to wing, Big Mac.'"
McCarron has the size Montreal is desperately looking for and could be an intriguing player for the Habs in the near future. With Semin being a healthy scratch for most of the last games, McCarron could soon get his first shot in the big league.
Dominik Simon (LW/C, Pittsburgh Penguins)
There were question marks on how 21-year-old Czech forward Dominik Simon would adjust to the North American game. With 13 points in as many games its safe to say that he is doing just fine. It is the first time Simon has been outside his home country after he was picked this year by the Penguins in the fifth round. He had decent Worlds and earned himself a spot with the Wilkes-Barre Scranton Penguins.
Simon might need some more games in the AHL but definitely should be on the radar of Penguins fans. The only problem is that Pittsburgh has great depth on their forward line combos and there might not be a spot free for him until injuries occur, especially with the Penguins' decision to keep Daniel Sprong on the team and not send him back to juniors.
Scouting Report: Dominik Simon
Conor Sheary (LW/RW, Pittsburgh Penguins)
Conor Sheary was an undrafted kid out of UMass (Amherst) when the WBS Penguins signed him to an Amateur Tryout Agreement. One of the probable reasons why he remained undrafted is his lack of size. He is only listed at 5'8 and reminds THW Penguins contributor Michael Pityk of undersized Lightning center Tyler Johnson: "Sheary is a tireless worker who continually wants to get better and has dedicated himself to being the best player he can. Before you think that Sheary is too small to make it into the NHL, look at Tyler Johnson, look at Martin St. Louis."
WB/Scranton's Conor Sheary Named AHL Player of the Week https://t.co/g55yOJdHS2

— hockeyfights (@hockeyfights) November 16, 2015
Sheary sounds like a player who would be a good fit on the Penguins' third or fourth line. As mentioned earlier in this article, it will be very hard to find a spot for Sheary if players stay healthy. However, Sheary is a work horse and plays a reliable two-way game. He will bring the best he has every single night, and that is something Pittsburgh desperately needs this season.
Some other honorable mentions are:
Jakub Nakladal (D, Calgary Flames)
Dean Kukan (D, Columbus Blue Jackets)
Tom Kuhnhackl (RW/LW, Pittsburgh Penguins)
Joseph Blandisi (C/RW, New Jersey Devils)
Jakub Vrana (LW/RW, Washington Capitals)
Can you think of any other players that deserve to be mentioned here? Please let us know and discuss with us by leaving a comment.
Independent Scout covering European Hockey and Prospects for TheHockeyWriters. Located in Switzerland and blogging on www.scouting-factory.blogspot.com. Opinions on blog are my own