LEAFS DAILY:
It's funny, just a couple of weeks ago I wrote how the Leafs were playing well despite not getting any positive results. As is usually the case, they have now balanced that out by winning some games where they haven't been playing as well.
Currently the club is sitting on a three-game winning streak, a five-game points streak, and also have points in six of seven games.  Their November record is an impressive 4-1-2.
Back before I resigned myself to, what I guess is best called a "traditional rebuild," (i.e bottoming out for a few years and collecting draft picks) I suggested (unpopularly) that rebuilds are not as cut-and-dry as people make them out to be, and that with the new rules designed to prevent tanking, the Leafs would be better served to focus on getting their entire team on smart value-laden contracts while continuing to emphasize organizational skill and asset acquisition (which they have been doing) but not resign themselves automatically to the notion that they must completely bottom out to do so.
I argued at the time (around the end of last season) that they should try acquire Jordan Staal and continue with a sort of "hybrid" rebuild. It didn't seem like this was going to happen, as the Leafs traded Kessel for futures and did not acquire any top-of-the-roster talent for this season during the summer. They then sent all their kids back to junior/the AHL and entered the season as a consensus pick for last place in the NHL (though I dissented, saying they might surprise).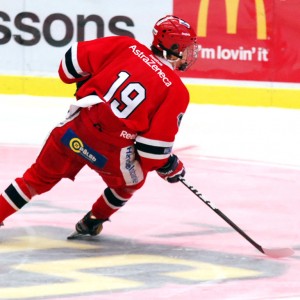 My reasoning for a more nuanced rebuild essentially fell on deaf ears. Essentially, your average Leafs fan is so sick of a team that constantly trades long-term stability for short-term gain that they see any deviation from the Traditional Rebuild (Also known colloquially as the Oilers/Panthers Rebuild) as almost heretic at this point.
You know this is true because despite readily available data that suggest NHL teams should be putting more 18 and 19 year-olds into the NHL in high-profile positions, the Leafs sent down two players who'd likely be two of the best players on team (Mitch Marner and William Nylander) with virtually no push-back from fans or media.
Now, as I have been saying more or less consistently this whole season, the Leafs are way farther along their contending timeline than anyone seems to think they are, and as such they are a team, as currently constructed, that will either just make or just miss the Playoffs. The way the NHL is set up, they would be in the worst possible position – you don't make the Playoffs, but you don't pick high enough to truly get better (barring a lucky pick).  My argument has thus been that they should do everything they can to bottom out, and the sooner the better.  I said trade James Van Riemsdyk, trade essentially everyone who isn't Nazem Kadri, Jake Gardiner, Morgan Rielly or in a league below the NHL.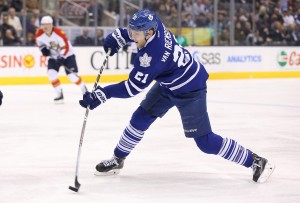 But What If?
But what if I was right the first time? What if the Leafs already have the makings of a good team, and good prospect system to the point where they should be trying to compete this year? Forget bottoming out, what if that already happened? What if, instead of trying to get last, the Leafs tried to compete this year?
What I mean is not "what if they made short-term moves that sacrifice the future in an attempt to just make the Playoffs right now," but rather "what if they made smart moves that would help the team both now and in the future, while still attempting to ice the best team possible?" There is a nuanced difference, so please don't accuse me of reading too much into three straight wins.
Because those wins don't matter. Those wins aren't the three best games the Leafs have played this year; not even close. Why I think the Leafs should maybe be more interested in being a good team this year is  Kadri, Gardiner, Rielly, JVR and Nylander.  (Who by the way leads the AHL in scoring after a four point game yesterday).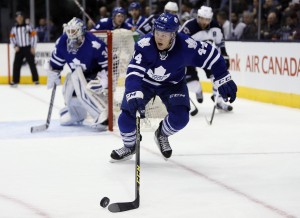 Think about it: Kadri and JVR are just some puck-luck away from being  in the top-ten scoring leaders chart. They are among the leaders in the NHL, for their positions, at scoring chances, Corsi-For and shots.  They are also preventing scoring chances against at an elite level. Rielly is tied for third in 5v5 scoring for defensemen,  and  Gardiner has developed into one of the  most statistically effective defensemen in the NHL.
That is four players who are, if not quite "elite," then knocking on the door. They are all young and either on team-friendly deals or ready to be signed to monster extensions (the Leafs should give the max eight years to both Kadri and Rielly in the hope of negotiating reasonable cap-hits).  Add in two above-average goalies, a collection of players any team would love to have as role players (Komarov, Boyes, Paranteau, Winnik, Matthias, Holland) and a player in the AHL who is probably the best player in the world not currently in the NHL, and the Leafs are looking good.  Really good.
And they have Mike Babock. And this Prospect list.
I think the best course of action, if realistically assessing this team, is to get rid of Bozak and Phaneuf, bring up Nylander and continue on as they've been doing. Maybe look to see if there isn't a way to convert that salary cap space, the Penguins 2016 first-rounder, and some of the second-tier prospects into another early twenties player who could help now.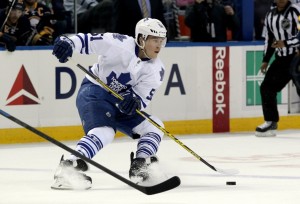 Win Now? It's Not That Crazy:
Rebuilding in the NHL is far more fluid than fans tend to recognize. I think I am just realizing this now. I think the Leafs maybe already do realize it (which explains some of their roster decisions, the coach they hired, the GM they hired, etc.). I think maybe you can improve now without sacrificing the future, and that maybe this current team is a lot better than anyone gave them credit for being.
So I take back saying they should trade Van Riemsdyk, I take back saying they should tank the season. I think what they should do is try to make the Playoffs this year. A win tonight puts them three points back with a game in hand over Tampa. Hell, the two best teams in the east (right now) are nothing more than paper tigers. The Leafs, who've been receiving MVP play from JVR and Kadri are only going to rocket up the standings once those two start scoring like the math says they will. Why waste a year of everyone's lives angling for a top-pick when the math says that you're still more likely to end up with an average player than a super-star picking anywhere third or below?
Finally, forget where the Leafs have been and where we hope they one day will be. Is it fair, or even smart, to waste the prime years of players like Kadri, JVR, Rielly and Gardiner while trying to amass a better collection of players? Is it even likely they'd ever get such a collection of players if they did? Why not supplement a core you know is good instead of playing for a day when you might have have a good core?
How about we get back on that bandwagon? This is a team that is fun to watch and worth cheering for.  And way, way better than anyone seems willing to admit.
Thanks for reading.