The Jets and their fans had many expectations and a lot to look forward to going into the start of development camp last week. Everyone knew guys like Ehlers, Morrisey, and Petan would be standouts. As top round draft picks with a few more years under their belts, these guys are trying to prove they are ready for the big club. However, one of the most interesting aspects of this camp is watching some of the lesser known players, such as the later round picks, the players from a few years ago that have fallen through the cracks, and some new prospects via trades or this season's draft. These are the guys who have the most potential to surprise fans, and there are a few who did. Now that the development camp has ended we can look back at some of the high points of the week. We will going to look at five players that made the most of this opportunity, five players, in no particular order, who were pleasant surprises for the Winnipeg Jets and their fans.
Joel Armia
Armia will be the most familiar name here but he really impressed at development camp, his first as a Jet. Armia was a first-round pick, 16th overall, of the Buffalo Sabres in 2011. He has spent the last couple years in the American Hockey League, with Rochester before the trade and the Ice Caps afterwards. Armia hasn't put up great numbers since the switch to pro but the potential is still there. At 6'3″ and almost 190 lbs, he has a very rare mix of size and skill. The biggest question marks in the game of the Finnish forward are a lack of consistency and effort. We saw no evidence of that at development camp, Armia played hard every day  and showed off his skills. In the week ending scrimmage, though he was held off the score sheet, Armia was a force, especially in the second half he was one of the best forwards on the ice. Armia was so impressive this week that I believe he will play his way into contention for an NHL spot if he can continue this play in training camp. With his size and skill he could fill a bottom-six forward role pretty well.
Tucker Poolman
The defenseman out of the  University of North Dakota, Poolman may turn out to be one of the Jets best draft picks. Taken in the fifth round in 2013, Poolman was definitely a project. However, his play at camp last week has people thinking sooner than later for the 22-year-old. Poolman was the anchor of the defense that took UND to the Frozen Four and he also chipped in offensively. He showed versatility in his first University season, spending a good part of the season moved up to forward, drawing comparisons to current Jets D-man Dustin Byfuglien.  Though he is not that yet, he may one day prove to be a huge asset for Winnipeg. Poolman looked great at camp, he is a smooth skater, and already has developed an NHL body at 6'3″, 210 lbs. His first pass is excellent and he loves to jump into the rush. During the scrimmage he was the best player on his team, and outside of Josh Morrisey, was the best player on the ice, scoring a goal and chipping in with a couple assists. Poolman will not be with the big club for a few years still but this guy showed he may be closer to being ready than most people think.
Ryan Olsen
Olsen is a prototypical power forward, 6'2″ almost 200 lbs, and he plays mean. Olsen was by far the most physical player at camp this week and it makes sense. With a year of pro under his belt, Olsen knows what it is like to play against men, and he has proven that he can. At only 21 years old, there is still a ton of time for the prospect to grow into an NHL player, he reminds me of  Adam Lowry, though he will need another year or two before he is ready to contribute in that way. In this camp however, he was very hard to stop. He muscled his way to wherever he wanted  and owned the physical game all week. Olsen also showed some scoring touch around the net and proved he may one day be an asset who can provide size, strength, and some goals,
Winnipeg Jets prospect Ryan Olsen had a fight in the first period and then took a puck to the face in the second pic.twitter.com/RAqeqFPfNQ

— SportsBlogNewYork (@SportBlogNYC) March 30, 2015
at very least, we know he is tough.
Sami Niku
This is a name even the most hardcore Jets fans probably are not familiar with. Niku was drafted in the seventh round, 198th overall, and for most fans was probably just a throw away pick. Niku was maybe the biggest surprise in camp. Coming in as an 18-year-old is tough, but Niku did the little things right. He worked hard and played his position, listened to his coaches, and didn't try to do too much. He played solid defense and did a good job of it. Niku has played in the WJHC and the Under 18, and is now playing in the Finnish League. He is many years away but showed a lot, especially in the scrimmage when he was one of the better defenseman. He provides a solid break out pass and controls the puck very well. He is not going to be your number one at this point, but he will provide you a steady stick on the blue line.
Kyle Connor
The Jets first pick in this year's draft came exactly as promised. Picked 17th overall, the Jets and scouts all around raved about his speed and offensive upside. Being in the USHL, most Canadian fans never had a chance to see him play, so for most this was a first impression. It was a good one. Connor showed off speed and skill all week, and in the scrimmage in particular, really showed that he is also very reliable defensively , a big plus for a player this young. The Jets will not rush Connor, who led all skaters with 80 points in 56 games this year, his third USHL season. He is committed to the University of Michigan and will continue his development with the Wolverines, but it certainly appears that the NHL will be in his not too distant future.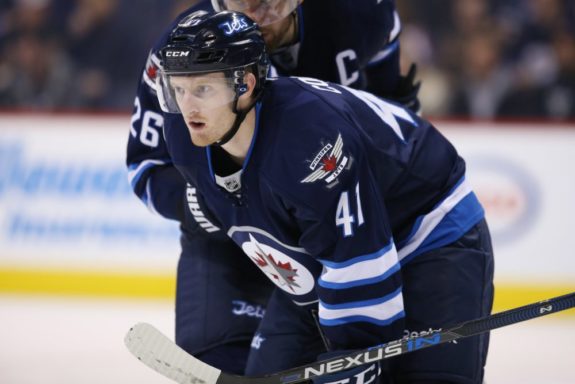 Everyone knows the Jets next few prospects that may make the jump in the next couple years, but these guys may be the next flock of what is an ever improving Jets prospect system. It was rated as the best in the league before this year's draft and just continue to improve.