After looking at several other competing nations, we now focus our attention on the host nation's roster. Given that they are playing on their own ice and are bringing back a number of impact players from their 2013 silver-medal roster, Sweden comes into the tournament as one of the favorites. These are the players that could propel Sverige to gold.
Anton Karlsson
Anton Karlsson is the younger brother of Norris Trophy winning defenseman Erik Karlsson. As a 2014 draft eligible player, Anton will be looking to etch out his own place in the NHL with a strong showing at World Juniors. He captained Sweden to a gold medal at the U-17 World Hockey Championship and will carry that experience into World Juniors.
Anton Karlsson is a strong skater who is difficult to knock off the puck, especially when he reaches full speed. The forward has the hockey intelligence and checking ability to excel in both ends of the ice. His timing and hands make him both a playmaker and a finisher.
Elias Lindholm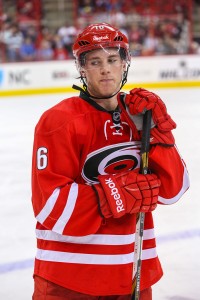 Christmas came early for Team Sweden when they learned the Carolina Hurricanes would loan out Elias Lindholm for World Juniors. Elias Lindholm was selected fifth overall in this summer's draft and played 21 games in the NHL, tallying three goals and four assists. That invaluable experience should prove beneficial and put Lindholm a step ahead of most of his competitors.
Given his development and experience, Lindholm is not only the most complete player on Sweden's roster, but maybe the most complete player in the entire tournament.  It's hard to find holes in his game. The forward is a strong skater and has good stickhandling skills. He's a tough competitor who leads by example.
Sebastian Collberg
Sebastian Collberg returns for his third World Juniors tournament. He's scored four goals in each of his two previous appearances, including leading Sweden in scoring last year in Ufa, Russia. Collberg was drafted at the top of the second round (33rd overall) by the Montréal Canadiens in 2012.
The forward is very skilled and possesses above average speed. Collberg has a nose for the net and isn't afraid to go to the high traffic areas to score goals. Maybe his greatest asset is his shot. He can get his shot off extremely quickly without sacrificing accuracy or velocity.
André Burakovsky
André Burakovsky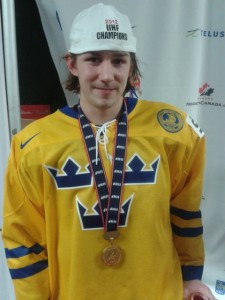 has unique ties to the host city. Not only is his father, former NHLer Robert Burakowsky, a native of Malmö, but he also began his professional career in 2011 with the Malmö Redhawks. Burakovsky was selected 23rd overall by the Washington Capitals in this past summer's draft.
The forward possesses great hands and puckhandling ability. He could be Sweden's flashiest player. He's got all the traits to become a great offensive player, including a good shot and strong skating ability. However, he needs to work on his defensive game to ensure he isn't one dimensional.
Alexander Wennberg
Alexander Wennberg returns for his second World Juniors and will captain the squad in Malmö. He's yet another first-round pick on the roster. This summer he was selected 14th overall by the Columbus Blue Jackets and has been fine tuning his game in the SHL with the Frölunda Indians.
The forward has smooth hands, quick feet and is a good puck handler. Wennberg is a true playmaker as he looks to pass first. His hockey IQ, patience and vision make him the ideal player for the role. His versatility allows him to play either the wing or center position.
Other players to keep an eye on: defenseman Linus Arnesson, defenseman Robert Hägg, forward Jacob de la Rose, forward Nick Sörensen, goaltender Oscar Dansk
As we inch closer towards the World Junior Championships, stayed tuned here and follow me on Twitter to stay up to date. I'll be on the ground in Malmö for the duration of the tournament providing all of the latest news and analysis.