This has been quite an off-season for the Los Angeles Kings.
Jarret Stoll was arrested for suspicion of drug possession, pleaded guilty to reduced charges and ultimately signed with the New York Rangers. Mike Richards was waived as a prelude to being bought out, then saw his contract terminated after being held at the Canadian border — an incident in which he was formally charged for oxycodone possession two months later.
Meanwhile, "Mr. Game 7" Justin Williams signed with the Washington Capitals, Milan Lucic was acquired from the Boston Bruins, and former Norris candidate Christian Ehrhoff signed a one-year contract.
Add the simmering Slava Voynov situation to the mix and it's clear that the Kings have had one of the more eventful summers in franchise history.
The big picture, of course, remains the same: a return trip to the playoffs, where L.A.'s unique blend of physicality, puck possession and veteran leadership serve them well.
However, general manager Dean Lombardi and crew have other big things on their plates they'll need to address. Some have already been started, and others are currently on the back burner. Either way, they are important issues that will need to be resolved sometime soon.
It's virtually impossible to make an all-inclusive list of everything a franchise faces going forward, but the following are five important imminent issues the Kings will soon need to solve.
Jump-start Dustin Brown
Although inconsistency and notorious hits have made him a polarizing figure throughout his career, two consecutive rough seasons have brought Dustin Brown's value into serious question, at least as it pertains to his $5.875 million cap hit.
Granted, Brown brings more to the table than points. He's been L.A.'s captain since 2008, is consistently among the NHL leaders in hits and his 288 iCorsi was one of the better possession numbers in the league last season.
That said, the former five-time 50+ point winger is still young enough to return to that level. With left wing poised to be the Kings' biggest offensive question mark (Brown can play both sides and has had some of his best success there), a return to top-six form would be huge for Los Angeles this season.
Improve defensive depth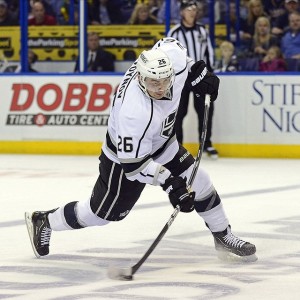 Like Dustin Brown's issues, the question as to whether or not Slava Voynov will return to Los Angeles is a polarizing one for Kings fans.
It's understandable. Still just 25 years old, Voynov could be a #1 defenseman on a number of NHL teams, and his offense and puck-moving skills aren't easy to replace. However, the cap situation L.A. faces is precarious: if Mike Richards wins his grievance against the team and assuming Anze Kopitar receives a contract extension (more on that in a minute), there may not be enough room to keep him around. Add the optics of the serious nature of the charge against him and it's quite possible Voynov has played his last game as a member of Los Angeles.
The signing of Christian Ehrhoff — whether as a potential short-term replacement for Voynov or for general depth — helps. But if Voynov doesn't return, the blue line looks decidedly thin.
Achieve cap flexibility
Ever the loyalist, Dean Lombardi has kept the core together with a number of long-term signings over the past few seasons. It's a common approach general managers of Cup-winning clubs employ to ensure that the team continues to compete over the immediate future.
The downside, of course, is being up against the cap with very little room to maneuver. For the reasons stated above, the Kings are in that position today.
Depending upon the outcome of Richards' and Voynov's cases and the size of Anze Kopitar's new deal, they could be in far worse shape. At least for contingency reasons, figuring out the cap situation has to be high on Dean Lombardi's list of priorities.
Regain the hunger
I know, this one is a bit hackneyed. What team doesn't want to be "hungry" for success?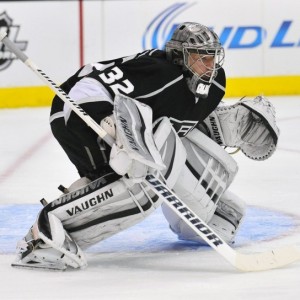 Besides the obvious, there was something special about the Kings between 2011-12 and 2013-14 that just wasn't there last year. It was an intangible element, an ability to rise to the occasion when the chips were truly on the line. The most obvious instance, of course, was L.A.'s epic comeback against the Sharks during the 2013-14 playoffs. There were plenty of other examples as well, including during the regular season.
Not last year. The Kings were absolutely wretched after the first sixty minutes and lost too many big games down the stretch (Calgary being the clincher) to wear the "something special" mantle.
Pucks deflect in all sorts of crazy ways, but Los Angeles needs the bounces to go their way this year.
Re-sign Anze Kopitar
The rest of this list isn't in any particular order, but I saved this one for last because we can all agree it's the most important agenda item. Anze Kopitar must be re-signed.
He's the true face of the Kings, a franchise center that even in a down year (his points total was his lowest since his rookie campaign), was still a finalist for a major NHL award.
Cap issues notwithstanding, Kopitar must remain with Los Angeles for the rest of his career. As long as he signs a new deal and shoots the puck a little more, we'll all be very happy.
Does anyone disagree with these priorities, or believe something else needs to be addressed? Discuss below or message me @McLaughlinWalt.
Walter McLaughlin is a Los Angeles Kings correspondent for The Hockey Writers. He is an avid sports fan, having followed the Kings since living in L.A. in the mid-1970's, as well as suffering through Seattle sports teams' general futility. He has a Bachelor's degree in Finance and has worked in community banking for over 25 years, specializing in SBA loans. He is married and has two daughters.