Maple Leaf Gardens is adding balconies which will eventually increase the building's seating capacity to over 16,000 seats. Immediate plans call for 1,028 seats to be added before next season.
Permits were issued last week to allow construction of hanging galleries at the north and south ends. Work on the north end is expected to begin shortly, and this will add 558 seats this season.
Original capacity of the Gardens was 12,586 seats, plus 2,260 standing room spots. The first seating additions raised capacity to 13,567. Later additions to box seats and the north-end reds upped the limit to 14,605. Next year the number rises above 15,000.
The new seats will be distributed on a priority basis. There is a long waiting list for season's tickets for Maple Leaf games, and those with most seniority on the waiting list will have first opportunity to buy the new seats.
Some seats and standing room spots will be lost due to the construction. About 42 end blues seats will have to be removed to accommodate stairs to the new balconies. The most drastic change will be to standing room, where those spots will shrink to only about 900.
Ellis Discards Helmet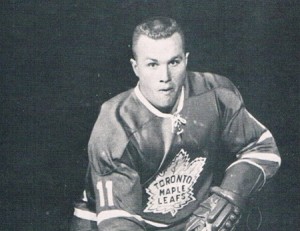 Toronto Maple Leaf forward Ron Ellis, who has worn a helmet since suffering a concussion last season, has discarded the head protection over the past couple of games. Ellis feels that the helmet has been the cause of headaches that have bothered him recently.
"I still like the feeling I get with the helmet. I'd like to wear one and feel the way I have the last two games."
Ellis said that he hadn't had a facial cut or a bruise since donning the helmet last season. He says that because of his lack of height and his skating style his head in usually at the level where the other players carry their sticks.
The helmet bothered me when I wore it tight to my head. The headaches went away when I wore it loose but after every check I had to adjust it. The defensemen got wise and started pushing it down over my eyes.
OHA Flyers End Losing Streak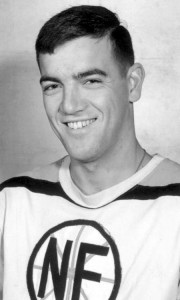 It was a busy night for the OHA Junior A Series with three games on the docket. The most lop-sided contest saw the Niagara Falls Flyers end a four-game losing skein with a 14-2 win over the first-year London Nationals. The other games saw Toronto Marlboros over the Montreal Junior Canadiens 4-2, while Kitchener Rangers downed Hamilton Red Wings by the same 4-2 margin.
At Niagara Falls five players had two-goal games. Jean Pronovost, John Arbour, Ted Snell, Tom Webster and Don Marcotte each netted a pair. Other Niagara goal-getters were Rosaire Paiement, Dave Woodley Karl Haggerty and Rick Ley.
Goal scorers for London were Neil Clark and Walter McKechnie.
Marlies Blow Lead Then Win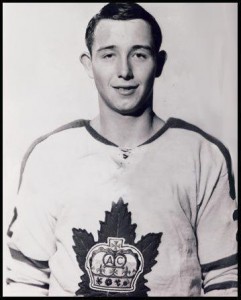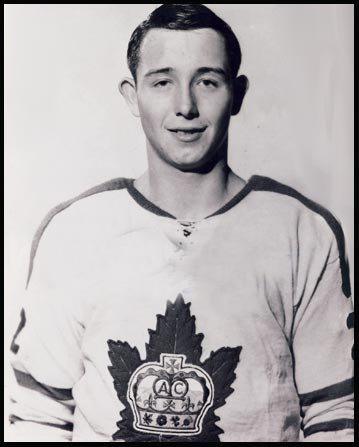 At Toronto, the Marlboros blew a two-goal lead over the Baby Habs, but recovered in time to pop in a pair of third-period markers to salvage the 4-2 win.
Gerry Meehan of the Marlies scored the only goal of the first period. Mike Byers upped the count to 2-0 in the middle frame before Montreal staged a late-period comeback to even things up. Don Liesmer and Christian Bordeleau tallied for the Junior Habs.
Toronto seemed to awaken just after the midway mark of the third, with a pair of goals just over 90 seconds apart. Brent Imlach fired what proved to be the winning goal at 12:32, with Jimmy Keon following up at 14:02.
Toronto defenseman Brad Park was taken to hospital late in the game. He is suspected to have torn a muscle in his left knee. Coach Gus Bodnar isn't sure how long he'll be out of the lineup.
Over 7,000 fans took in the game at Maple Leaf Gardens.
Beechy Scores Winner
The Kitchener-Hamilton match followed the same script as the game in Toronto. The Rangers broke in front by 2-0 on goals by Ken Gratton and Bruce Reier. Danny Lawson and Kevin Petit brought the Red Wings back even , with Petit's goal coming early in the final frame.
The Wings were pressing, exerting great pressure on Kitchener when Rangers John Beechy picked off an errant Hamilton pass and scored the game-winner on a breakaway.
Walter Tkaczuk added an insurance marker with just less than two and a half minutes to play.
Bruins Look to Juniors for Help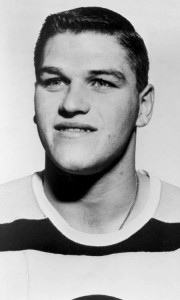 The lowly Boston Bruins, long out of playoff contention in this National Hockey League season, are now in the business of selling hope to the Boston Garden faithful.
It's not that the Bruins don't want to win – coach Milt Schmidt is so desperate for success it's affected his health. And general manager Hap Emms, in his first year with the club, is scouring the rosters of every other NHL team and their farm systems for help. Emms' problem is that none of his NHL counterparts will give him anything useful – it's the old 'battleship for a rowboat' scenario.
Orr, Marotte Could Turn Pro
Emms realizes this and that's why he's patiently awaiting some very talented junior players to mature in to NHL professionals. In fact, there is a good chance that Emms will take a couple of fuzzy-cheeked defensemen and turn them pro right out of the junior ranks this season.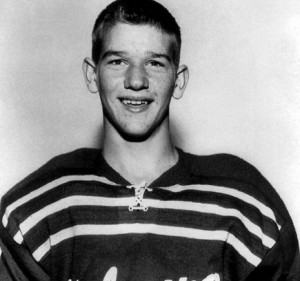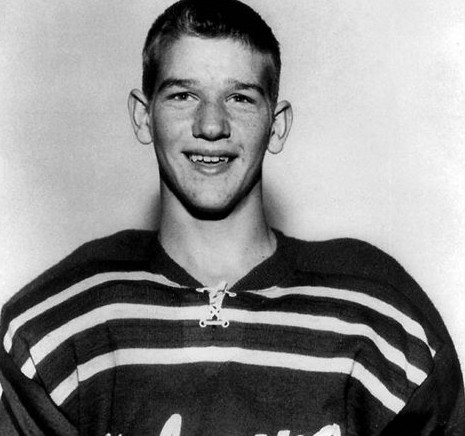 Frank Orr, who follows the OHA Junior A league for the Toronto Star, says that two young defensemen now with the Niagara Falls Flyers could suit up for the Bruins before the end of this season. Gilles Marotte, who is 19 and likely in his final junior A season, could be called up any time. He might already be in Boston if he weren't sidelined with an ankle injury. Seventeen-year-old Bobby Orr, a Parry Sound, Ontario native, is widely considered the best junior player to come along in decades.
Because of the NHL rule that prevents players from playing in the league until they are 18, Orr must stay in Niagara Falls until at least March 22. It's entirely possible that he is, at his present stage of development, already better than most of the Bruins rearguards. It would not be surprising if Emms summoned the youngster to Boston in late March.
At 17, Orr is in his fifth Junior season. He continues to amaze fans in Ontario and dominates the games he plays like no other junior in recent memory. As a defenseman, he is leading the league in scoring, something previously unheard of in junior A hockey.
Emms says that there is a chance Orr could make his NHL debut this season:
If we are in the playoffs, or in contention, we'd have to take him.
Notes: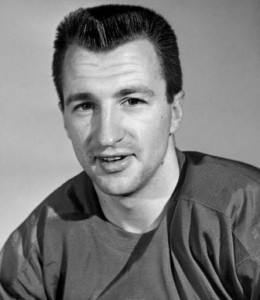 Bill Gadsby, out for a month with an injury, coached the Detroit Red Wings to their 10-2 win over Boston the other night. Sid Abel spent the game high in the stands, getting a different perspective of his club.
Red Kelly returns to the Maple Leafs lineup after missing six games with a groin injury.
Toronto has returned Mike Walton to Rochester of the American Hockey League with Kelly active again.
Leafs are thinking of promoting winger Lowell MacDonald from Tulsa. He has eight goals in his first 10 games with the Oilers.
Young Gary Smith has won the Rochester Americans goaltending job from veteran Bobby Perreault.
Warren Hynes scored the winning goal to give the Los Angeles Blades a 2-1 win over the San Francisco Seals in a Western Hockey League game last night.
Physiotherapist Bill Head has resigned his position with the Montreal Canadiens after 21 years. He will take charge of the health centre for the Montreal Amateur Athletic Association.
Detroit Red Wings are woefully weak on left wing and are actively pursuing a trade to shore up the left side. For now, Sid Abel is using Norm Ullman there, but he much prefers the dependable Ullman at centre.
Bobby Rousseau, who was a doubtful starter for tonight's game against New York, will suit up for the Montreal Canadiens. Dick Duff will not be in the lineup due to a foot injury.
Gordie Howe's 600 NHL goals have beaten 38 different goaltenders.
Retired police detective, involved in hockey at all levels for over 50 years. Member of Society for International Hockey Research and presently a video analyst for the leader in advanced hockey analytics (we work exclusively for 2 NHL clubs, and provide advice on an ad hoc basis to many other clients). Currently the Assistant General Manager for the Pelham Pirates of the Greater Ontario Junior Hockey League. Previously owned the Faceoff computer hockey simulation and also provided all player ratings for the EA Sports series of NHL computer games from the late 90's into the mid 2000's.