Superstar left wing Bobby has left the Chicago Black Hawks training camp and no one knows when he might return. Hull left the Chicago training facility on Saturday when his two sons, Blake, 5 and Bobby, 4 were barred from the team dressing room.
Immediate speculation suggested that Hull's absence had more to do with a rift with management over the Golden Jet's salary demands, reported at $100,000. Hawks' general manager Tommy Ivan was quick to quash that notion:
"This is strictly a disagreement over club policy regarding dressing room procedure. It has nothing to do with his salary demand."
It's a Family Matter
Hull agrees with Ivan and described what led to his abrupt departure:
"I went to practice Saturday, bringing my two boys with me, as I have been doing the past two years. Reay (coach Billy Reay) met me at the door and told me the boys wouldn't be allowed in the dressing room.
"I told him if my boys weren't welcome, I didn't want to be there either. That's the last I've heard from the Hawks.
"But if they aren't interested in having me play or practice, I wish they'd hurry up and make a deal to get me out of here. I'd be better off playing for a club that appreciates me."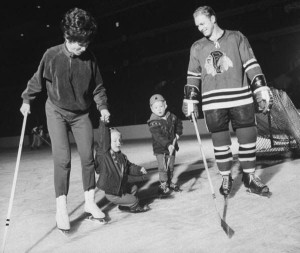 Hull says that the solution to the impasse rests with co-owner Jim Norris. Hull said he has tried without success to reach Norris, who is apparently vacationing in Florida. He also said that the disagreement is a matter of principle and he is not about to back down.
Ivan admitted that the Black Hawks have made little effort to discuss the issue with Hull.
"We have a lot of hockey players in camp, and the rules have to be the same for Bobby as anyone else."
Contract An Issue As Well
Hull also elaborated on his contract status. His five-year deal expired at the end of last season. Over the summer he was quoted as saying he would be asking for a $100,000 a year pact, similar to the top players in baseball.
"My contract talks will be with Jim Norris and I have a few things I want to discuss. As far as I know, the story about the $100,000 salary doesn't enter into the present situation."
Who is Bruce Gamble?
The Toronto Maple Leafs made a rather innocuous trade this weekend, sending a couple of young players destined for the minor leagues to the AHL Springfield Indians (hockey's version of purgatory according to those who have recently played there). In exchange, the Leafs acquired Bruce Gamble, a journeyman goaltender who hasn't played professional hockey for over a year.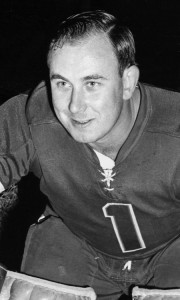 The two players dealt away were Larry Johnston, and Bill Smith, both 22. These two boys broke training by committing the transgression of missing curfew. Their punishment was banishment to Springfield, where they will have to deal with hockey's version of Simon Legree, Eddie Shore.
Johnston, Smith Destined for Minors
Defenseman Johnston's main claim to fame is that he led the CPHL in penalty minutes last year with the Tulsa Oilers. He also ended up in a Winnipeg jail cell after being arrested for his part in a barroom brawl, along with teammate Pat Quinn. You can bet that if Johnston had any immediate future with the Maple Leafs, Punch Imlach wouldn't have sent him packing.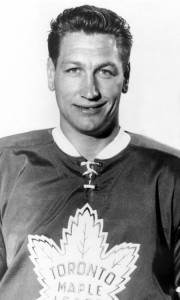 Smith is a middling minor league left winger who scored a paltry nine times for Tulsa last year.
The player coming back to Toronto for these two stalwarts didn't even play pro hockey in the last 18 months.
Bruce Gamble is a 27-year-old goalkeeper who had a brief cup of coffee with the New York Rangers before putting in a season and a half with the Boston Bruins in 1960-61 and 61-62.
Gamble played his junior hockey with the Guelph Biltmores in the Rangers' chain before turning pro with the Vancouver Canucks of the WHL in 1958-59. The Rangers called him up for two games , both of which he lost.
Gamble Not Ready in 60-61
At the end of the season, Boston claimed Gamble from the Rangers in the Intra-league Draft. After a solid season in the AHL with Providence, Gamble found himself with the number one goalkeeping job in Boston in 1960-61. Only 22 at the time, Gamble wasn't ready for NHL competition, especially with a team as weak as the Bruins, and he led the league in losses with 33 in only 52 games. After 28 games the following season, he was shipped to Portland of the WHL.
In June of 1963 the Bruins dealt Gamble to Springfield with Terry Gray, Randy Miller and Dale Rolfe for defenseman Bob McCord. Right off the bat, Gamble did not see eye to eye with Shore.
"Shore nearly always had me on his Black Aces. These were the guys big in his bad books. We always seemed to practice two hours longer than the rest of the team."
The breaking point for Gamble with Shore took place during the last half of the 1963-64 season. Gamble was involved in a car accident in Springfield. He went through the windshield and was badly cut for 28 stitches on the cheek and forehead. Two nights later, Shore ordered Gamble to play, even though regular goalie Jacques Caron was healthy. That was it for Gamble in Springfield. He went home to Port Arthur and began working in the grain elevators. Shore suspended him and he hasn't played pro since.
"I played, but that tore it. Right then I decided that working in an elevator at 20 below zero beat playing for Eddie Shore."
Notes
New York Rangers signed three players yesterday: RW's Johnny McKenzie and Billy Hicke, and G Cesare Maniago.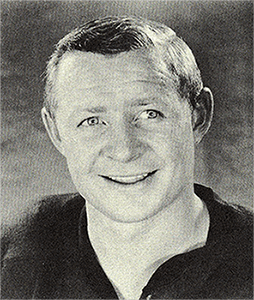 Boston Bruins opened training camp yesterday with nine players who had previously played for new GM Hap Emms.
Terry Sawchuk's cracked rib will keep him out of the lineup for a week.
Toronto Marlboros of the OHA Junior A Series have four goalies still battling for the number one job: Al Smith, Duffy Lewis, Ron Marlow and Gary Edwards.
Montreal Canadiens started scrimmages yesterday and captain Jean Beliveau scored the first goal.
Detroit Red Wings are using Andy Bathgate, a career right-winger, on the left side on a line with Alex Delvecchio and Gordie Howe.
Ted Lindsay has been working out with the Red Wings and rumours persist he will un-retire once again and suit up for Detroit.
Retired police detective, involved in hockey at all levels for over 50 years. Member of Society for International Hockey Research and presently a video analyst for the leader in advanced hockey analytics (we work exclusively for 2 NHL clubs, and provide advice on an ad hoc basis to many other clients). Currently the Assistant General Manager for the Pelham Pirates of the Greater Ontario Junior Hockey League. Previously owned the Faceoff computer hockey simulation and also provided all player ratings for the EA Sports series of NHL computer games from the late 90's into the mid 2000's.