The New York Rangers have dismissed coach Red Sullivan.
New York general manager Emile Francis made the announcement that Sullivan had been relieved of his duties yesterday. Francis named himself as Sullivan's replacement, placing himself squarely on the spot, now completely responsible for the team's improvement.
Sullivan would have reached his third anniversary as coach of the Rangers in three weeks. He will remain with the team as coordinator of player personnel and scouting.
The Rangers have a 5-10-5 record this season.
Francis: Time Running Out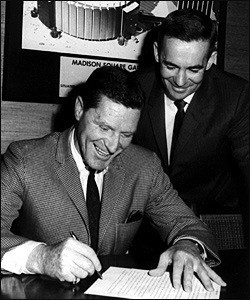 Francis said that time is running out on the slumping team and action had to be taken immediately if the team had any chance of salvaging the season;
I couldn't afford to waste any time. We have to pull ourselves up to the other clubs or we'll be in trouble.
Francis' tenure as head coach may be a short one. He indicated that several changes are in the offing for the Rangers, and that his right-hand man Jackie Gordon could be named coach once the smoke clears. Asked about Gordon's chances of grabbing the reins he commented:
"That's always a possibility. I won't have any trouble getting rid of myself as coach. In the mean time I want to concentrate on lifting the team. After Montreal and Chicago, it's  a toss-up for the other positions. As far as I'm concerned, we've got a playoff chance. It's an open race from third to sixth."
Among the changes that will likely take place immediately is the increased use of veteran backup goalie Don Simmons. Simmons was used strictly in a relief role by Sullivan, and that is about to change. He will get more frequent starting assignments, giving rookie goalie Ed Giacomin a bit of a break.
Francis also said that a name player will be taken off the roster and shipped to the minors. Speculation is that Lou Angotti, who recently sounded off about his lack of playing time is the leading candidate to be demoted.
Immediately after the press conference, Francis huddled with assistant coaches Harry Howell and Don Marshall. It was after that meeting that the decision on which player would be cut was made.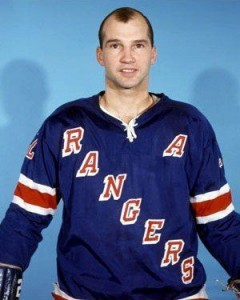 Marshall has every confidence in Francis' ability to get the team moving:
"We're not exactly sure what the team's trouble has been in the last couple of weeks.  We get leads and then we blow them. Maybe it's psychological. But if anybody can help us it's Emile. The players have the highest regard for him."
Sullivan was popular with his players and no one worked harder at his job than he did. Many felt that by emulating his former coach Phil Watson, Sullivan let his emotions get the better of him too often.
Others said that while Sullivan was a hard worker and a good hockey man, he fell far short of his contemporaries as a tactician or strategist. He was also criticized for not using Simmons more, and for placing too much responsibility on rookie centre Garry Peters. Peters is clearly not ready for that kind of work load.
Sullivan Surprised
Sullivan was surprised when the axe fell yesterday.
"I'm hurt, needless to say. But that's the name of the game. I was paid to win and I didn't. I'm only sorry that I couldn't coach the club into the playoffs.
"I suppose that if the team had to make this move, now was the time to do it, while we still have a chance to make the playoffs. And if anybody can do the job, Emile's the guy."
Sullivan was asked if he would consider making a comeback as a player. He admitted that it's something he might consider.
"I've been on skates every day, and my weight is right. Ted Lindsay was four years older than me when he made his comeback last year at Detroit. I haven't been scrimmaging with the team but I always stay out on the ice and take a few shots. My only problem might be my wind."
Bob Baun Out Six Weeks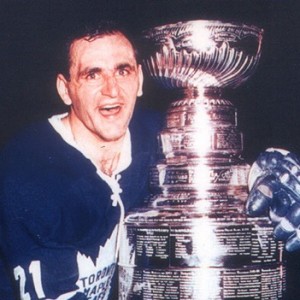 Toronto Maple Leafs hard-rock defenseman Bobby Baun, injured Sunday evening in Detroit, underwent surgery on his right knee yesterday. He will not play for at least six weeks.
Baun was hurt when the Red Wings' Alex Delvecchio fell over his right leg. He tried to continue but the when the pain worsened yesterday, he was taken to hospital. An examination revealed significant damage to the joint and surgery was performed immediately.
Dr. N.T. McPhedran said that he repaired a torn medial ligament.
Baun was the second Toronto defenseman to undergo an operation at the same hospital yesterday. Marcel Pronovost had a procedure to remove a cyst from his chest. With the Leafs not slated to play again until Saturday, Pronovost should have ample time to recover and won't miss any time.
Toronto general manager-coach Punch Imlach will have to find a replacement for Baun. He says he will confer with Rochester Americans manager Joe Crozier to determine which of his men could help the Leafs the most. Choices include Larry Hillman, Al Arbour, Duane Rupp or Darryl Sly.
Another possibility, and King Clancy's personal choice, is Marc Reaume, who is with Tulsa of the CPHL. Reaume was an AHL all-star with Hershey before the Leafs drafted him to play for the Oilers. Reaume was the player the Leafs sent to the Red Wings in 1960 to acquire Red Kelly.
And that brings up yet another idea for Baun's replacement. Although chances seem remote, it's not beyond the realm of possibility to see Kelly move back to the blue line, where he enjoyed so much success early in his career with Detroit.
Orr, Lacroix Tied for OHA Lead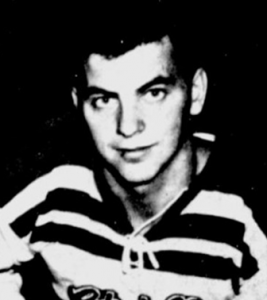 Oshawa Generals defenseman Bobby Orr and Peterborough Petes centre Andre Lacroix are tied for the lead in the OHA Junior A scoring race. Both have 47 points.
Orr gets the nod on top on the basis of his 17 goals, compared to 14 by Lacroix.
Orr's team mate Danny O'Shea is next with 41 points, followed by Lacroix's left winger Danny Grant who has 40.
With 22 goals, Grant is the league's top goal-getter.
Top goaltender is Bobby Ring of the Niagara Falls Flyers with a 2.65 goals-against average.
Notes:
Wayne Carleton of the Toronto Marlboros has been working out with the Leafs as he recovers from a pair of injured knees. Once healthy, Carleton will likely get a five-game trial with the big club.
One of the Leafs all-time greats, Charlie Conacher, has returned home after being in the hospital for a month recovering from a heart attack. Although he was allowed to go home, doctors are allowing no visitation nor will he be able to accept phone calls
Jack Adams, president of the Central Professional Hockey League said yesterday that defenseman Pat Quinn of the Memphis Wings has been fined $100 and suspended three games for "molesting linesman Fred Gibbon" during a game Saturday night in Tulsa.
Montreal Junior Canadiens have added defenseman Jean Gauthier to their roster for the exhibition game against the Russian national team, slated for December 15. Gauthier is presently with Houston Apollos of the Central League.
Retired police detective, involved in hockey at all levels for over 50 years. Member of Society for International Hockey Research and presently a video analyst for the leader in advanced hockey analytics (we work exclusively for 2 NHL clubs, and provide advice on an ad hoc basis to many other clients). Currently the Assistant General Manager for the Pelham Pirates of the Greater Ontario Junior Hockey League. Previously owned the Faceoff computer hockey simulation and also provided all player ratings for the EA Sports series of NHL computer games from the late 90's into the mid 2000's.