Terry Sawchuk, claimed for the bargain-basement price of $20,000 from Detroit last summer in the league draft, continues to prove to be one of Punch Imlach's most astute acquisitions as he shut out the Chicago Black Hawks 1-0 last night in Toronto.  In the other NHL game, Detroit downed Boston 3-1.
Sawchuk's whitewashing of the Black Hawks was the 97th such performance of his NHL career.  He made 27 saves on the night before the largest crowd (14,450) of the season at Maple Leaf Gardens.  He was especially sharp in the first period when the Hawks poured 12 shots at him.  Glenn Hall was almost as good in the Chicago goal as Sawchuk was for the Leafs, but Terry had a larger quantity of more difficult saves to make.  The victims of his best acts of larceny were Kenny Wharram, Stan Mikita and Chico Maki.  Bobby Hull had several shots, but all were from long distance and gave the Toronto netminder no trouble.
Bob Pulford was easily Toronto's best skater.  Pully did it all, killing penalties and scoring the match's only goal. That came just 12 seconds after the versatile Leaf centre had killed off a Carl Brewer minor penalty.  Bob Baun started the play, and fed Pulford a drop pass at the Chicago blue line.  Number 20 took the pass and fired a screened shot past Hall.
Smith leads Wings
At Boston, the Red Wings scored twice in the final frame to get past the Bruins.  The Wings took a 1-0 first period lead on Floyd Smith's first of two goals.  Smith scored when he recovered a Norm Ullman rebound and deposited the puck behind Boston backstop Ed Johnston.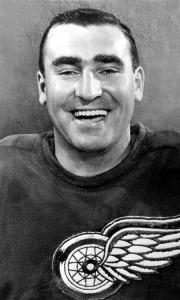 The Bruins tied the score early in the third on Dean Prentice's sixth goal of the season.  His shot bounced off Wings' defencman Al Langlois past a helpless Detroit goaltender Roger Crozier, who had no chance on the play.
It was Smith again, just past the ten-minute mark to put Detroit ahead for good.  He stole the puck near the Boston blue line and using a defenceman as as screen, fired a shot from 30 feet that Johnston still hasn't seen.  Norm Ullman scored an insurance goal with just over three minutes to play to put the game out of reach.
The Bruins stormed the Red Wings net in the final five minutes but Crozier was sensational, denying the Bruins attempts time and time again.
The Montreal Canadiens, idle last night, annouynced that they have recalled centre Andre Boudrias from Omaha of the Central Professional Hockey league.  He will play against Chicago tonight. With up to five players doubtful for the game, Boudrias will likely stick around until there are enough healthy bodies to fill out a lineup.
The New York Rangers, who will be without defenceman Arnie Brown for at least three weeks, have recalled blueliner Larry Cahan from their Baltimore American Hockey League club.
Indians deal Aces a loss
The Springfield Indians upset the high-flying Quebec Aces by a 5-2 score before over 5,000 fans in Springfield. In other AHL action, Hershey pounded Pittsburgh 5-2, Baltimore edged Providence 5-4 while Rochester and Cleveland skated to a 1-1 tie.
Springfield scorers were Jimmy Anderson, Dennis Olson, Brian Kilrea, John Rodger and Roger Cote.  John Hanna and Guy Rousseau counted for Quebec.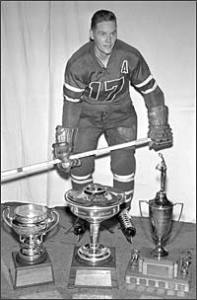 Hershey, now unbeaten in eight straight, got goals from Keith McCreary, Pete Conacher, Howie Yanosik, Chuck Hamilton and Bruce Cline.  Jerry Toppazzini scored both Pittsburgh markers.
Jean Ratelle's two goals led the Clippers past Providence.  Harry Pidhirny, Dick Meissner and Dave Richardson also counted for the Clippers.  Wayne Hall, Willie Marshall, Jimmy Bartlett and George Ranieri replied for the Reds.
Dick Gamble had the Rochester goal while Wayne Larkin tallied for Cleveland in their stalemate.
Hawks send DeJordy to Buffalo
The Chicago Black Hawks announced that they have loaned goaltender Denis DeJordy to the Buffalo Bisons of the AHL on a game-to-game basis.  The Bisons' regular netminder Ed Chadwick suffered a serious concussion in Buffalo's last game.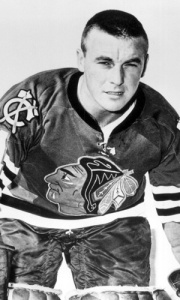 Chadwick was knocked unconscious when his head struck the ice during a pile-up around the Buffalo net 11 minutes into the game in Rochester.  He was taken to a local hospital and was discharged yesterday.
Bisons' Dr. Joe Sheedy said that "Ed suffered a concussion but fortunately there is no fracture of any kind.  I would think he would have to remain out of action for a week to 10 days.  I talked to the doctor in Rochester who examined him who also had a look at the x-rays.  And I will examine Eddie myself Sunday morning."
Buffalo general manager Fred Hunt said that DeJordy was with the Bisons on the condition that nothing happened to Chicago's regular goaltender Glenn Hall.  If Hall were to be injured, DeJorday would have to report back to Chicago and the Bisons would have to look elsewhere for a goaltender.
Retired police detective, involved in hockey at all levels for over 50 years. Member of Society for International Hockey Research and presently a video analyst for the leader in advanced hockey analytics (we work exclusively for 2 NHL clubs, and provide advice on an ad hoc basis to many other clients). Currently the Assistant General Manager for the Pelham Pirates of the Greater Ontario Junior Hockey League. Previously owned the Faceoff computer hockey simulation and also provided all player ratings for the EA Sports series of NHL computer games from the late 90's into the mid 2000's.