After a dark night in the NHL last evening, two games are featured in tonight's lineup.  The New York Rangers visit the Olympia in Detroit to meet the Red Wings, while in the marquee matchup, the Toronto Maple Leafs pay their first visit to the Canadiens in Montreal.
Sawchuk starts
Handling the goaltending duties for Toronto tonight will be Terry Sawchuk.  Terry, you will remember, was picked up in the league draft this summer in a deft move by Leaf general manager Punch Imlach.  In the three games he has played this season, the crafty netminding veteran has yet to lose, thus rewarding Imlach's faith in spending the $20,000 draft fee on him.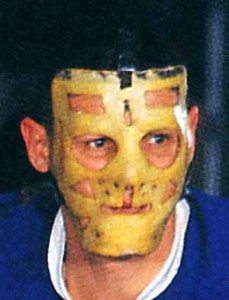 Sawchuk's early success brings to mind comments made by legendary Leaf goaltender Turk "Big Game" Broda about his work in last spring's Stanley Cup final against the Leafs.  Toronto won that series in seven games.
Detroit sportswriter Pete Waldmeir was present and recorded Broda's comments about Sawchuk after he lost the first game of the series:
Broda: Sawchuk bad goalkeeper
"Sawchuk's a bad goalkeeper.  He's two years over the hill and should have been finished in 1962, and you know what saved him?  The mask."
Broda elaborated, "Sawchuk goes down too much now.  He doesn't stand in and play the puck.  But with the mask he's taken a strain off his mind about getting hit in the face and he's added years to his career."
Broda, of course, played in an era when the face mask for goaltenders was verboten.  "We didn't even wear 'em in practice because, well, nobody wore a mask and you didn't want to be the first guy.   We all figured we had too much guts.  Then along comes a guy without any guts – Jacques Plante – and he starts to wear one and he's successful."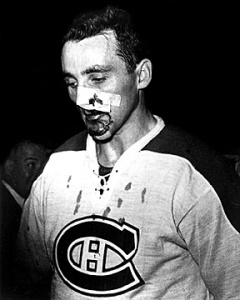 "So you don't have to be ashamed any more of the mask and guys like Sawchuk who have guts can wear it and extend their careers.  If Plante had played in my time and had gone to the mask, I would have worn one too.  I think the mask will make hockey goalkeepers 100 per cent better in the years to come.  All the little kids are wearing them and as they grow up they'll perfect the technique."
"I can remember a dozen times I got cut bad with a puck.  But most of the goalers' injuries come from skates and sticks.  When I played the shooters didn't slap the puck so much and it didn't come in so wild and unpredictable.  Now they slap it from the blue line and it takes crazy bounces  and the netminder has more trouble following it, so he stops more shots with his face."
Dink Carroll of the Montreal Gazette feels that Broda's assessment of Plante's intestinal fortitude was all wrong.  Carroll's point is that Plante displayed moral courage to go against the grain and don the mask in the face of extreme resistance from his coach and criticism by his peers.
Plante had the best answer for the critics and the naysayers:
"If I jump out of a plane without a parachute, does that make me brave?"
Moore returns to Montreal
Dickie Moore, still working on getting in shape as he attempts a comeback with Toronto after a year off, will play his first game as a visitor in Montreal tonight.  The high scoring left winger with the wonky knees has been taking it slowly, but has been given a little more ice team in each of the five games he has played.  He has yet to register his first point, but Imlach is satisfied with his work so far.
Richard returns
On the Montreal side of things, Henri (Pocket Rocket) Richard will play his first game of the season for the Habs.  He has been sidelined all season with a severe groin injury picked up in training camp.  In practices this week, he was 'flying'  according to team mates and looks completely ready to return.
Coach Toe Blake was unsure of how he'll use Richard tonight, saying's he'd likely see spot duty to start with.
Mikita ailing
The Chicago Black Hawks say that leading scorer Stan Mikita might miss this Saturday's game against Montreal at the Forum.  Mikita is suffering from a bruised shoulder and a sprained ankle, both sustained in a game against Boston on Sunday.  He aggravated the shoulder Tuesday against the Rangers.
The Hawks have not announced any call-ups should Mikita be unable to suit up.
Boston Bruins have called up defencemen Bob Woytowich and Don Awrey from the Hershey Bears of the AHL.
WHL Canucks soaring
The Vancouver Canucks of the Western Hockey League took over sole possession of second place last night when they crushed the Los Angeles Blades 5-1.  The two teams had been tied for second spot heading into the game.
Buddy Boone paced Vancouver with two goals.  Phil Maloney, Bev Bell and Bruce Carmichael added singles.  Brian Smith was the lone Los Angeles marksman.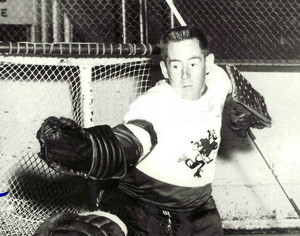 Canucks' goaltender Gilles Villemure was outstanding between the pipes.  His work, especially early in the game, was chiefly responsible for the Vancouver victory.
The curious case of Claude Labrosse
Claude Labrosse is a defenceman in the Toronto organization, currently with Victoria in the WHL.  How he ended up there is a story all in itself.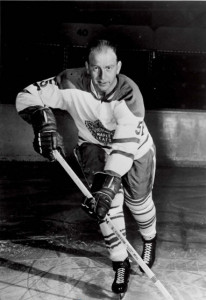 In September of 1963 Labrosse was property of the AHL Quebec Aces and refused to report to training camp.  He was subsequently placed on the voluntary retired list.  This made him available to be claimed by any team for $1000, but he would be ineligible to play in the AHL for one year, unless Quebec gave permission to do so earlier.
Ever on the lookout for a bargain, Toronto claimed Labrosse from Quebec for that waiver price with the intention of sending him to the WHL to play for Victoria.  Labrosse was told by Toronto to go to Rochester and meet with the Americans' general manager Joe Crozier, who was to sign him to a contract with the organization.
When Labrosse arrived in Rochester to sign the contract, Larry Hillman was called up to Toronto from the Amerks, leaving them a little thin on the blue line.  Crozier decided to keep Labrosse around for a couple of practices.  Claude was so impressive in the workouts that Crozier figured he would  roll the dice and use him in the games that Hillman was going to miss while up with the big club.
Labrosse played very well in the two games he suited up for, both victories over the Cleveland Barons.  The Aces were livid when they learned Labrosse was playing in the league, so they lodged a formal protest.
It was established that Labrossed had been placed on the retired list on December 27, 1963 and would be ineligible to play for Rochester until January 27, 1965.  Quebec refused to issue permission for him to play in advance of that date, so he was reluctantly shipped off to Victoria, where other WHL teams had no issue with him playing for the Maple Leafs.
Orr has 5-point night
Sixteen-year-old Bobby Orr, the boy wonder of the OHA, continues to impress and amaze those following the Oshawa Generals of the Junior A league.  Last night was another standout performance as the Generals downed the Hamilton Red Wings 6-4.
Orr netted five points, a great night at any level, but even more impressive for a 16 year old defenceman in the best junior league in the world.  He scored two goals, and added three assists in a wide open affair.  Danny O'Shea also scored twice for the Gens, with Bill White and Bill Bannerman adding singles.  Real Lemieux, Gary Doak, Nick Libett and Bart Crashley were the Hamilton goal-getters.
In the other OHA game, the Peterborough Petes scored eight first-period goals en route to a 10-0 pasting of last-place Kitchener Rangers.  Danny Grant scored two goals in the first 33 seconds of the game to put this one out of reach early.  Gary Monahan, Mickey Redmond and Andre Lacroix were also two-goal scorers, while Billy Plager and Leo Thiffault had one each.  Goalie Gary Kurt of the Rangers was replaced after the first period by John Voss.
Retired police detective, involved in hockey at all levels for over 50 years. Member of Society for International Hockey Research and presently a video analyst for the leader in advanced hockey analytics (we work exclusively for 2 NHL clubs, and provide advice on an ad hoc basis to many other clients). Currently the Assistant General Manager for the Pelham Pirates of the Greater Ontario Junior Hockey League. Previously owned the Faceoff computer hockey simulation and also provided all player ratings for the EA Sports series of NHL computer games from the late 90's into the mid 2000's.