Trust me when I say this; the next three months are going to fly by. It may seem like a long period of time exists between mid-March and the Stanley Cup parade, but it will be here before you know it. This year's NHL playoff picture looks shockingly clearer than most, with only a few spots still reasonably up for grabs. Yet for all the certainty that comes with identifying the NHL postseason's participants, predicting a winner remains incredibly difficult. This year's field is as wide open as ever, especially out west where as many as five teams can legitimately stake Stanley Cup claims. It's about to get good people.
In that regard, I've dusted off the old crystal ball and decided to break down six potential dream matchups for the 2016 Stanley Cup Final. A couple of ground rules before we begin. I spaced these out to include all of the teams I believe can get there. You might think your Eastern Conference team facing Chicago is the best case scenario (and I'm not going to argue with you), but that's not fair to everyone else. Only one team was used twice, and I think it's pretty deserving given the circumstances of their season (more on this later). I used a little bit of everything to determine this list, such as styles of play, fan-base passion/torture, and the implications on the national spotlight. Now that you understand that, let's start making people upset with this list.
Florida Panthers vs. Nashville Predators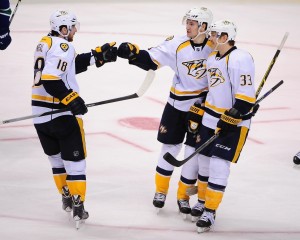 Imagine if a Stanley Cup final involving Nashville and Florida actually happened. I can practically hear NBC executives choking in their board room. On the ice, this matchup actually has a lot of excitement attached to it. Nashville's slid comfortably right into the 4th seed in the Central division playoff picture, where they're lurking as a potential upset-pick when the playoffs commence. They've always been well-rounded, but this new generation of Predators has the offensive punch it's sorely lacked. Filip Forsberg has become the team's youthful leader, and Mike Ribeiro has proven he's worth the risk that Nashville's front office took on him. If goalie Pekka Rinne can remain upright, and their big trade deadline coup of Ryan Johansen can live up to the lofty standards he set in Columbus, the Predators can make a lengthy run.
As we look at the darlings of Sunrise, Florida, there's one stat that will stop you dead in your tracks. The Panthers leading goal scorer is a 44-year-old man! But Jaromir Jagr's not just any man. The fact that he's still producing at his age is a testament to his discipline and work ethic, but his greatest accomplishment this year is getting the rest of his Florida teammates to buy in. Jonathan Huberdeau and Reilly Smith are working harder to create scoring chances, Aaron Ekblad is assuming more of a workhorse role on the point, and even Roberto Luongo has managed to get in on the act. There have been no Luongo meltdowns, ill-timed trade requests, or emoji feuds with the media. The Panthers have been solid in net, and solid everywhere else this season.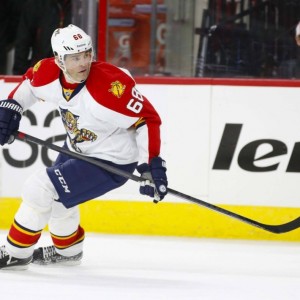 This isn't exactly an Original Six matchup, but there are plenty of variables to keep the public interested. You'd have Jagr buzzing around the ice at five miles per hour and potentially needing a spotter on the cup hoist, Rinne making absurd saves while flopping around like a fish, Shea Weber shooting missiles and showing off his hall of fame playoff beard, and the potential for a Luongo brain fart that we'll be telling our grandkids about. Fans in  both Nashville and that Florida retirement community will go nuts if the Stanley Cup is theirs. I don't care what the ratings will say, I'm all in on this potential series!
Boston Bruins vs. St. Louis Blues
Big boy hockey at its finest. There's no doubt in my mind that the Blues and Bruins would put on a series so brutal, so undeniably physical, that a small percentage of casual hockey fans would be repulsed. But you know what? A lot of people would absolutely love it. There's no mistaking the m.o. of either of these teams, who each play a heavy brand of hockey that has all opponents thinking the exact same thing. Oh no. Not these guys. I HATE playing these guys. The Blues can hurt you up front with David Backes and Troy Brouwer, while Zdeno Chara still mans a defensive unit that exists to punish smaller forwards. And who could forget the last time these two teams played, when they both went the extra mile to spread holiday cheer: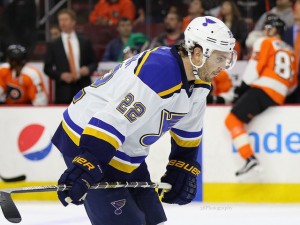 This is a great matchup for each of these teams because of their physical nature, but also because both are perennially underrated in the skill department. Boston's Brad Marchand is has the 3rd most goals in the NHL this season (I believe his nose is 5th). Forward Patrice Bergeron continues to dominate on both ends of the ice, and Torey Krug's playmaking ability has reinvigorated a stagnant Bruins blue line. Elsewhere in St. Louis, the Blues have one of the league's best pure goal scorers in Vladamir Tarasenko, a proven offensive threat in Alexander Steen, and a defenseman who is straight surgical with his vision and shooting abilities in Kevin Shattenkirk.
Size, skill, and young talent waiting in the wings for both clubs. Strap on your shoulder pads extra tight and sign me up.
Dallas Stars vs. Tampa Bay Lightning
Are you kidding me with all of this offense? The Dallas Stars have finally become the offensive juggernaut many expected them to be, erupting in 2015-16 as a goal scoring cyborg that fears no one. The Jamie Benn/Tyler Seguin tag team is nearly unstoppable, and veterans Jason Spezza, Patrick Sharp, and Ales Hemsky have given Dallas the supplemental scoring they need to contend. It's their first year on the contender's scene, but the Stars might just be for real.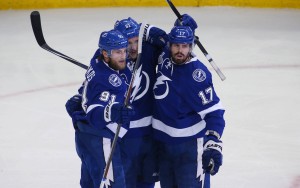 No team has had a more interesting nine months than the Lightning, who followed up a surprise run to the Stanley Cup Finals by failing to lock up Steven Stamkos to long-term deal (he hits the free agent market this summer). They then stumbled mightily out of the block, had to put their young prodigy Jonathan Drouin in a glorified timeout, before promptly flipping the switch and turning up the offense. Tampa Bay is 8-1-1 in their last 10 games, and has overcome sub-par seasons by both Ryan Callahan and Tyler Johnson to contend for a division title. How you ask? Because Stamkos is still a master sniper, and young Russian winger Nikita Kucherov (who leads the team in points) might be the most underrated player in the NHL. Throw in the constantly improving/growing goaltender Ben Bishop, and the Bolts are officially back on track.
In their lone meeting this year, I think it's safe to say both clubs put on a show:
This series would be highly unpredictable, unexplainable, and at times unimaginable. The Stars have major goaltending issues, and the Bolts blue line is awfully thin after Victor Hedman logs his 30 minutes of ice-time. Could we see the highest scoring Stanley Cup Final of all time? Will Don Cherry call this series a disgrace? Will they even turn the goal horn off? Where's Sway Calloway, because we need answers!
Chicago Blackhawks vs. New York Rangers
Patrick Kane and the three-time Stanley Cup Champions go to Broadway. As nice as a potential matchup with the Capitals would be, I think a date with the Rangers could prove equally as dramatic for Chicago. New York's battle tested, has a blend of toughness and skill on their roster, and boasts one of the best high-pressure goalies in the world in Henrik Lundqvist. Their early season struggles are worth noting, but the injury bug played a huge part in that. With Mats Zuccarello and Derek Brassard pacing the offense, look for Chris Kreider, J.T. Miller, and Derek Stepan to pick up some slack in the playoffs. There's also the returning Rick Nash (I know he's not exactly lights out in crunch time) and the duo of Ryan McDonagh and Keith Yandle on defense. When healthy and fully engaged, the Rangers are deep and balanced. And that's exactly what you need to be to slay the wicked witch of the second city.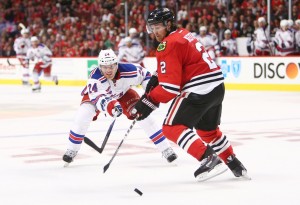 If you can't see why Chicago continues to contend, I might not be of any help. Kane, Jonathan Toews, Duncan Keith, and Brent Seabrook are championship lifers. Add the improved play of Corey Crawford in goal, and a front office that quite possibly could be the best at maintaining greatness in all of sports, and it's just not fair. The Blackhawks are here to stay. And though they might not win the Cup every year because that's not humanly possible (I'm praying it's not at least), they find a way to set themselves up as contenders each go-round. That's all you need, and that's all you can ask for as a fan.
Can King Henrik stop the high-flying Blackhawks, and will Nash and company finally get over the hump? In the teams' most recent matchup, it was a coming out party for the man who will win rookie of the year:
Artemi Panarin, known as the bread man, something he will undoubtedly have a lot of when he signs his next contract. Rangers/Blackhawks would be a TV ratings bonanza, and the product on the ice would be the perfect blending of styles.
Anaheim Ducks vs. Washington Capitals
Simply put, last Monday's Ducks/Capitals game was the best regular season game I've seen this year. You had dazzling offense, tremendous goaltending, and consistent effort from start to finish. I want to live in a hockey world where a Stanley Cup Final that includes Alex Ovechkin, Ryan Getzlaf, Nicklas Backstrom, and even Corey Perry. Heck, if the Ducks win, Perry might be the first professional athlete banned from the White House. The series could be that good.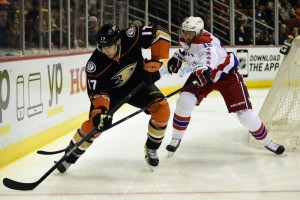 What the Capitals have done to the NHL this year has been scary. Not just because they finally have the scoring depth needed to support Ovechkin and Backstrom, and not just because Braden Holtby has been head and shoulders above every other goalie. Their work-ethic is always outstanding, whether they are playing the Anaheim Ducks or the District 5 Ducks. During their southern California two-step, the Capitals were trailing heading into both third periods. It would have been easy for them to pack it in. But each time, they battled back, and found a way to extend the game and secure at least one point. I know the narrative says they don't win big games. But narratives can change, especially this year in D.C..
For the Ducks, it will all come down to John Gibson. Can the young American stand tall in his net? Or will he crumble under pressure quicker than you can say "game 7 against the Kings (sorry I had to)?" If Gibson keeps doing an admirable job, the Ducks can go through any team. That includes the NHL's current measuring stick.
Los Angeles Kings vs. Washington Capitals
From a hockey perspective, this series might excite me the most. Both teams have star players, but are team-oriented first and foremost. The Capitals added an insane amount of depth the past few years, for matchups just like this one. If you try to neutralize Ovechkin, expect to see a heavy dose of Evgeny Kuznetsov. Try to bog the game down? T.J. Oshie and Andre Burakovsky will carve through your lineup like a pumpkin. The Capitals are so deep that they have defenseman who can out-dangle entire teams. Don't believe me? Here's Dimitry Orlov's slickness against these very Kings: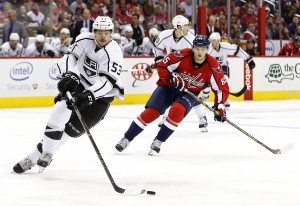 Washington is built to win the Stanley Cup this year. But I have to say, I would really like L.A.'s chances in a best of seven series against the Capitals. Anze Kopitar will skate stride for stride with their top line, and has proven that he will adjust his style to blend with whoever head coach Darryl Sutter wants to play with him. The Kings have the potential to match the Capitals in every area of their arsenal, whether that's snipers (Jeff Carter, Tyler Toffoli), power forwards with grit (Milan Lucic, Tanner Pearson), elite defense (Drew Doughty), and top-flight goaltending (Jonathan Quick). There's a never a certainty in the NHL playoffs, but neither team has a clear-cut advantage over the other. And the resulting hockey could be remembered for generations to come.
Oh, and did I mention the other subplot? Justin Williams and Mike Richards, two former Kings who were clutch beyond comprehension and epitomized what it means to have "the heart of a champion," would be facing off against their former team in the Stanley Cup Final. Yeah, that would be fun.
The Stanley Cup Final is months away. Whether it's one of these series listed or something entirely different, the possibilities in March are endless. A little dreaming never hurt anyone right?