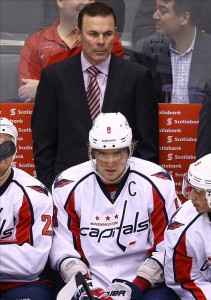 Last time I checked former Washington Capitals head coach Adam Oates is currently unemployed. Meanwhile, in Detroit, Mike Babcock still has one assistant coach vacancy left to fill.
Is there a match to be made between these two parties? I believe so, and here are two reasons why:
A) The Wings need an experienced associate coach who can continue the development of an ever-youthful forward group.
B) Adam Oates' skill-set as one of the premier offensive minds in the game is a trait coveted by the organization.
Adam Oates' Power Play Impact
Last season the Washington Capitals had a power play operating at 23.4 percent… good enough for 2nd best in the NHL. The success of their man advantage was in large part due to the expertise of their head coach.
As a player Oates thrived on the power play. In St. Louis Oates was the setup guy for Brett Hull in what was one of the slickest power play units the NHL has ever seen.
He's got a proven track record of success when it comes to operating an efficient power play both as a player and coach. On the flip side, Detroit's power play was abysmal last season finishing 18th overall and running at just 17.7 percent.
It's not as if the Wings don't have plenty of talent for Oates to work with either. I'm sure Pavel Datstyuk and Henrik Zetterberg would jump at the opportunity to pick the brain of a Hall-Of-Famer like Adam Oates.
What's more is the fact that as a player Oates was a perfect representation of the Detroit 200 foot game philosophy Mike Babcock demands of his team. Like Datsyuk and Zetterberg, Oates was as good on defence as he was at making plays.
Ties To The Organization
Arguably the worst move ever made by the Detroit Red Wings was their decision to trade Adam Oates to the St. Louis Blues after the 1988-1989 season. Oates went on to have a legendary career that spanned 22  NHL seasons.
You might also remember that in 2003 Oates was a 40-year-old veteran on a Mike Babcock led Anaheim Mighty Ducks squad that upset the Red Wings on route to a Stanley Cup Finals appearance. For Oates, there is already some familiarity with how Babcock manages a bench which should ease his transition into the organization.
Yet, if Oates sees working under Babcock as a demotion then the recent history of the Wings' associate coaches might change his mind. After working for Babcock as associate coaches, Paul MacLean, Todd McLellan, and Bill Peters have all gone on to NHL head coaching jobs. Oh, and don't forget Tom Renney who last week accepted a position as President and CEO of Hockey Canada.
Hockeytown would be the perfect place for Oates to polish his coaching chops alongside one of the best in the business. Ultimately, Oates can take comfort in the fact that Detroit isn't exactly an organization that puts their assistant coaches out to pasture… just the opposite actually.