2013-2014 American Hockey League Previews
ALBANY DEVILS
Coaching Staff: Rick Kowalsky (Head Coach), Tommy Albelin (Assistant Coach), Sergei Brylin (Assistant Coach), Dave Caruso (Goaltending Coach)
Affiliates: New Jersey Devils (NHL)
Prepared by: Leo Scaglione Jr.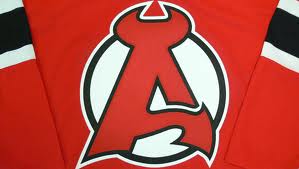 2012-2013 RECAP
Record: 31-32-1-12 (75) Conference/Division Rank: 12th/4th
Calder Cup Playoffs: Did not qualify
The 2012-13 Albany Devils season was characterized by a series of ups and downs that inevitably once again led to a playoff-less spring.  The Devils began the season led by the trio of Adam Henrique, Jacob Josefson, and Adam Larsson, each who played a key role in leading the New Jersey Devils to the 2012 Stanley Cup Finals.  Unfortunately, despite the NHL caliber talent the Devils never found their stride.  They struggled throughout October and November by only winning 4 of their first 17 games in a stretch that was also marred by an injury to Henrique when the Devils played at Boardwalk Hall in Atlantic City in late November against the Wilkes-Barre Scranton Penguins. The beginning of December would mark a high point of the year as the Devils won their first five games, also their longest winning streak of the season.  However, the team could not maintain their momentum as the Devils won only two of the remaining seven December games. 
The change of the calendar year did little to help the Devils and the end of the lockout saw many Albany Devils including Larsson, Stephen Gionta, Josefson, Tedenby and Bobby Butler getting called up to the NHL.  Even when a potential impact player in Tedenby was returned to Albany bad luck would strike when his face was cut by a skate in a game against the Adirondack Phantoms.  The call-ups and the bad luck suffered by Albany were compounded by their abysmal shootout record that included a league high 12 shootout losses.  Had Albany won just six of those games, the additional six points would have been good enough for the eighth and final seed in the Eastern Conference standings.  The highlight of another disappointing season in the Capital region was capturing the Time Warner Cable Cup over their arch rivals just north of Albany in Glens Falls, the Phantoms.
THE OFF-SEASON
Roster Departures: Matt Anderson (F), Chad Wiseman (F), Steve Zalewski (F), Jay Leach (D), Alexander Urbom (D), Jeff Frazee (G)
Roster Additions: Reid Boucher (F), Riley Boychuk (F), Stefan Matteau (F), Rod Pelley (F), Jon Merrill (D), Maxime Clermont (G), Scott Wedgewood (G)
2013-2014 SEASON PREVIEW
The Devils final season while based in Lowell ended when the Devils lost in Game 5 to the Worcester Sharks in the opening round of the playoffs in 2010.  Since the Devils returned to Albany for the 2010-11 season, they have yet to taste the postseason.  In fact, the last time an Albany hockey team affiliated with the New Jersey Devils made the playoffs was back in 2000.  However, with their depth up front as well as their abundance of top-quality defensemen, the Devils are poised to bring postseason hockey back to Albany this spring.
Forwards
Up front, Albany has a lot of offensive depth.  The Albany Devils lost 84 combined points when Anderson and Zalewski left to play overseas following the 2012-13 season.  However, they will add a talented sniper in Reid Boucher to open this season.  He broke the goal scoring record held by Steven Stamkos by potting 62 goals with Sarnia of the Ontario Hockey League last season and then he picked up five points including three goals with Albany at the end of last season after signing an amateur tryout contract.  He will be a major factor for the Albany offense along with returning forwards Joe Whitney and Harri Pesonen, as well as newcomer Stefan Matteau. 
Watch as Whitney feeds Boucher for a beautiful goal last March against Portland:
Whitney was rewarded for his strong year last year by being signed to a two-year two-way deal with the Devils.  He scored 26 goals and added 25 assists last season for Albany in 66 games.  He scored 44 points the previous season and knowing he now has a chance to play in the NHL with his new contract should really light a fire under Whitney.  Another man up front is Harri Pesonen.  He got his feet wet in the NHL last year by playing in four games.  For Albany last season in 64 games he picked up 14 goals and 17 assists in 64 games with a plus 7 +/-.  Those numbers should improve as he enters his second season playing in North America.  As for Matteau, he picked up a goal and two assists last year for New Jersey.  After a tumultuous end with his junior team, Blainville-Boisbriand Armada of the QMJHL, that led to his release he will now be playing his first games in the AHL.  The grinding winger must show he can be responsible on the ice and despite the rough end with his junior hockey team he will be an asset for Albany by providing grit and ruggedness.
Check out New Jersey Devils writer Dan Rice and his article about Stefan Matteau:
Does Stefan Matteau Have a Real Shot to Make the Devils Roster?
Joining the younger players will be an old familiar face.  Rod Pelley is returning to the organization after being traded during the 2011-12 season to the Anaheim Ducks.  He will provide a stable veteran presence up front along with likely captain Tim Sestito.  Both men have played the majority of their career in the AHL but have also gained a lot of experience in the NHL.  They will be responsible in leading the younger players such as Boucher, Whitney, and Matteau with the departure of Jay Leach.
All together, this Devils group of forwards is younger, faster, and has a lot more potential than in previous seasons.  Having a natural goal scorer like Boucher, solid leaders in Sestito and Pelley, a grinder that is itching to return to the NHL in Matteau, and fan favorite Whitney will give Albany a boost this season offensively.  Mike Sislo and Darcy Zajac, two players that also saw time on the ice for New Jersey in the preseason, will be very important pieces of the offensive puzzle as well.  They will certainly light up the lamp on a consistent basis every game night and will lead the Devils back to the postseason.
Defense
Defensively, the Albany Devils are going to be even stronger this season than in years prior.   To open the season, the Devils have called up reliable Albany defenseman Alexander Urbom.  Despite the graduation of one of their top stay-at-home defenseman and the loss of Leach, Albany will be adding Jon Merrill for the start of the season. He had a successful career at the University of Michigan despite battling many issues off the ice.  Last season in limited duty for Albany, Merrill scored a goal and registered seven assists in twelve games.  A solid two-way defenseman, Merrill opened this training camp with New Jersey and played in three preseason games.  He contributed on the score sheet with a goal and assist.  He will be looking to further his development in Albany after looking relatively comfortable on the New Jersey blue line.
Read more about Urbom, Gelinas, and Merrill with my analysis of these three defensemen:
Three Albany Devils Hoping to Say: Goodbye Albany, Hello Newark
Alongside Merrill will be Eric Gelinas.  Gelinas also had a productive preseason with New Jersey by playing in three games and picking up a goal in his debut against the New York Rangers.  His most valuable weapon is his blistering slap shot as proven on his first goal when he fired the puck past Cam Talbot of the Rangers just as a Devils power play expired.  Having that shot from the blue line this season for Albany on the power play will not only put up goals for Gelinas but also create rebounds for Boucher and Matteau up front.  Gelinas put up 22 points in an injury-shortened season last year and after playing in one NHL regular season game with New Jersey he will be looking to take the next step.
In addition to the presence of Gelinas and Merrill, Albany will be looking for a stronger season from Brandon Burlon, Raman Hrabarenka, Dan Kelly, Corbin McPherson, and Harry Young as the Devils gave up 225 goals last year, which was the 5th most in the conference.  This is definitely an area in which Albany must improve in order to qualify for the postseason.  Another key component is the return of their top net minder, Keith Kinkaid.
Goaltending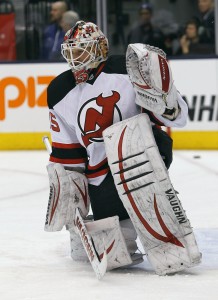 Kinkaid will be entering his third season for the Albany Devils.  As previously covered (For Albany Devils Goaltender Keith Kinkaid It Is Now or Never) this upcoming season will be vital for Kinkaid and his future with the organization.  The pressure will be on this season as he looks to cement himself as a NHL quality goaltender.  With Martin Brodeur close to retiring and the future in net almost guaranteed to feature Cory Schneider, Kinkaid will be battling himself more than he will be battling another goaltender.  He was stunned when Gary Bettman announced the trade for Schneider and it quickly hit him that he may no longer be in the Devils plans to be the everyday starter in the NHL.  However, Kinkaid must build upon his previous two professional seasons since he will be a restricted free agent following the 2013-14 campaign.
Read the latest article by the aforementioned Dan Rice about Cory Schneider in
New Jersey Devils Goaltending: Along Came a Schneider
Kinkaid played in two periods during the preseason for New Jersey and surrendered a goal in each period, both on breakaways.  Otherwise, he held his own in the net allowing the Devils to hold their lead and defeat the Philadelphia Flyers while also giving the Devils a chance to win against the Islanders.  He may end up with New Jersey next season behind several defensemen on this year's roster with Gelinas and Merrill just a phone call away from joining Jersey's Team.  If Kinkaid remains motivated, he will definitely improve and help lead the way for the Albany chase to the postseason.
Potential Call-Up Impact:
The depth in the Devils organization will be a positive for both the NHL team as well as the AHL team.  In the event the Devils call up a forward or defenseman to the NHL, the Albany club has the depth necessary to fill any void.  They have many forwards that can score and control the puck at all ends of the ice.  Their defense also is deep with offensive minded defenseman.  New Jersey is relying on puck possession to win games and their system will be copied in Albany.  Sestito and Pelley can step up if one of them is called up to New Jersey.  Their veteran presence and NHL experience can help the big club as well as provide leadership to the kids in Albany. Likewise, the young kids Boucher, Matteau, Whitney, and Pesonen can handle the duties needed to win games if they lose a teammate to New Jersey.  They will certainly be chomping at the bit to see playing time in New Jersey.  While New Jersey currently has eight defenseman and likely won't need to dig into Albany, defensemen not named Merrill or Gelinas are for the most part returning for another season in Albany and can fill in admirably if one of those two are called up to Newark.  As for goaltending, Kinkaid will likely end up in New Jersey to back up Schneider quite a bit but will still play most of the games for Albany.
2013-2014 PREDICTION
Albany Devils fans will finally be able to attend a playoff game that involves their favorite club.  While the Devils may not be a division winning team, they will be able to lock up a playoff seed and win at least one playoff round.  Their depth on offense as well as having two top defensemen who are both NHL ready will provide the leadership and skill necessary to lead this Devils team into spring hockey.  Joe Whitney will lead the team in points with Reid Boucher right on his tail.  Merrill will lead the Devils defensemen in points simply because Gelinas will become the shuttle defenseman between New Jersey and Albany.  Kinkaid will build upon his 2012-13 win total of 21 wins in 45 games.  Expect Kinkaid to start roughly the same amount of games this season while Wedgewood and Clermont split the remaining half as the organization attempts to gauge if Kinkaid will be ready to be promoted for next season.  Kinkaid will also spend some time in the NHL backing up the man who may have replaced him as New Jersey's number one goalie, Schneider.  While the organization will cringe at the following statement, the last three seasons saw 41 year-old Brodeur scratched more than any other time in his career due to injury and the unfortunate trend will probably continue this season.  This will open the door for Kinkaid to soak in the NHL atmosphere and the renewed hunger will fuel Kinkaid in Albany.
Breakout Prospect Prediction:
Reid Boucher scores goals.  He scored a combined 90 goals in two seasons with Sarnia and netted a pair in 11 games with Albany last year. He may have just turned twenty years old but he already has shown great promise.  A frequent criticism of Boucher is his skating ability.  He must continue to improve in this area and there is no reason to believe he will not since he is still a young prospect.  While he also needs to build his strength in order to play in the NHL, his scoring touch will warrant attention from the parent club.  After a rough start taking a penalty in one of his early shifts in his preseason debut for New Jersey, Boucher dazzled. He has an exceptional release of the puck and showed his ability to shoot from any angle in the offensive zone even when he was off balance on his skates.  With his skill set and determination, he will certainly be seeing time in Newark within the next few seasons.
Leo is in his second year with THW. He covers the 3-Time Stanley Cup Champion New Jersey Devils and the Albany Devils of the American Hockey League. You can follow Leo on Twitter, @LeoScaglioneJr.