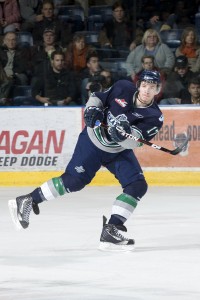 This past season was a turnaround year for the Anaheim Ducks. The team lead the NHL with the largest increase in winning percentage in comparison to last season until this past 2013 shortened season with .208 and finished 2nd overall in the Western Conference. Despite their lackluster performance in game 7 of the first round against the Detroit Red Wings, the Ducks had an inconceivable season. With their newly acquisition on defense –Sheldon Souray and Bryan Allen and Radek Dvorak-, the recent re-signings of superstars Ryan Getzlaf and Corey Perry, young players stepping up –Kyle Palmeiri, Nick Bonino and Andrew Cogliano– and their goaltending duo Jonas Hiller and rookie Viktor Fasth playing out of their minds, the team didn't really have any gaping holes to address; rather, small adjustments.
Here is a recap of Anaheims 2013 Draft picks:
1st Rd- Shea Theodore 
With their 26th overall pick, the Ducks went with a two-way defenseman. It was rumored that if the 17-year-old, WHL Seattle Thunderbird was still available the Detroit Red Wings -who were looking for more size- would consider Theodore, but instead they went with the sized forward. He may not be as big as Souray or Francois Beauchemin, weighing in at 190lbs, but Theodore brings another force on the point and on the power play. The kid knack for putting pucks on the tape and reading the play well, which sounds like another defensive gem such as Cam Fowler.      Grade: B 
2nd Rd – Nick Sorensen
With the 45th overall pick, Anaheim selected a small-framed forward from Denmark. The kid has some bright spots such as his speed and appears to be known as a battler along the boards. Unfortunately, Sorensen's QMJHL career has already been plagued with injuries that began when Jonathan Lessard made knee-to-knee contact with Sorensen and it cost him 15 games. Since, Sorensen's growth has been hindered, but the healthy version has shown ill effects of the incident. If, and I do mean if, the 19-year-old continues to battle on the ice and remain healthy the Ducks could use him on the 3rd or 4th line to bring some flash, but the kids has some catching up to do.     Grade: C-
The Ducks didn't fair either good or bad in the draft; just mediocre. Both of these picks won't get their chance for 2-3 years, so hopefully their individual skill will flourish as they become Norfolk Admirals.
For more information throughout the season follow me on twitter @m_drinnenberg and on Facebook
here
.