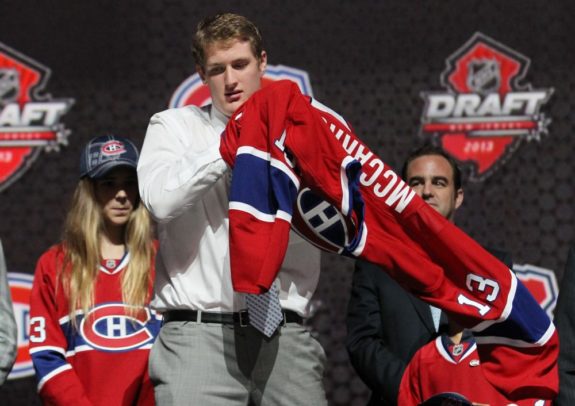 When the Canucks selected Hunter Shinkaruk with the 24th overall pick, Habs GM Marc Bergevin and top scout Trevor Timmins gave each other a celebratory fist bump, they were getting their man. Timmins was given the honor of announcing the Canadiens first round pick, Mke McCarron, a 6'5" winger that spent last year with the U.S. Under-18 Nation Development Program.
McCarron was the tallest forward taken in the first round, and the second biggest player behind the Philadelphia Flyers pick, Samuel Morin. While the scouts are unsure whether McCarron has what it takes to become a bona fide power forward in the NHL, one thing is for certain, the Habs weren't content going the small and skilled route in this year's draft.
Corey Pronman of Hockey Prospectus and ESPN had this to say of McCarron:
MTL selects McCarron. Huge power forward with skill. 6'5" 230 winger who plays a physical style. Can make plays. Skating below-average.

— Corey Pronman (@coreypronman) June 30, 2013
You want a big, mean forward with skill? That's the kind of player you'll get in the late first.

— Corey Pronman (@coreypronman) June 30, 2013
With their second pick, the Habs went big again, taking 6'2" Jacob De La Rose. Like McCarron, the Swedish center/winger put up his highest numbers in the PIM category, earning 22 penalty minutes but no points in 6 games for Sweden at the 2013 World Juniors.
The Canadiens also drafted Finnish winger Arrturi Lehkonen in the second round. At 5'11", Lehkonen is somewhat smaller than Montreal's prior picks, but is touted as being a strong two-way player and was a leader on the Finnish Under-18 team for the past two years.
Luckily for the Habs, De La Rose and Lehkonen have already gotten acquainted:

Was Montreal's draft strategy a message to fans and the rest of the league that a new-look Habs team is just around the corner? Remember that while Alex Galchenyuk is not necessarily a bruiser, at 6'1″, 195 lbs with plenty of room to add some muscle, he certainly has potential to be a top power forward as well.
It's also interesting that Bergevin and Timmins went the entire draft without selecting a defenseman. Although last season having a crowd parked in front of Carey Price's crease wasn't an unusual sight, the Habs seem satisfied for the moment with their blueliners. Norris winner PK Subban leads the way on defense, and with Jarred Tinordi and Alexei Emelin adding some size and a physical presence, opponents may have a bit more difficulty creating traffic in the years to come.
Did Bergevin Also Send a Message to Carey Price?
It was Montreal's third pick of the draft, the 36th overall, that might have been their most stunning. After falling well below where he was projected to be taken, the Canadiens scooped up the draft's top-ranked goaltending prospect,  Zachary Fucale from Rosemere, Quebec, just outside Montreal.
Fucale's dad was apparently very happy to see his son drafted by his hometown team:
Check out the awesome reaction from Zach Fucale's dad @FucaleGi after the Habs made the pick. pic.twitter.com/pblLQXlggw

— Willy Palov (@CH_WillyPalov) July 1, 2013
This of course bodes the question, should Habs fans read the Fucale pick as a warning to Carey Price? When Price was drafted 5th overall in 2005, Habs fans were still enamored with Jose Theodore. Theodore won the Vezina and Hart trophies in 2002 and was an All-Star in 2004. Even so, midway through the next season, an underperforming Theodore was dealt to Colorado, paving the way for the BC native.
Price has had to deal with high expectations since he began his career with the Habs and has yet to fully realize his promised potential. The fact that Jaroslave Halak earned as many playoff wins for the Habs in one campaign as Price has amassed in his career certainly doesn't help. Although the Canadiens, led by Price, managed to win the Northeast division last season, the team underperformed in the playoffs, bowing out to Ottawa in just five games.
For the moment Price's position is still secure and Fucale was touted to be taken much higher than 36th, so the pick may have simply been a matter of taking the best player available. Still, if Habs management does fall out of love with the star goalie, the team now has some extra depth waiting in wings.