Phoenix Coyotes 2013 NHL Draft Picks
NHL Draft Day is a very exciting time of the year for teams and fan as it ushers in a new wave of potential stars for your team.  In Phoenix's case it's still a big day, but for me it is still overshadowed by a franchise changing COG vote on July 2nd determining their future in the Valley of the Sun.  I'm going to enjoy the NHL Draft on TV and hope that it's still relevant for me as a Phoenix Coyote fan.
June 30th has come and gone and now it's time to analyze, assess and project the bounty.
The Phoenix Coyotes had the 12th overall draft selection in the 2013 NHL Entry Draft. The draft was held on  Sunday, June 30 at the Prudential Center in Newark, N.J.and was televised on the NBC Sports Network.
Round 1 – 12th overall
Max Domi
About Max Domi:     League: OHL     Team: London Knights
DOB: Mar. 2,1995   Hometown: Toronto, ON
Height: 5'10     Weight: 184
Position: C/LW     Shoots:  Left
Games: 64   Goals: 39  Assists: 48   Points: 87  Plus/Minus: 33  Pim: 87
Max Domi played this past season in the Ontario Hockey League for the London Knights.  Max is the son of former NHLer and Winnipeg Jet 1.0 fan favorite Tie Domi but they are 2 completely different players.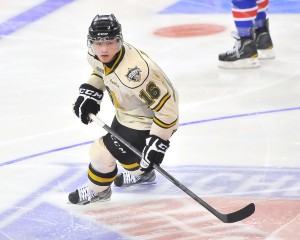 Offence
Max Domi is a highly skilled forward with the potential to be one of the top forwards in this draft.  He has a very good shot,  he is a great puck handler with excellent on-ice vision and creativity in setting up his team-mates.  At 5'10 his size will always be in question, but that shouldn't concern any potential team drafting him as he plays much bigger than his size.  Most scouts consider Max Domi to be a solid top 15 prospect but it wouldn't be a surprise if he gets drafted in the top 10.  His skill and high hockey IQ might be too much to pass up for a team with a top 10 draft pick.
Skating
Domi is an excellent skater who uses his shiftiness and mobility to beat defenders.  He has a very good first step with top end acceleration better than average speed.  Domi's over-all skating ability makes him a very dangerous player on the rush.  Max Domi may be only listed at 5'10 but his strength and low center of gravity makes him very difficult to knock off the puck and he wins more than his fair share puck battles along the boards and in front of the net.
Defence
Domi has worked hard on his defensive game and has become  a lot more effective defensively.  He back-checks hard, works hard in the defensive zone and competes pretty well against much bigger players.
Projection
Max Domi  looks like a top 6 forward and maybe even a first line center or winger.  He really elevated his play during the play-offs and started to garner a lot of attention as a top 10 pick.  I don't know where Max Domi is going to be drafted but I will gaurantee you he won't make it past #13 !!!  I see Domi going in the 10-13 range.
Round 2 – 42nd overall NHL Draft
Laurent Dauphin
About Laurent Dauphin:   League: QMJHL   Team: Chicoutimi Saqueneens
DOB: Mar. 26, 1995     Hometown: Repentigny, PQ
Position: C/LW     Shoots: Left
Height: 6′     Weight: 166 
Games: 65      Goals: 25     Assists: 32     Points: 57     Plus/Minus: 0     PIM: 50
Laurent Dauphin played this past season in the QMJHL for the Chicoutimi Sagueneens.
Skating
Laurent Dauphin's game is all about speed.  He is a fluid skater with a quick first step and very good acceleration.  He is very deceptive on the rush because of his ability to change speeds with his lateral skating agility.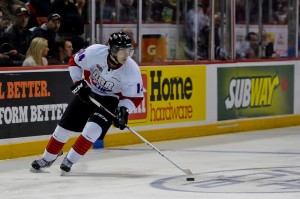 Offence
Laurent Dauphin is an excellent stick-handler and using this with his skating ability he is able to create time and space off the rush.   He is a very good play-maker and has a knack for holding on to the puck for an extra split second to make a great pass.  He see's the ice very well and is very poised.  Dauphin has a decent accurate shot with a quick release.  At 166 lbs, Laurent Dauphin competes in the tough areas in front of the net and in the corners but he is easily moved off the puck.
Defense
Laurent Dauphin works hard on the defensive part of his game.  He back-checks,  plays a good positional game but struggles with a grinding cycle game due to his size.  Dauphin will need to bulk up to be a complete player at the pro level.
Projection
His skill-set on the powerplay combined with a very good hockey IQ could see him as an NHL top 6 forward.  Most projections have him as a late first round selection.  I see him as a second round pick going in the 35-40 range.
Round 3 – 62nd overall NHL Draft
Yan-Pavel Laplante
League: QMJHL    Team:PEI Rock
Position: C    Shoots: Left
DOB: Apr. 23, 1995     Born:  Chateauguay, PQ
Height: 6′      Weight: 178
Laplante was also ranked No. 50 among North American Skaters in Central Scouting's final draft rankings.
Round 5 – 133 overall NHL Draft
Connor Clifton
League: USHL – U-18      Team: USDP
Position: Fwd     Shoots: Right
DOB: Apr.28, 1995      Born: Matawan, NJ
Height: 5'11     Weight: 175
Round 6 – 163 overall NHL Draft
Brendan Burke
League: WHL      Team: Portland WinterHawks
Position: Goal     Shoots: Right
DOB: Scottsdale, AZ
Height: 6'3    Weight: 175
I love this pick for two reasons.
1. His father Sean,  is the Coyotes Goal-tending Coach, the best in the National Hockey League!
2. I spent half of my fifteen years as a WHL scout with the Portland WinterHawks, so I still pull for them.
Round 7 – 193 overall NHL Draft
DOB: Vernon, BC
League: BCJHL         Team: Penticton
Position: C        Shoots: Right
Height: 6'2      Weight: 208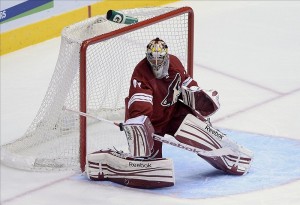 Overall I thought that the Phoenix Coyotes had a successful NHL Draft.  Coyote fans are going to love Max Domi, especially if he continues to develop at the same rate as he has in his past two seasons playing for the OHL's London Knights.
The other big news of the day was that the Coyotes have come to terms with their "Free Agent" goalie Mike Smith.
That makes 3 out of 4  important check-marks for a previous article I wrote called Shane Doan's Phoenix Coyotes Checklist.
Lets hope that things progress positively with the ownership situation so we can enjoy watching some of these players drafted in Phoenix Coyote uniforms in the years to come.
Follow @PhxCoyHockTalk

Follow @PhxHockTalk

My name is Mitch and like most Canadian kids I was introduced to hockey at a very young age and fell in love with the game. I have played, I have coached, I even scouted in WHL for 15 years. I spend half my time in Winnipeg, MB and the other half in San Tan Valley, AZ. I am a season ticket holder for The Winnipeg Jets and my wife and I attend the Phoenix Coyotes games. I am involved in 3 or 4 fantasy leagues, I enjoy hockey shows on radio or TV, TSN or Sportsnet, ESPN or NBC Sports and Fox Sports Arizona. You get the picture, hockey is a big part of my life. Admin/Writer at http://phoenixhockeytalk.com