Twenty-five games into the season and this year's Anaheim Ducks look an awful lot like they did at this time last year—a below average, inconsistent, injury-riddled team. Despite a lot of talk in the offseason about changes and getting faster to compete with the rest of the league, the Ducks have done little to shake things up. They brought back head coach Randy Carlyle, who is more attuned to the heavier style of play the Ducks adopted for many years, and their offense continues to dump and chase and grind along the boards. These kinds of actions are bringing up many questions for Ducks fans going into the third month of the season.
Is Randy Carlyle Going to be Fired?
Joel Quenneville is out as head coach of the Chicago Blackhawks. John Stevens is out in Los Angeles. Mike Yeo is out in St. Louis. Todd MacLellan is out in Edmonton. The NHL coaching carousel is turning, making us wonder if Carlyle is next in line.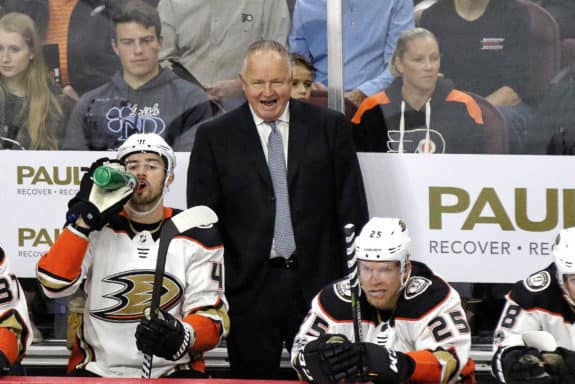 Carlyle has done fairly well in his return to Anaheim. Over the last two seasons, he's coached the Ducks to a 90-48-26 record and has taken them to the playoffs in both seasons. He also has a good reputation with his former players, as Ilya Bryzgalov recently praised his former bench boss to The OC Register, saying that Carlyle, "always asked a lot…he always put on the pressure. That way you always get the best from the players," (from 'Former Ducks goalie Ilya Bryzgalov backs Randy Carlyle,' The OC Register – 11/17/18).
That kind of praise can go a long way, but this is a results-oriented business, and this season the results are poor. The Ducks are having trouble stringing together a series of good games. This could be due to the rash of injuries the team has had to deal with, but it's more likely that the coaching staff has failed to implement a structure that the players can rely on. Too often the players are seen scrambling around, looking lost in all three zones. They preach a play-fast mentality, but without a coaching staff willing to implement structures to get them to play faster, the Ducks will continue to look lost.
What Happened to Rickard Rakell?
Rickard Rakell has had 30-plus goals in each of the last two seasons and was expected to take another step forward and carry the brunt of the offense this season. So far, he has four goals in 27 games which puts him on pace for about 12 goals through an 82-game season. That's nowhere near what was expected of him.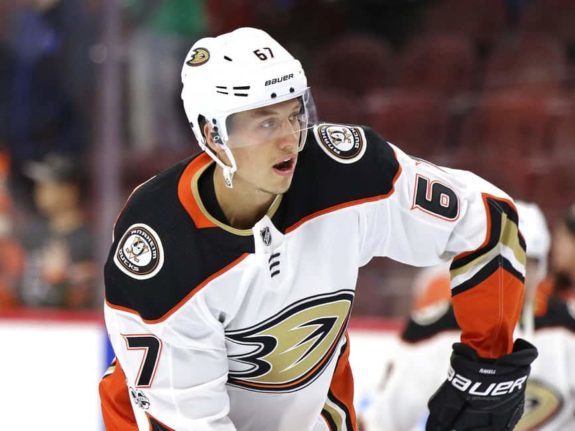 He's been playing better of late, but this season he has an uncharacteristically low shooting percentage of 5.0 percent. That's quite a difference from his career average of 12.7 percent. The league average shooting percentage is around 9.8 percent, so Rakell has had an above average shooting percentage over his career. Is he regressing to the average or is there more going on that is keeping him from reaching his elite shooting potential?
Rakell's slump leads to a greater question, where are the Ducks going to get their offense? Ondrej Kase has looked good since his return to the lineup, but he is, unfortunately, prone to injury. Ryan Getzlaf is leading the team in points, but who, outside of the Ducks' top line, will produce? The fact is, outside of the top line, the Ducks don't have much going on offensively. Who is going to step up and produce throughout the lineup?
Will Injuries Push the Ducks to a Trade?
Ducks fans are getting a hefty sense of deja vu with the injury bug this season. Just like last November, the Ducks are among the teams with the most man-games lost to injury, including key players out right now like Corey Perry, Cam Fowler, Hampus Lindholm, and Patrick Eaves.
NHL top 5 teams, man-games lost. Number in brackets is their league ranking when injuries are quality adjusted (Lost-ps metric). Vancouver is 1st in Lost-ps.

ANA 142 (9)
PHI 111 (31)
DAL 102 (4)
OTT 96 (6)
VAN 95 (1)https://t.co/MqqDP48pIR

— Man-Games Lost NHL (@ManGamesLostNHL) November 22, 2018
Will general manager Bob Murray make a trade to patch up his lineup? The Ducks consistently need help on offense, and their defense, once thought to be solid, is looking porous this season. Last year Murray made a move to get Adam Henrique in order to shore up the injuries at center. Will he do something similar this season to patch up his defense?
The Ducks have a lot of promising young players in Sam Steel, Maxime Comtois, Isac Lundestrom, Josh Mahura, Jacob Larsson, and Troy Terry who are coming up the ranks. Perhaps the Ducks should look at what they have and give their young guns more experience rather than looking to patch up their lineup with a trade.
Related: Ducks Can't Be Helped by 'Band-Aid' Trade
Will the Ducks Ever Find Consistency?
Watching the Ducks these days, you have to wonder if we'll see the proud, competitive group that made it to the Western Conference Final in two of the last four seasons, or whether we'll see the unfocused, docile group that is more suited to compete for a first overall draft pick?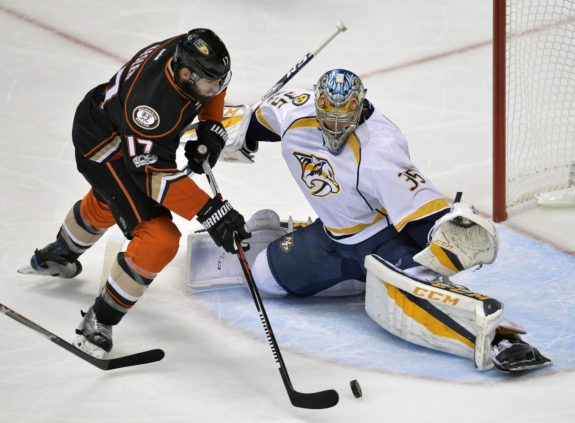 We've already seen two sides of the coin in games against the Nashville Predators this season. On Nov. 12, the Ducks competed for every inch of ice and for every loose puck and they came away with a 2-1 victory for their efforts. On Nov.25, the Ducks lacked that same competitiveness that brought them victory over one of the best teams in the league and they suffered a brutal 5-2 defeat.
What is it that is keeping the Ducks from finding that consistency? Is it coaching? Is it a lack of consistent offense? Is the injury bug hurting them that badly? Maybe it's a little bit of everything, but the fact remains, unless they can find some answers to their problems, they will remain a good but not great NHL team.
Born and raised in Anaheim, and a Ducks fan for about that long.