Some people may not understand the value of J.T. Compnher to the Colorado Avalance. He's not as well-known as Nathan MacKinno or as flashy as Mikko Rantanen and he's not the NHL scoring leader. But he plays a vital role to the Avalanche and his recent return highlights his worth.
A Fast Start Followed by Injury
Compher missed 16 games with a head injury, returning to the Avalanche lineup just in time for the road game against the Arizona Coyotes. The feisty player only appeared in five games – with his last one being October 13 – before getting injured. Missing 16 games can seem like an eternity at the beginning of the season.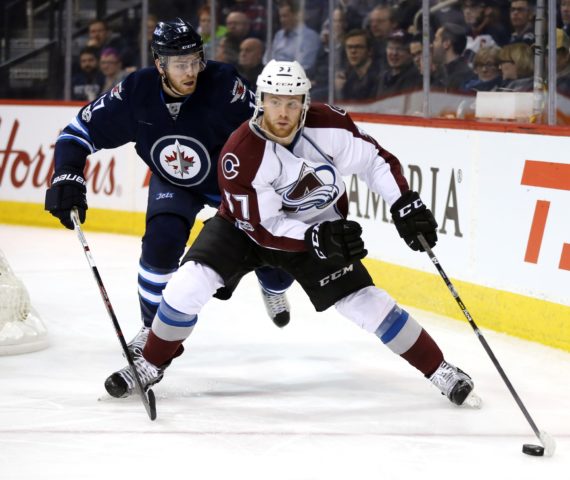 The Avalanche started the season well, going 4-1 in their first five games. During that time, Compher started the season centering Colorado's fourth line while also occasionally playing wing. He earned three goals and an assist in his first five games, won the majority of his faceoffs and logged minutes on both the power play and the penalty kill. Few players covered as many facets of the game as well as Compher. He essentially functioned as the hockey equivalent of a utility infielder. He played a number of roles well.
Then Compher missed 16 games with what many believed to be a concussion. Would he be able to return to form and how long would it take for him to look like the solid performer he had been?
J.T. Compher's Scoring Surge
The answer – not long.
Compher joined the Avalanche for their road trip, finally getting to suit up against the Arizona Coyotes. It didn't take Compher long to answer those lingering questions. Colorado went on the penalty kill seven minutes into the game and Compher scored 13 seconds in. 55 seconds later, he scored again while the team was still short-handed. His second shorty became the game winner as the Avalanche went on to defeat the Coyotes 5-1. It was an impressive return.
In the four games since he has returned, Compher has racked up three goals and an assist. He has played over seven minutes on the penalty kill while averaging roughly 13 minutes a night of total ice time. In addition to the two short-handed goals, Compher provided a gritty assist on the game winning power play goal against the Nashville Predators and scored the game tying goal against the Dallas Stars. Compher returned with a bang, providing a tide turning push the Avalanche needed to get some key wins.
Special Teams Play
But his contributions have gone farther than eating up some special teams minutes and critical goal scoring. The Avalanche's penalty kill has returned to it's season starting form. In the first five games of the season, Colorado had allowed one power play goal against them on 23 short-handed opportunities. At the time, they led the league for successfully killing short-handed situations.
While the Avalanche didn't fall off a cliff on the penalty kill during his absence, their save rate dropped to 11th place, with an 80.9% success rate.
Since Compher's return, the Avalanche have allowed two goals in 12 chances, improving to an 83.3% success rate. In a game of inches, the smallest of margins makes a difference. If Colorado maintains that pace, their penalty kill would climb to fifth among all NHL teams.
The Avalanche have struggled with their face-offs again this year, currently sitting 29th among all teams, winning 46.8% of their puck drops. Compher, since his return, has won 13 of 23 face-offs for a 56.5% winning rate.
Compher Brings the Intangibles
But the statistics only tell part of the story. Compher plays with an edge to his game. He battles for every inch of ice, challenges every possession, willing to stretch to stop an opponent even if that means diving for the puck or blocking a shot. He shoots, he blocks, he hits and he takes face-offs. And manages to do all of them well. Most importantly, he has a knack for making a key play at the right time to get the Avalanche back in the game. It won't show up on the stat sheet but it's an important piece in developing a winning culture.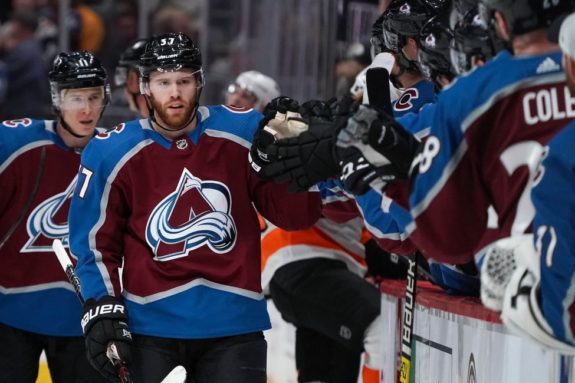 "I love his start to the year. He was outstanding. He was a big loss for us. Right hand shot, center, power play, penalty kill. He does a lot of different things for us. You know he may not be a household name around the league but he is a really good player and a really smart player and a good situational player. He did a lot of hard work to get back.." Coach Bednar stated after the close win over the Stars.
Compher plays fearlessly in a number of roles. His absence and return revealed the value of his contributions. Compher is a game changer. For a team already rolling, what will the addition of another powerful player do for the Colorado Avalanche? It should be fun to see.
J.D. has followed the Colorado Avalanche since the days of Joe Sakic and Peter Forsberg. Blessed to cover the team for nearly 5 seasons, 3 of those at other venues, J.D. enjoys working with the Hockey Writers. Proud parent of three humans and two dogs, you can follow all the escapades @JDKpirate.