A major positive for Anaheim Ducks fans going into the 2018-19 season is knowing that the defense continues to be a solid foundation for the team. It's a young group that has just the right balance of brawn and mobility that could set up the Ducks for success for years to come.
Ducks head coach Randy Carlyle took advantage of the preseason by trying out all kinds of possible defensive pairings. You can't blame him for doing what he can to make his team better, but at the end of the day some pairings work, and some just don't.
The Top Four Ducks Defense
At this point, there really isn't much debate as to who the Ducks top four defensemen are. Cam Fowler, Josh Manson, Hampus Lindholm, and Brandon Montour will all be dependable for 20 to 24 minutes a night. Carlyle has been toying around with the pairings, but there isn't any good reason to split up a dominant pairing such as the Lindholm-Manson duo.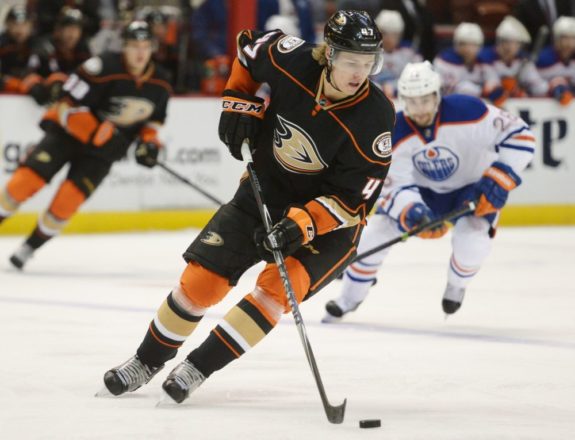 Lindholm and Manson have a proven chemistry that isn't easy to replicate. A quick glance at their stats last season tells you everything you need to know. They spent over 900 minutes together as a pair (the most of any pairing on the team). In that time they had a 53.5% Corsi rating and a relative Corsi of 5% meaning they were far ahead of their teammates in terms of possession. They had a goal differential of plus-20 at even strength, and were on the ice for only 26 goals against.
This is all to say that they were very good at driving the pace of play while they were together. They're a heady duo that plays an effective game the whole 200 feet of ice. These are the numbers of an elite top pairing and not something Carlyle should abandon easily.
With Lindholm and Manson paired up, that leaves Fowler and Montour as the next defensive pair, and their numbers towards the end of last season were quite good as well.
Montour spent most of last season paired with veteran defenseman Francois Beauchemin which was a lackluster pairing. On paper, the veteran stay-at-home defenseman with the young gun, puck-moving defender should work, but it ended up as a mismatch with Montour constantly trying to drive the puck up ice and Beauchemin trying to slow things down and control the play in his own zone. Last season they garnered a very average CF% of 48%.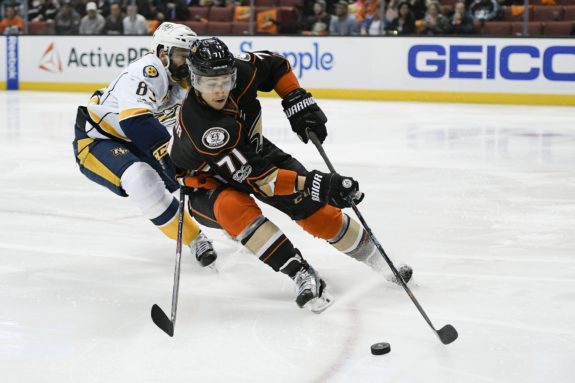 Enter Fowler and Montour. The two offensive-minded defensemen made for an effective pair, constantly pushing the puck up ice and pressuring the opposition in the offensive zone. In 429 minutes of play time, the pairing generated a 52% CF% (4.6% relative Corsi), and had a team-best goals-for percentage of 66.67%. A full season of Fowler and Montour could be great for the Ducks, especially if they're looking to move the puck up ice quicker than they have been.
Carlyle has experimented with a Fowler-Manson and Lindholm-Montour pairing in the past. The Lindholm-Montour pairing has looked good in limited time, however, the Fowler-Manson pairing is surprisingly ineffective. Manson tends to make his partners better, sporting an individual relative Corsi of 3.4% last season, but the Fowler-Manson pairing had only a 45% Corsi rating, generating 31 fewer shots than their opponents. Individually, Fowler and Manson are incredibly good defensemen, but together they just don't cut it.
Five, Six, Seven in Ducks Defensive Depth
Ducks fans were hoping this would be Jacob Larsson's year to break through. The young Swedish defender has long been a highly regarded prospect, but a knee injury cut his season short last year. This gave an opportunity for Marcus Pettersson to prove that he is an NHL-caliber player, and he has run with it. Pettersson got a 22-game season for 2017-18 and played in all four playoff games (although, given the quality of games played by the Ducks in that series, that can hardly be considered a positive thing). Now, out of preseason, Pettersson looks to have jumped Larsson on the defensive depth chart. Pettersson appears to be an NHL regular, and Larsson a stalled prospect.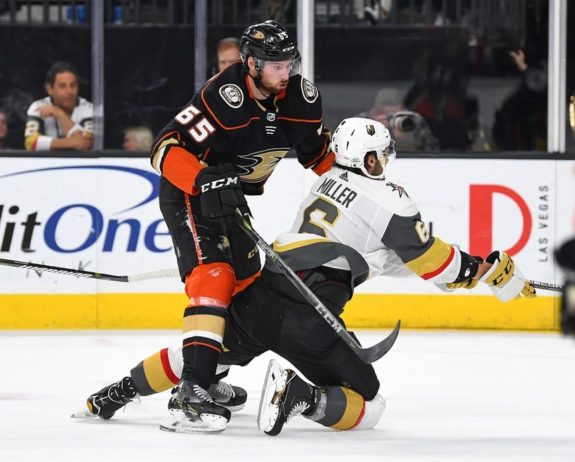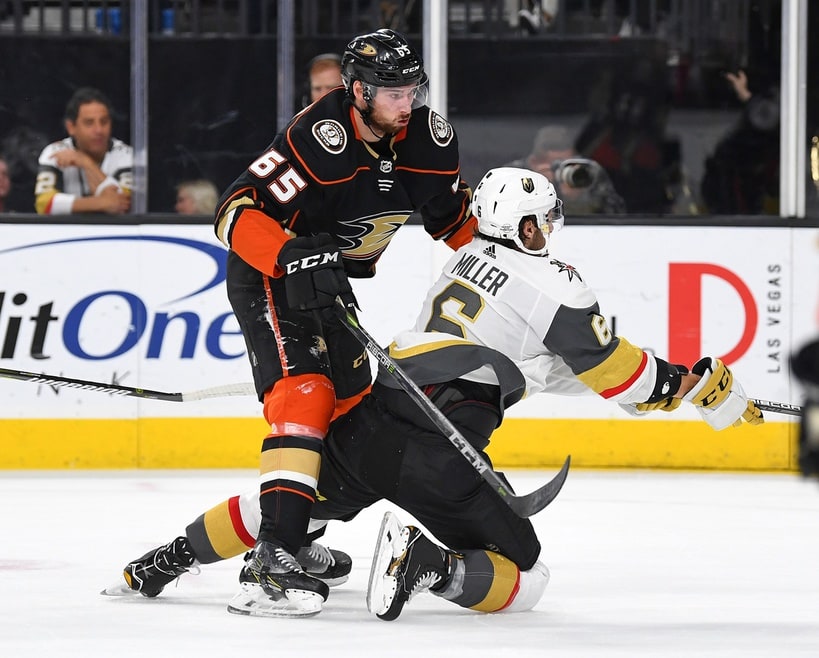 That's hardly the end of the story for both players though. Although Pettersson got more play time, his stats leave a lot to be desired. He ended the season with a plus-five rating, but his relative Corsi was a troublesome minus-6.7%. This was only exacerbated by a very poor defensive tandem with Andy Welinski in the playoffs. The pairing was constantly stuck in their own zone, entirely unable to drive the play up ice. That being said, it's a new season. Pettersson can take his NHL experience and learn from it. Learn what it takes to be effective on a nightly basis. Larsson could also find his game at the AHL level and reappear later in the season. What becomes of these players is entirely up to them.
The Ducks also have some capable defensemen playing for their AHL affiliate in San Diego this year. Andy Welinski was called up to the team for extended periods last season. His overall performance was a bit uneven, but he showed stretches of very capable play. Josh Mahura stuck around in preseason a bit longer than anyone had predicted and even showed some good chemistry with Regina Pats Teammate Sam Steel (who's likely to make the opening night roster).
This move is straight 🔥🔥🔥!

You need to watch @ssteel23 toe drag and score to give us the lead. pic.twitter.com/ndMKyoz4x2

— Anaheim Ducks (@AnaheimDucks) September 25, 2018
What remains are some offseason bargain pick-ups from general manager Bob Murray in Luke Schenn and Andrej Sustr. Schenn is often considered more brawn than brains, playing the body or going for a big hit rather than being in the right position.
At 6-foot-7, 217 pounds, Andrej Sustr is certainly a big body, but was often bemoaned for being low mobility and having a high turnover rate. As far as sixth/seventh defenseman goes, the two are low-risk, high-reward type signings. They hardly have strong numbers, but could eat up twelve minutes a night playing a stay-at-home style of play next to Marcus Pettersson.
Korbinian Holzer often occupies that seventh/eighth defenseman for the Ducks, but will be out for up to five months after having wrist surgery. It seems unlikely that he makes too much of an impact for the season.
Opening Night
What pairings should Carlyle go with for his opening roster against the Sharks? What would ice the best line up for the Ducks? It's entirely speculative, but on paper, these would be the best options:
Lindholm-Manson
This is a can't-lose proposition. Could there be more depth at defense by splitting the two up? Possibly, but when you strike gold like this, you don't give it up for anything. It's a dominant and proven tandem. They drive the pace of play and squander the offense of the opponents. What more can you ask for out of your defense?
Fowler-Montour
This pairing could be higher risk, as they prefer to skate and play with the puck rather than engage their opponents physically. However, as the Ducks adapt to a faster method of play, the style these two players bring out in the team and in each other is immensely beneficial for the Ducks. They're puck movers, they're offensively minded, and, if they keep the opponents in the offensive zone, then they may not need to win a lot of battles on defense.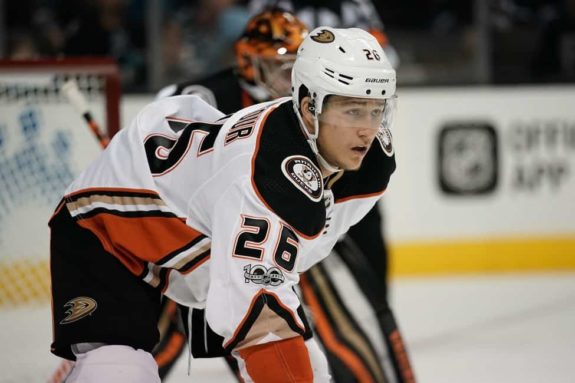 Pettersson-Sustr/Schenn
It would make sense to pair the rookie with the veteran players. Have them play their game for 12 to 15 minutes a night. Really though this bottom pairing should be a very competitive spot. Each of these players has something to prove, and if they're not up to snuff their replacements are waiting for them either in the press box or down in San Diego. This is the bottom pairing we're talking about, so it'll hardly make or break the team, but these players could be very good for the Ducks this year. They just need to go out and prove it.
Ducks fans have a lot to look forward to this season in regards to their exciting young blueline. Their forward group is a bit banged up, leaving a much younger group than we saw last year. So long as they have a solid defense to back them up, they could be alright.
All stats from Corsica.hockey