As the NHL prepares to drop the puck on its 101st season of play (102nd of operation), teams announced their opening night rosters. The Edmonton Oilers finalized their roster with a flurry of moves over the past 48 hours. Gone are Pontus Aberg (claimed on waivers by the Anaheim Ducks) and Jakub Jerabek (traded to the St. Louis Blues).
Related: Oilers – Aberg, Gagner, Jerabek Talk
In their place, Oilers general manager Peter Chiarelli signed the two remaining players in camp on professional tryouts (Alex Chiasson and Jason Garrison) to NHL contracts. Both received the same one-year deals worth the league's minimal of $650,000. Chiasson, 28, is now the club's 14th forward, while Garrison, 33, is now Edmonton's No. 7 on a healthy defense.
Here's what the Oilers opening night roster looks like as they are set to begin their 2018-19 season on Oct. 6 versus the New Jersey Devils.
2018-19 EDMONTON OILERS OPENING NIGHT ROSTER

Goaltenders
Left Defense
Right Defense
1. Cam Talbot
1. Oscar Klefbom
1. Evan Bouchard
2. Mikko Koskinen
2. Darnell Nurse
2. Matt Benning
3. Jason Garrison
3. Ethan Bear
4. Kris Russell (Injured)
4. Adam Larsson (Injured)
Left Wing
Center
Right Wing
1. Ryan Nugent-Hopkins
1. Connor McDavid
1. Ty Rattie
2. Milan Lucic
2. Leon Draisaitl
2. Kailer Yamamoto
3. Jujhar Khaira
3. Ryan Strome
3. Jesse Puljujarvi
4. Tobias Rieder
4. Kyle Brodziak
4. Zack Kassian
5. Drake Caggiula
5. Alex Chiasson
Note: Due to injuries, the lineup above is what the Oilers used during their exhibition game versus the Cologne Sharks in Germany.
Ethan Bear: An Oiler, a Condor, an Oiler in 20 Minutes
As the Oilers constructed their opening night roster, one of the more confusing situations was what happened with Ethan Bear. The 21-year-old had a strong camp and showed he could give Edmonton meaningful minutes as the club's No. 6 to start the year. However, he was re-assigned to the AHL's Bakersfield Condors only to be immediately recalled within a 20 minute period. Why?
It's a complicated answer that heavily tied to the situations around Chiasson, Garrison, and Andrej Sekera. Chiarelli had to juggle the roster and to get the maximum amount of cap relief from placing Sekera on long-term injured reserve (LTIR). The Oilers had to send Bear down, put Sekera on LTIR, and then use that to bring Bear back up onto the roster.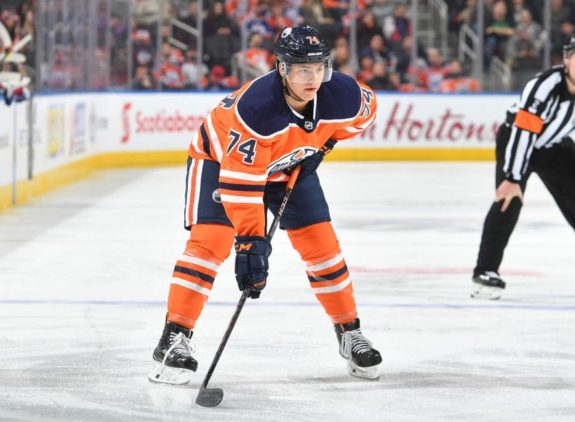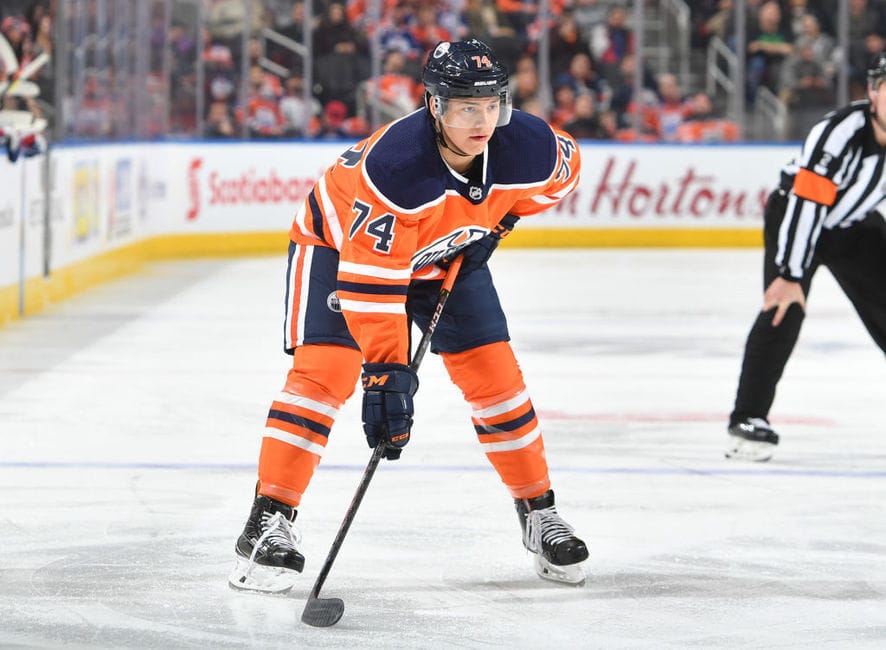 The game of musical chairs got the Oilers from 25 players down to 22 (once Kris Russell was placed on injured reserve (IR)), and back to 23 by recalling Bear. As explained by PuckPedia, doing this gave Edmonton the maximum amount of LTIR availability. Chiarelli chimed in on this as well in a media availability from Germany.
Related: NHL Pacific Division Preview 2018-19
The Oilers GM explained that by subtracting Bear's cap hit from Sekera's, the Oilers have $4.7 million in LTIR relief. Edmonton can use that space to bolster their defensive depth if need be after both Bear and Evan Bouchard have their trial runs with the absences of Adam Larsson, Russell, and Sekera.
"You want to get as close as you can to the upper limit before you invoke LTI. That maximizes your long-term injury reserve. By doing it the way we did it, we were $70,000 short of our upper limit and the timing of it was the best way to maximize our LTI." – Oilers GM Peter Chiarelli, via Oilers website.
The problem is once Sekera comes back Edmonton will be over the cap and would need to be compliant. The real question becomes whether or not the 32-year-old Slovakian will even come back this season from that torn Achilles. It's safe to say it's a fluid situation on the Oilers backend and what you see on opening night might not be what we see at the quarter or even half-way point of the season.
Evan Bouchard's Nine-Game NHL Audition
The Sekera injury isn't the only concern for the Oilers who may have just one defenseman over the age of 25 for their opening night matchup. Both Adam Larsson and Russell are banged up to start the year. Oilers head coach Todd McLellan did say that he hopes to have both in the lineup against the Devils, but at the moment, both are day-to-day.
That'll mean Bear and Bouchard might get thrown right into the deep end having to pick up some of those heavy minutes. As per TSN's Bob McKenzie and Craig Button, Garrison provides some veteran insurance for the loss of Russell, while one of (possibly both) Bear and Bouchard will be in the opening night lineup.
Button stated that Bouchard has yet to prove he can hold a spot on an NHL blue line and be a contributor, and rightfully so. But that's what his potential nine-game audition is for. Button went on to state that Bouchard might be best served being sent back to the OHL's London Knights and starring for Canada at the upcoming World Junior Championships.
Related: Edmonton Oilers Top 10 Prospects
McKenzie added it wouldn't be surprising to see Bouchard sent back, but his abilities to quarterback a power play (and how well he does in the first nine games) will be a huge factor in the Oilers decision to keep him or not. McKenzie also alluded to Oscar Klefbom's struggles to run the first PP unit, and that Bouchard is currently penciled in to run the second unit. He believes this could be Bouchard's opening.
Parting Thoughts on Oilers Opening Night Roster
The defense is clearly a work in progress, and overall, we're going to really find out what this Oilers team is made of in the early going. It's a tough October schedule that sees Edmonton play nine of its 11 games against playoff teams from last year. There's also a four game road trip to start the season. With both Chiarelli and McLellan on the hot seat, getting off to a good start is imperative.
Expect the Oilers to be aggressive in addressing their defense, especially if both Bear and Bouchard struggle. Adding a bonafide top-four puck-mover will be at the top of Chiarelli's shopping list. Some of the guys he could be targeting are rentals on expiring contracts heading into free agency next summer. A part of that could mean shopping Matt Benning in hopes of improving the defense overall.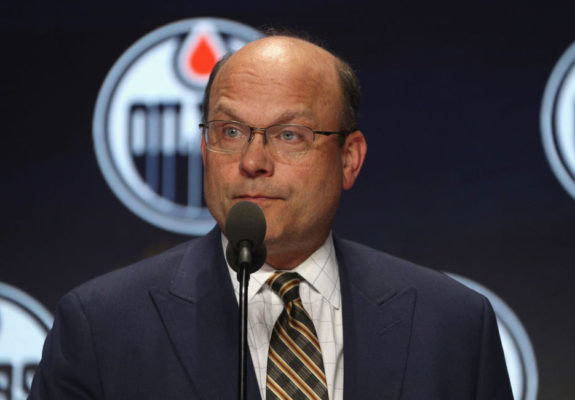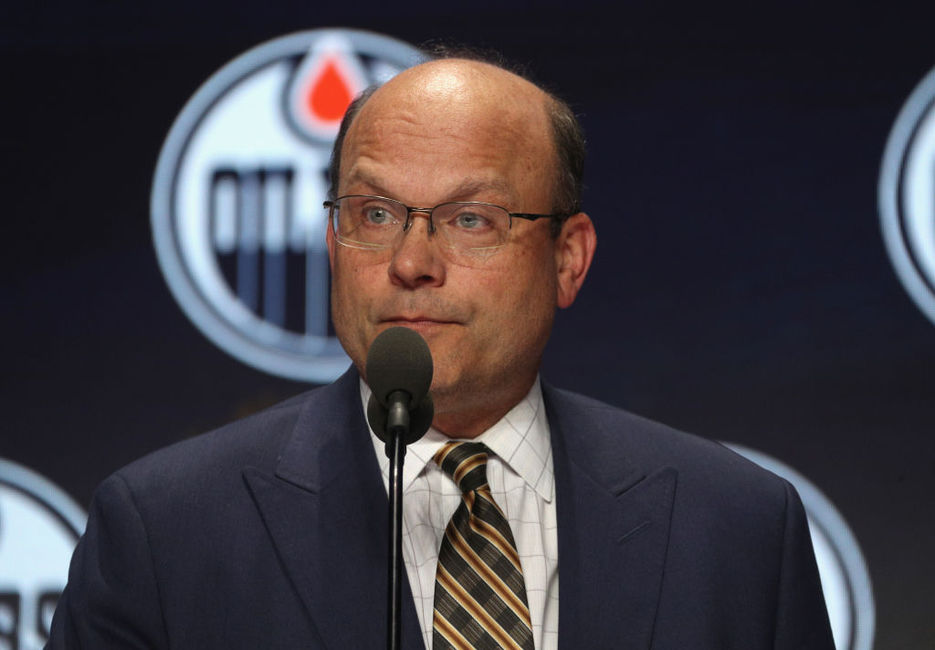 There's always the neverending banter linking Edmonton to Carolina Hurricanes defenseman Justin Faulk. The 26-year-old has two years remaining at $4.83 million and is a right-shot right-side offensive defenseman. He's seen a steady decline over the past three seasons since posting a career-high 49 points in 2014-15.
Related: Make or Break Year for Chiarelli, McLellan, Oilers
Edmonton's also been linked to the Colorado Avalanche's Tyson Barrie, 27, who comes in at $5.5 million and two years in term remaining. A cost-effective option to keep an eye on might be Jan Rutta of the Chicago Blackhawks. Chiarelli was in on the Czech defender last summer before he signed with the Blackhawks. The 28-year-old is an unrestricted free agent next summer, thus fitting the rental criteria.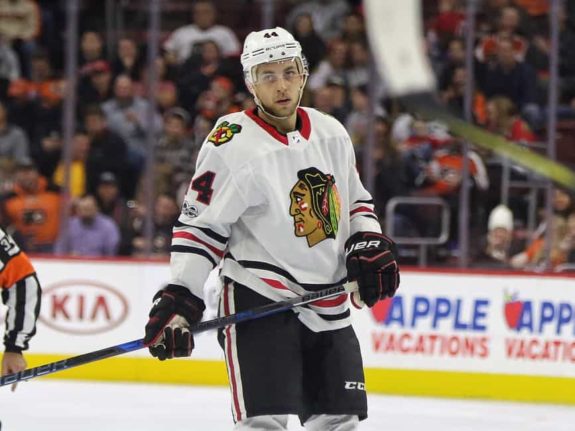 Last season, Rutta put up 20 points in 57 games in and finished behind Duncan Keith and Brent Seabrook in team scoring by a d-man. He's also a right-shot, right-side offensive defenseman. Those points spread over a full 82-game season are equal to 29 which would've let all Oiler defensemen in scoring last season. He's set to make $2.3 million this season and likely wouldn't cost a heavy ransom.
Regardless, the Oilers will likely exhaust all internal options before giving up assets in a trade to address the blue line. However, it's a tenuous situation as the team doesn't have the luxury of being patient with their defense if they hope to get back into the playoffs in 2018-19. Keep an eye on this situation as it unfolds. The defense you see today might not be the same defense you see a month or two from now.