Here at the quarter pole so to speak it might be fun to glance at how some of the players involved in a significant Carolina Hurricanes trade this past offseason are doing. Naturally, that would be the trade with the Calgary Flames. Is there a general sense of satisfaction with the outcome from both teams? Or, is there regret?
The Hurricanes sent last year's all-star defenseman Noah Hanifin and forward Elias Lindholm to the Flames. In return, the Flames sent defenseman Dougie Hamilton, forward Micheal Ferland and the rights to defenseman Adam Fox to the Hurricanes. A defenseman for a defenseman and a forward for a forward, plus the Hurricanes also got a defensive prospect in Fox who was drafted in 2016 in the third round by the Flames.
Hurricanes Pretty Satisfied
Hamilton
"Pretty Satisfied" is somewhere south of "giddy." To say that the Hurricanes are giddy about their end of the trade with the Flames would mean Hamilton was not being factored in the equation very much. Frankly, Hamilton is not producing as he has in the past.
In three years with the Flames, Hamilton put up 43, 50 and 44 points. So far this season he has eight points. In his last five outings, he has notched 1 assist in two games. He is a plus/minus -4. His time on the ice is right around 20 minutes per game which is his career average.
Hamilton definitely has not been putting up the kind of offensive production that no doubt the management of the Hurricanes were counting on when they brought him to the team. He's been steady on defense, often pairing with Hurricanes top defenseman Jaccob Slavin.
The Hurricanes might be giddy over the trade that brought them Hamilton if it were not for his offensive struggles. Although his proficiency at doing "The Floss" has team owner Tom Dundon pretty giddy:
This is why we had to get this guy pic.twitter.com/H9WvJ7I0kE

— Tom Dundon (@TDCanes) October 27, 2018
If Hamilton can turn up the offensive production a bit then his value to the Hurricanes aside from doing "The Floss" will increase. Otherwise, as Eric Reynolds wrote earlier this week at Cardiac Cane, Hamilton might be the key figure in another Hurricanes trade. Only this time he would be outbound.
Ferland
The Hurricanes have to be extremely pleased with acquiring Ferland. In 24 games he has scored 11 goals and four assists. More importantly, Ferland has five power play goals.
In a season wherein the Hurricanes power play has been stagnant, Ferland has been the juice that gets it plugged in with his timely goals. Overall, he is continuing to trend upward which was a key ingredient to his being attractive to the Hurricanes. His past three years point totals have been 18, 35 and 41. With 15 already this season, he is on pace to eclipse last season's mark fairly easily.
Hamilton is a nice addition to the Hurricanes. Ferland is a fantastic addition.
Flames Pretty Satisfied
Hanifin
One might say that the Flames also are not quite giddy, although they are pretty satisfied with bringing Hanifin and Lindholm to the team. Hanifin is on pace to eclipse last year's point total of 32. He has two goals and nine points thus far which works out to around 40 points or so give or take.
Like Ferland, Hanifin has been trending upward in his short career. And now that he has finally scored his first goals with the Flames, there is a great deal of confidence that he will be a worthy replacement for the departed Hamilton.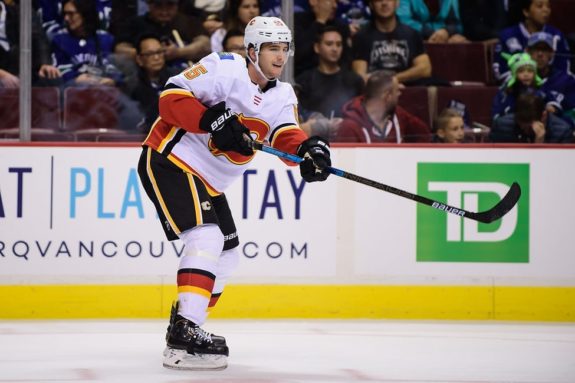 Kirsten Anderson wrote in the Calgary Sun, "But after two goals in Sunday's 6-1 win over the Arizona Coyotes — his first two in Flames silks — Hanifin, it seems, has officially arrived and emerged as one of Calgary's up-and-coming offensive defenceman." (From "Hanifin's Offence is Heating Up on Flames' Blueline" – Kirsten Anderson – Calgary Sun, Nov. 26, 2018).
Hanifin was an all-star last year with the Hurricanes. While the Flames would love for him to have an all-star season, they will likely be happy if he continues trending upward and contributing on defense.
Lindholm
Like Ferland, Lindholm could move the "giddy" needle regarding how the Flames feel about the trade. He blew onto the Flames' roster and already has 24 points (11 goals and 13 assists). He has found a spot the team's top line. Hurricanes fans are scratching their heads at his sudden offensive burst as he often seemed stymied offensively during the past two seasons.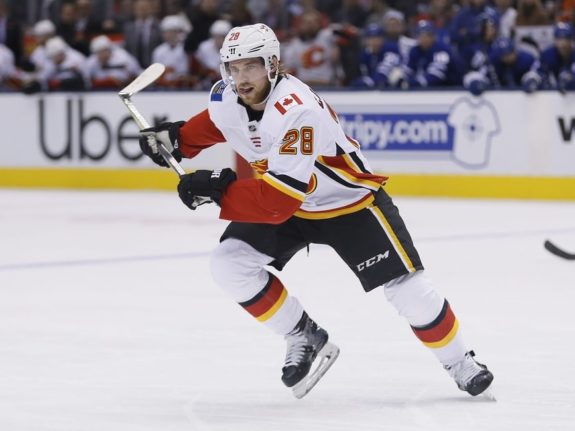 He has consistently been around the 40-point per season mark – a little over that the past two years with the 'Canes. But, Lindholm is on a pace to blow that up and that is absolutely fine with the Flames.
It's Working Out Just Fine
Not a lot of rocket science is needed to figure out that both of the defensemen in this big trade, Hamilton and Hanifin can be better. They will likely continue to improve and contribute to their respective teams as the season progresses.
But, the icing on this trade cake is both Ferland and Lindholm. They are both contributing significantly to their teams and look to be on pace to have outstanding seasons. In the end, to have been one of the biggest trades of the offseason, it is working out just fine for both teams.
Of course, the Hurricanes may need to trade for someone else to really make them feel giddy. They are not as high up in the standing as they'd like to be at this point. The Flames are in first place in the Pacific Division currently, and they that is just fine for them, too.