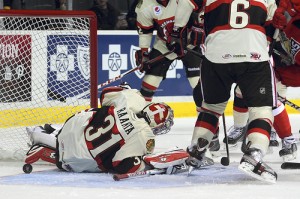 It is always a challenge for teams to adjust to injuries, though it is a regular part of the game it is still a hard for teams to overcome.  When you lose your starting and backup goalie to long term injuries it is a challenge that few teams can handle, except if you are the Chicago Blackhawks. When Corey Crawford joined Nikolai Khabibulin on the IR many thought it was going to be a tough time ahead for the Blackhawks, but Antti Raanta has risen to the occasion and the team hasn't missed a beat as they continue to dominate the rest of the NHL.
Since joining the club Raanta has gone 7-1-1 while maintaining a .920 save percentage and a GAA of 2.26. Raanta was enjoying a relatively unchallenged start to his NHL career as the team just kept picking off opponents and racking up the wins. Raanta was coming off two straight wins in back to back nights on December 10-11th and had a save percentage over .930 in both victories. Raanta made it onto highlight reels across the league as he made two amazing stops on shorthanded breakaways against the Flyers.
Raanta was looking like an unstoppable force between the pipes but finally faced some adversity in his young NHL career this past Saturday in Toronto. Perhaps the whole team took the Maple Leafs lightly as they had been in a tailspin of their own since mid-November, but the Leafs outplayed the Blackhawks in all aspects and Raanta surrendered 5 goals on 25 shots before being pulled for the 3rd period.
It was by far the rookie netminder's worst game of his career, though a team-wide lapse in defensive execution was just as much to blame. People wondered if the news that the Blackhawks had acquired Jason LaBarbera from Edmonton that morning played a role in distracting the young goalie, but the Finnish goalie took the blame on himself and simply stated he would be better.
In the two games following the brutal loss to Toronto, Raanta has turned aside 48 of 50 shots defeating the LA Kings and Nashville Predators while maintaining a save percentage of .955 (vs. LA) and .964 (vs NSH) respectively.
Mental toughness is huge for any pro athlete but especially important for NHL goaltenders, to be able to shake off a bad goal or tough night is huge and for Raanta to bounce back the way he did after his first bad start shows great mental toughness.
While the Blackhawks patiently await the return of Crawford, Antti Raanta is giving him the ability to take his time in recovering. With Raanta between the pipes, expect the Chicago Blackhawks to stay in their familiar spot atop the NHL standings.