They say that Lord Stanley's Cup is the hardest championship to earn in professional sports. It's a grueling and lengthy haul to the Cup Final. An absence of teamwork, heart and hunger will doom any team to an early Summer. And there are many teams on the periphery of the postseason which can't break through, at all. Is it due to mismanagement? Roster assembly? Or are those teams simply lacking the necessary push needed to compete for the ultimate prize? Whatever the case, the Pittsburgh Penguins showed in 2015-16 that they were a shining example of both what not to do, and what has to be done to win a Stanley Cup.
Playing up to Expectations
I recently discussed three Penguins in need of resurgent seasons to avoid another disappointing campaign. Three. That's all I could come up with. For a team working to repeat as champions, returning less than a handful of players who (relatively) underachieved is a great way to begin a season (I realize I could have included Beau Bennett among those disappointments, but he's in New Jersey now and is no longer a part of that problem.)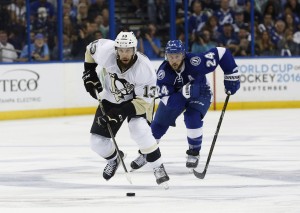 Looking back at 2015-16 strictly from a statistic point of view, there were encouraging trends from key performers. Nick Bonino, for instance, took 40 games before he achieved 10 points. While that might not be encouraging, this was before the assembly of the "HBK" line (Carl Hagelin, Bonino and Phil Kessel). One local (Pittsburgh) pundit even gave Bonino the moniker "Can't-Play-A-Lick Nick." Somewhat poetically, after the assembly of the HBK line, Bonino went on to score 19 points over the remaining 23 games in which he played.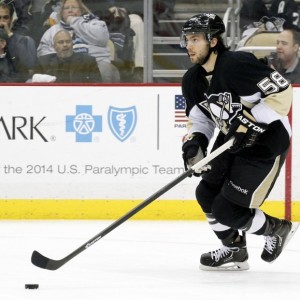 Star defenseman Kris Letang was second on the team in total points. Second, on a team laden with scoring superstars, is quite a feat – especially for a defenseman. In the 2014-15 season, he finished third on the team in total points, with only Evgeni Malkin and Sidney Crosby at the top of the list. Appearing near the top of the stat sheet has become commonplace for Letang, who has finished in the top-10 of team scoring in each of the last six seasons. He's averaged just below 46 points per season during that span. This kind of consistency out of a blueliner is a true blessing.
And perhaps one of the best examples of consistency, Patric Hornqvist has had back-to-back campaigns with 51 points. Another 51-point season would be just fine with the Penguins in 2016-17.
Goaltending Strength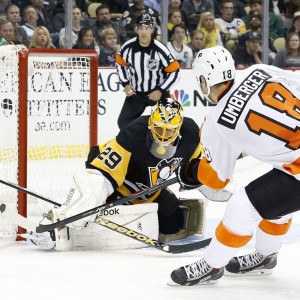 After riding a red-hot Matt Murray to a Stanley Cup championship, it's widely believed that incumbent Marc-Andre Fleury will be relegated to a backup role. Fleury, who has averaged 35 wins per season since 2008, is reportedly going to fight for the starting role once training camp begins.
For the Pens to remain successful in 2016-17, they're going to need both goaltenders. And it seems like Penguins' management knows it. General manager Jim Rutherford toyed with the idea of trading Fleury during the offseason before ultimately deciding to stand pat. With such a condensed schedule and each goaltender just an injury away from seeing a huge rise in playing minutes, retaining both goaltenders was the right decision.
Slump-Proof?
Again speaking strictly from a numbers point of view, the Pens can rotate forwards and defensemen in and out of the lineup without the fear of a diminished lineup. Derrick Pouliot can (and should) be moved in and out of the lineup regularly, both to provide veterans a rest and to prove his mettle. Youngsters Bryan Rust, Conor Sheary and Tom Kuhnhackl can move up and down the lineup as needed.  Depth cannot be understated in today's NHL and the Penguins have it in droves.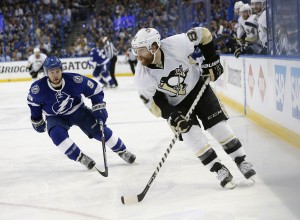 Not that Phil Kessel played poorly during the regular season, but he's sure to do better than his 51 points of 2015-16. That point total was nearly identical to his last season in Toronto, where NHL careers have recently gone to die. Prior to those seasons, he was nearly a point-per-game producer. Look to Kessel to improve those numbers in the coming season.
If Mike Sullivan can come close to perfecting the lineup variations on a night-to-night basis, then the Penguins are going to be awfully successful in 2016-17. All of the pieces are there, and then some. For a team as fearsomely assembled as this Penguins squad, slumps at the individual level might very well be minimized by the overall team effort. While individual player slumps may be noticed, they won't contribute to the overall juggernaut that the Pens will trot out each game. If any team in recent history has been built to withstand slumps of any kind, look no further than these Pittsburgh Penguins.