The NHL All-Star Break has arrived and it could not have come soon enough for the Arizona Coyotes. A six-game winless streak, including a 0-2-1 start to their current eight-game road trip, has put the Coyotes in a deeper hole in the Western Conference standings. There has been little to cheer about for Arizona fans this season, but there have still been positives. Here is a rundown of both the highs and lows for the Coyotes from the first half.
Blowout Losses
An all-too familiar sight for the Coyotes this season has been the puck ending up in the back of their net. The Coyotes have allowed 153 goals this season, the third-highest total in the NHL behind the Edmonton Oilers (155) and the Buffalo Sabres (166). In addition, 10 of Arizona's 25 regulation losses this season have been by four goals or more, including Tuesday's 6-1 drubbing by the Chicago Blackhawks. By comparison, the Coyotes have only two four-goal wins this season: a 5-0 shutout against the Vancouver Canucks on November 14 and a 5-1 victory over the Oilers on December 23.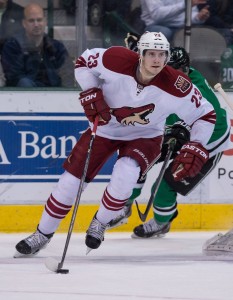 Bright Spots in the Desert
In terms of positives, defenseman Oliver Ekman-Larsson is having another strong offensive season. His 12 goals this season ranks second on the team and puts him in a four-way tie for the league lead in defenseman goals (alongside Winnipeg's Dustin Byfuglien, Calgary's Dennis Wideman, and Colorado's Erik Johnson). Ekman-Larsson was also the lone Arizona player selected to play in this weekend's All-Star Game in Columbus. Another standout from this season has been rookie forward Tobias Rieder, who has collected six goals and six assists so far. The speedy German came up with a clutch goal late during Sunday's contest against the Winnipeg Jets to help Arizona secure a point on the road.
With the Coyotes in the bottom five teams right now, it will be interesting to see what moves will be made to prepare the team going forward into next year. General manager Don Maloney will have some decisions to make with the upcoming trade deadline and the younger talent in Arizona's organization will be using these next few months to audition for a spot on the 2015-16 roster.