Fearing trepidation and facing the best players in the world, Arizona Coyotes' goal tender Mike Smith told The Hockey Writers during the recent All-Star festivities that he would probably need a hug in support.
That was Smith's desire, and he pointed to the caliber of competition in last Sunday's All-Star game in the Staples Center as a good reason. After acquitting himself well and drawing popular praise for his effort from the Los Angeles Kings' crowd, Smith informed listeners that all was good and a reassuring hug was not necessary.
Perhaps what Smith should have asked for was an apology from referee Chris Rooney, who called a questionable tripping penalty against Martin Hanzal at 16:41 of the final period Tuesday night. That led to Jake Muzzin's power play goal with 1:30 left in the game, and a 3-2, Kings' victory before 11,577 at Gila River Arena. The loss snapped the Coyotes' modest three-game winning streak, and the team learned a valuable lesson.
"(The Kings) pushed in the third and we did not push back," forward Lawson Crouse told The Hockey Writers. "I thought we played a hard, physical game against a tough team. We created some good chances, but, like I said, we didn't push back when we needed."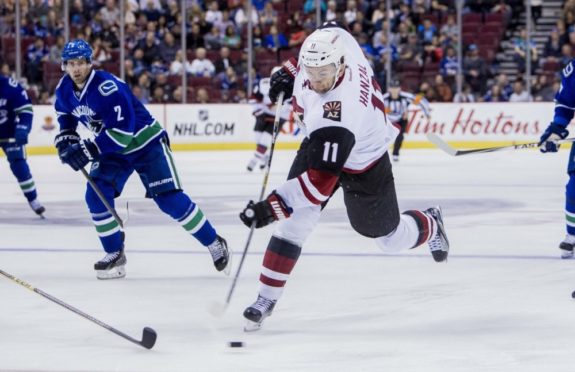 Coming out of the All-Star break, the Coyotes, as a team, possessed a high confidence level. That's an important variable of their game missing for most of the season. That aspect of team play was especially evident from the fourth line.
The unit of Jordan Martinook, a left-handed shot playing on the right wing, Ryan White at center and Crouse on the left wing, accounted for both Arizona goals. When White scored at 18:30 of the second period, that was his second goal in his last three games and three points in his last three games.
"We're going into games now expecting to win each time," White said. "What we came away from this one was that when we stay with teams, we'll be okay."
Coyotes Need "To Push Back"
The term "push back" was heard more than once in the Coyotes' dressing room and from coach Dave Tippett in his post-game remarks to the media. What remains encouraging is the way the Coyotes are approaching each game. Their resolve is there and the confidence level appears in place.
"For us to be successful, everyone has to compete," Tippett said. "We have some momentum from the past few weeks. At this point, we need to recognize what we did. When we get pushed, we have to respond and push back."
What is necessary is to maintain the high level of play. Coming into Tuesday night's home game against the Kings, Arizona was riding that three-game winning streak, and represented the longest of the season. As well, the Kings were riding a crest.
After losing four straight from Jan. 16 to Jan. 23, the Kings captured road wins over the Devils and Hurricanes. The Coyotes lack of a strong, third period allowed the Kings back in this one and helped Los Angeles gain its third straight victory.
Now, the Coyotes must find a way to respond and keep out of the penalty box during critical times.