A hockey player typically shows his team whether or not he has what it takes to reach that all-elusive next level by the time he hits his mid-twenties. This rings especially true for players drafted in the first round of the NHL Entry Draft.
The Minnesota Wild just happen to have several former high draft picks on their roster who fit right into that early to mid-twenties age range. Now, judging from their play during the first half of the season, it's pretty safe to say that the cavalry has officially arrived in Minnesota.
Breaking out – Everybody's Doing It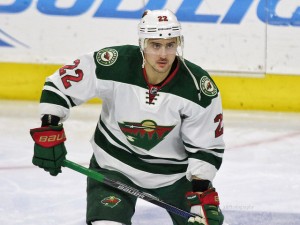 The Wild have had a fairly large group of talented young players on the roster for the past few seasons. Some of them played in the minors together and all of them have grown up together as professional athletes in Minnesota.
This group of now young veterans consists of Mikael Granlund, Charlie Coyle, Nino Niederreiter, Jason Zucker, Jonas Brodin and Matt Dumba. Six players all between the ages of 22 and 24 and all drafted inside the top 60 of their respective draft classes. In fact, all but Zucker are former first-round NHL draft picks.
Another thing they all have in common? All six are in the middle of the best offensive season of their careers.
Follow the Leader
Granlund, the ninth overall pick in 2010, is leading the way for the young pack. The Finnish forward is on pace to end the year with very impressive 72 points. That's a 28-point jump from his previous career best of 44.
A 72-point season would have slotted the 24-year-old as the 15th overall player in league scoring one year ago which would have put him one point ahead of superstar Alex Ovechkin. Not bad.
The 2016-17 season, the final year of Granlund's bridge contract carrying a $3 million cap hit, was looked at as a make-or-break campaign for the young winger. The former Team Finland world juniors captain showed a lot of promise and potential from a young age but appeared to be stagnating at the NHL level over the past three years. Since becoming an NHL regular in 2013-14, Granlund finished every season hovering around the 40-point mark.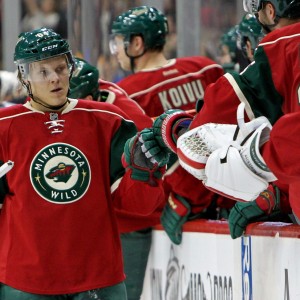 While regularly posting 40 points is not a bad thing for many players, there was hope for Granlund that he would develop into more than just a complimentary level forward in the NHL. That hope, which had begun fading away, has now been rekindled and even transformed into a realization.
Granlund is two points away from a new career-high and is playing more minutes per game than ever before in his NHL career. The former centreman was converted to full-time wing duty and is seeing time on both special teams. The switch in positions has done wonders for Granlund's possession game and he has clearly benefited immensely from the guidance of coach Bruce Boudreau.
[irp]
The Rest Aren't Far Behind
Coyle, now a fifth-year veteran, is also trending in the right direction. The 6-foot-3 American is just four points away from establishing a new career-high himself and is on pace to close out the year on the right side of the 60-point mark for the first time. To put his season into perspective, it would also be his first time topping the 50-point mark. A big power forward who can put the puck in the net is an extremely valuable commodity in today's game.
Niederreiter, another power forward, is on pace for 26 goals and 62 points — a number that would eclipse his current best mark of 43 points. The 6-foot-2 winger is quietly becoming one of the league's top possession players all the while continuing his offensive development.
The speedy Zucker is beginning to think the game at a fast enough pace to allow him to keep up with his lightning quick feet. He has found great chemistry with Granlund and is making a habit out of turning open ice into scoring chances. Heading into the season, the 2010 second round pick had a career-high of 26 points. With 33 points already in 2016-17, the winger is tracking to finish the year somewhere between 55 and 60 points before all is said and done.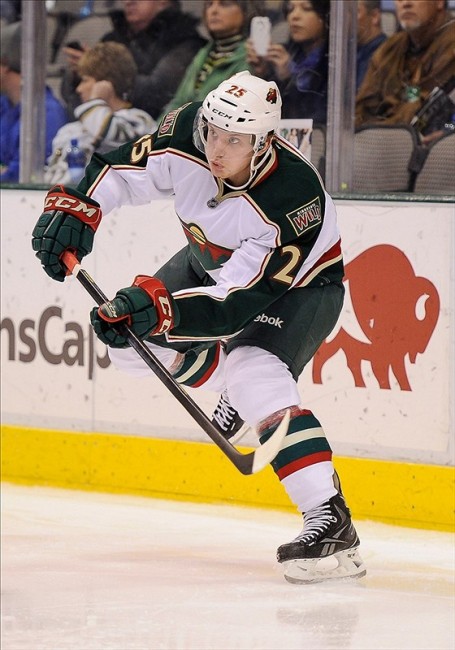 Not to be outdone by the young forwards, both Brodin and Dumba are also tracking in a positive way. Brodin is just three points away from tying his best offensive season in 2013-14. Dumba, meanwhile, is four points away from his best total and is showing more of the offensive upside that made him the seventh overall selection in the 2012 draft.
This group of six budding stars also happen to be the Wild's six youngest regulars save for fourth-line centre Tyler Graovac, who is 23.
Minnesota, already sitting in first place in the Western Conference, have the pieces to potentially become a constant fixture atop the standings. The big challenge now will be keeping the young core together.