Following the Buffalo Sabres' victory over the Anaheim Ducks on Sunday, the Arizona Coyotes enter the third week of the 2017-18 NHL season as the only team without a victory.
After dropping their home opener against the Vegas Golden Knights on Oct. 7, the Coyotes made the short trip north to Las Vegas to take on the Knights in their own home opener at T-Mobile Arena on Tuesday night. It was an emotional evening in Vegas, as the Golden Knights honored the victims of and first responders to the 1 October tragedy prior to the game. With better than 18,000 fans behind them, the Golden Knights jumped out to an early 4-0 first-period lead and defeated the Coyotes 5-2.
Following Tuesday's beatdown in Vegas, the Coyotes returned to the Valley of the Sun for a Thursday night matchup against the Detroit Red Wings. With the game tied at two late in the third period, the Coyotes had a chance to take the lead on the power play, but they instead surrendered a shorthanded goal followed shortly by an empty-netter as they dropped their fourth straight game to start the season, 4-2.
On Saturday night, the Boston Bruins came to town and wasted no time in jumping all over Rick Tocchet's struggling squad, as they scored at will against Louis Domingue and left town with an easy 6-2 victory. Following the game, Tocchet addressed the media and had a lot to say:
"I'm embarrassed. I apologize to the fans on this because that second period was not good." – Coach Tocchet pic.twitter.com/ZByCowF6Py

— Arizona Coyotes (@ArizonaCoyotes) October 15, 2017
Looking for a Win
After their embarrassing loss to the Bruins on Saturday, the Coyotes will travel to Dallas on Tuesday and will look to right the ship against the Stars. After adding Ben Bishop, Alexander Radulov, and Martin Hanzal over the summer, the Stars were expected to be Stanley Cup contenders in 2017-18, but, despite the hype, they're off to a slow start at just 2-3-0 through five games. Puck drop is scheduled for 7:30 P.M. local time (5:30 P.M. in Arizona) at American Airlines Center.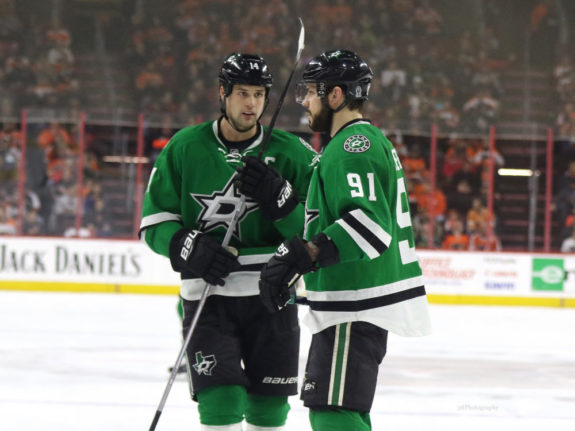 Following Tuesday's contest in the Big D, the two teams will travel to Glendale for a grudge match on Thursday at Gila River Arena. Despite their recent struggles, the Coyotes always seem to play well against the Stars on home ice, as they've won seven of the past 10 matchups against Dallas at Gila River Arena. Puck drop is scheduled for 7:00 P.M. in the Grand Canyon State.
The Coyotes will wrap up their week on Saturday night as they'll host Patrick Kane and the Chicago Blackhawks. The Hawks have had their way with the Coyotes over the last few seasons – they're 7-0-0 in their last seven against the Desert Dogs and have outscored Arizona 34-18 over that span. The puck will drop at 6:00 P.M. in Glendale.
The Goaltending Adventure Continues
When Arizona acquired Antti Raanta over the offseason, many expected that the Coyotes would have one of the Western Conference's best goaltending tandems in 2017-18. Raanta has, statistically, been one of the league's better goaltenders since entering the league in 2013-14, while Domingue entered the season fresh off of an extremely strong finish to the 2016-17 campaign.
However, it appears as if the opposite will be the case in Arizona this season. Raanta was absolutely shelled in Vegas on Tuesday, as he let in three goals on just five shots before getting the hook at T-Mobile Arena just 6:15 in. Domingue replaced Raanta in Sin City, but he also was unable to stop the Golden Knights' onslaught, as he surrendered a goal on the first shot he faced. He did manage to stop 21 of the next 22 thrown his way, but the damage was already done as the Knights coasted the rest of the way with the game well in hand.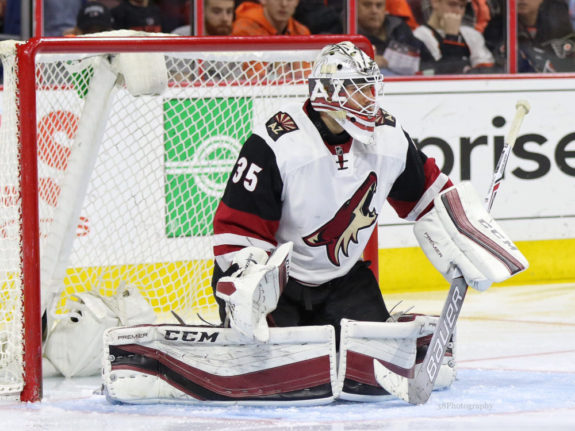 Raanta was back in goal for Thursday's game against the Red Wings and managed to keep Detroit off the scoresheet in the first period before being forced out of the game with a lower-body injury. Enter Domingue once again – he was staked to two different leads in the second period by Arizona's forwards but relinquished the tying goal following each Coyotes tally. In the third, things started off well enough for Arizona, but the Coyotes allowed a shorthanded goal with less than four minutes left to lose yet again.
A clearly frustrated Domingue addressed the media after the game on Thursday night:
#DETvsARI Postgame:

📹 Coach Tocchet: https://t.co/kii4bd3KIp
📹 Louis Domingue: pic.twitter.com/jJ4oXUk8dI

— Arizona Coyotes (@ArizonaCoyotes) October 13, 2017
Domingue and the Coyotes would receive a chance at redemption on Saturday night against the Boston Bruins. The Coyotes once again jumped out to an early lead, but once again the lead would be short-lived, as David Pasternak scored just 36 seconds after Mario Kempe gave Arizona a 1-0 lead with his first career NHL goal. The game was tied at one entering the second period, but it wouldn't take long for Boston to change that as they buried the Coyotes with three goals in the period en route to a dominating 6-2 victory.
After five games, it's clear that the Coyotes have a serious goaltending problem on their hands. Neither Domingue nor Raanta has been able to get the job done, and, unless one significantly elevates their game, it's hard to see the Coyotes winning many games this season. Sure, it's early, but the results just haven't been there so far. Like Domingue said, "close is far from being good enough."
Keller, Domi off to Strong Starts
While the Coyotes have struggled as a group this season, a handful of players are off to solid individual starts. One such player is rookie Clayton Keller. During the preseason, Keller was named as one of the early favorites for the Calder Trophy, and, through five games, he's managed to live up to the hype. The 19-year-old recorded his first career multi-goal game against the Red Wings on Thursday and has already fired 19 shots on net this season. He already leads the Coyotes in goals and is well on his way to becoming a dangerous player in the desert.
7 games in and already a celly pro. pic.twitter.com/tH1HFT8R38

— Arizona Coyotes (@ArizonaCoyotes) October 13, 2017
Third-year forward Max Domi has also been making some noise in Arizona – he's spent most of his time on the first line with Keller and Derek Stepan, and he's been able to have some success this season as a result. As was previously mentioned, Keller leads the Coyotes in goals, while Domi is tied with Stepan and Alex Goligoski for the team lead in assists with three. If Domi is able to stay healthy and posts 60 or more points for the Coyotes, he could receive a major payday when he becomes a restricted free agent following the season.
Pacific Division Roundup
With two weeks of the 2017-18 NHL season already in the books, the Los Angeles Kings look like the early favorite in the Pacific Division. Here's how Arizona's other division rivals fared last week:
Last week: 1-3-0 (2-0 L vs CGY, 3-2 W vs NYI, 3-1 L at COL, 3-1 L vs BUF)
Analysis: After picking up three points during the opening week, Anaheim struggled badly last week – they scored five goals in four games and are one of just two teams in the NHL that have yet to score on the power play. With just one game scheduled in the next eight days, they'll have a chance to get some of their injured players back to full strength.
Player of the week: Josh Manson – 3 assists, +3
This week: Fri vs MTL
Last week: 3-1-0 (2-0 W at ANA, 4-3 OTW at LA, 6-0 L vs OTT, 5-2 W at VAN)
Analysis: On Monday, the Flames won their first regular season game at the Honda Center since Jan. 19, 2004 and parlayed that success into two additional road victories on the week. A 6-0 blowout loss to the Ottawa Senators on Friday at the Saddledome put a bit of a damper on things, but the Flames are still 4-2-0 through six games and have scored five power play goals on 25 chances. They're in good shape.
Player of the week: Sean Monahan – 2 goals, 2 assists, +3
This week: Thu vs CAR, Sat vs MIN
Last week: 0-2-0 (5-2 L vs WPG, 6-1 L vs OTT)
Analysis: Not much has gone right in Edmonton this season – Cam Talbot has stopped just 61 of the 73 shots he's seen in his last three games, the power play has converted only once in 12 chances, and the penalty kill is succeeding at a rate of just 70.6%. The Oilers will need to markedly improve in all facets of the game in order to start having some success in 2017-18.
Player of the week: Connor McDavid – 2 assists
This week: Tue vs CAR, Thu at CHI, Sat at PHI
Last week: 2-0-1 (4-3 OTL vs CGY, 4-2 W vs BUF, 3-2 W vs NYI)
Analysis: Dare we say that Dustin Brown and Anze Kopitar are back? Both have scored four times through the first five games of the season and are leading the way for a resurgent Kings offense that's averaging 3.2 goals per game in 2017-18. It looks like Los Angeles is back to playing the style of hockey that made them so dangerous from 2012 through 2014.
Player of the week: Dustin Brown – 3 goals, 2 assists, +3, 15 shots
This week: Wed vs MTL, Sat at CBJ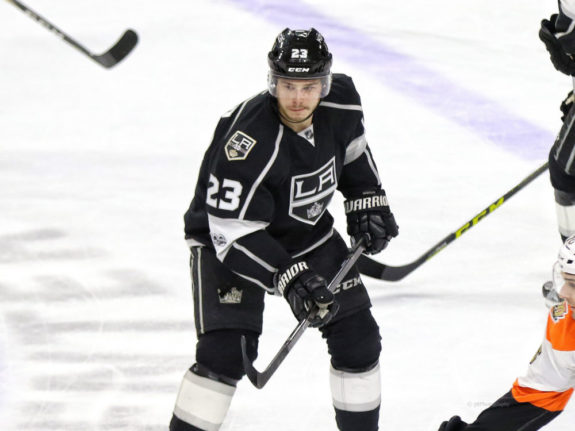 Last week: 1-1-0 (3-2 W vs BUF, 3-1 L vs NYI)
Analysis: The Sharks continue to struggle in NorCal – they've scored just eight goals through their first four games and are looking like anything but a sure-thing to make a 13th postseason appearance in 14 seasons.
Player of the week: Timo Meier – Goal, assist, +2, 5 shots
This week: Tue vs MTL, Fri at NJ, Sat at NYR
Last week: 0-2-1 (3-2 SOL vs OTT, 4-2 L vs WPG, 5-2 L vs CGY)
Analysis: The joy of a 3-2 opening night victory over the Oilers has faded away after three losses in three tries last week for the Canucks. It's become clear that this team once again will struggle due to suspect goaltending, an inconsistent offense, and a porous defense. Will this be the year that Vancouver moves on from the Sedin twins and begins a full rebuild?
Players of the week: Chris Tanev – 2 goals
This week: Tue at OTT, Thu at BOS, Fri at BUF, Sun at DET
Last week: 2-1-0 (5-2 W vs AZ, 6-3 L vs DET, 3-1 W vs BOS)
Analysis: The Golden Knights stayed hot last week – they blew out the Coyotes 5-2 in their home opener and defeated the Bruins 3-1 in Malcolm Subban's first start in Sin City. A 6-3 loss to Detroit in which Vegas allowed four unanswered third-period goals does sting, but the Knights are still sitting pretty after five games. With Marc-Andre Fleury expected to miss at least a week with a concussion, the Golden Knights will need Subban to continue his solid play in net.
Players of the week: James Neal – 3 goals
This week: Tue vs BUF, Sat vs STL
As the lone remaining team in the NHL without a victory, the pressure is on the Coyotes to get off the schneid and get into the win column. Will they do so against either Dallas or Chicago this week?
A lifelong Phoenix resident, Louis has been following hockey since 2010, has covered the Arizona Coyotes since 2015, and has been playing hockey since 2020. So far, Louis has visited eight NHL cities, and one of his personal goals is to eventually make it to all 31 NHL arenas. For any questions or concerns, contact the writer via Twitter @LouisPannone.