The Colorado Avalanche begun a critical off-season by returning head coach Joe Sacco, and resigning team captain Milan Hejduk (the team also signed a trio of minor league goalies, which will be discussed in a future article). Neither move is necessarily surprising, although both saw mixed reactions.
Coach Sacco enjoyed a successful first season in Denver during the 2009-10 campaign. He led the jump-start Avs to the 8th seed in the Western Conference, even giving the top seeded San Jose Sharks fits in the first round, before losing in 6 games. Since then, Colorado has missed the playoffs in two consecutive season. However, the Avalanche increased their point total from 68 in the 2010-11 season, to 88 in 2011-12. The team fought for a playoff spot until the last week of the season.
Renewing Sacco is not without it's share of questions. As mentioned in previous articles, coach reportedly to have his fair share of problems with player relationships, as hinted at by former players such as Kyle Quincey and Chris Stewart. The question becomes: does a young team benefit from having a head coach who seemingly cannot get along with players? How will this effect the contract and play of Matt Duchene, who also reportedly disapproved of Sacco's treatment of him this season. If he cannot lead effectively, a young team could shut Sacco out, and it could be a long season in Denver.
However, the renewing of coach Sacco also brings benefits to the franchise that cannot be overlooked. Ever since Patrick Roy's retirement, the Avalanche franchise struggled with consistent goaltending and defense. This is perfect, because Sacco's style reflects a better commitment to these parts of the game. The Avalanche jumped up to nearly the top 10 in defense this season, after being dead last in the league in 2010-11. Special teams also saw a significant boost this season. With an emerging Semyon Varlamov and exceptional play late in the season by former first-round pick Erik Johnson, Colorado looks to build themselves much like the Los Angeles Kings, who obviously have had great playoff success this season. If Sacco can find a way to revive Duchene's game, look for the Avalanche to have a huge 2012-13 season, assuming there is one.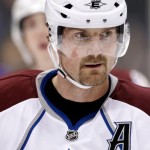 The other Signing so far brought back the Avalanche captain for one last season.  At 36, Hejduk returns to  lead this young team to hopefully a surprising playoff run, and climb the ranks of franchise history. He has an outside chance to reach the 400 goal plateau, if he can manage a 29 goal season. Although, that is something Hejduk hasn't accomplished since the 2007-08 season. Aside from more cap room, there really appears no downside to bringing the cap'n back for another season. The team needs any veteran presence it can find, and the Avalanche shouldn't  make any major splashes in the free agent market (although fans could hope for one or two nice surprises).
All things considered, the Avalanche have decided that consistency is what wins in the NHL. The last 7 or 8 seasons has seen nothing but change in the organization. Perhaps bringing a little stability to coaching and roster alike will help the team return to its winning ways. That being said, free agents are always nice to add. Who should the Colorado Avalanche look at come July 1st? That will be the discussion in our next article.
All stats courtesy of ESPN.com