Nearly 30 games into the 2014-2015 season and it is clear the Colorado Avalanche have regressed from last season.
Injuries up and down the line up have resulted in the third highest total man games lost this season, last year's Calder Trophy winner Nathan MacKinnon is having a sophomore slump for the ages as far as goals are concerned and back up net minder Retto Berra has continued to play backup even when the Avalanche have called up Calvin Pickard from the AHL.
One bright spot for the club however has been the penalty kill which is currently tied for third with Detroit at 87.1 percent.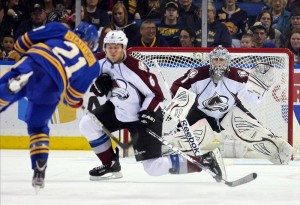 Eric Johnson is arguably playing his best hockey under coach Patrick Roy including on the power play. Marc Andre Cliché, a waiver pick up from the kings, is on the ice to start each penalty kill when he is healthy. Stanley cup hero Max Talbot has lined up alongside Cliché since he was acquired early last season from Philadelphia. Offensive defense man Tyson Barrie has the speed to cover the extra open ice available on the penalty kill.
This unit has shown chemistry and effectiveness as the first penalty kill unit for the Avalanche
Tuesday Against Nashville
What ended as a 3 0 Nashville Predators win was a one goal game until coach Patrick Roy pulled Pickard and the Predators scored two empty net goals.
The penalty kill unit was successful on five shirt handed occasions including a double minor against Jarome Iginla with only 23 seconds left in the game.
The old cliche that the best penalty killer has to be you goaltender, Pickard lived up to and exceeded that on Tuesday including this toe save against James Neal in the 1st period while shorthanded.
Pickard had 33 saves on 34 shots, the only shot to beat him was a Filip Forsberg even strength breakaway early in the first that any NHL regular would have had difficulty with.
The young net minder, like the unit in front of him, was perfect on the penalty kill Tuesday night.
Looking Forward
The Avalanche season is getting to a point of slipping away. The Avalanche play nine games before the new year and five of those are teams in the pacific division.
With Semyon Varlamov again on IR for several weeks the Avalanche penalty kill will need to continue its stellar play for the team to have any chance to save the season.
Games against Detroit and St. Louis later this month will pose a challenge for the penalty kill unit as both these teams currently have top ten power plays.
I am a University of New Mexico journalism student who has been watching NHL hockey since 1996 and I started playing hockey myself in 2003. I have covered both college soccer and volleyball in the past and I also contribute to a NASCAR news website.