It's only been two games, but there is already reason to worry.
Since the arrival of Kari Lehtonen late in the 2009-2010 season, the Dallas Stars have had a looming issue that they cannot seem to solve. That problem would be the position of backup goaltender.
Jim Nill took another shot at solving the issue by signing Anders Lindback and Jussi Rynnas in July. The hope was that they would battle for the backup role and help take pressure off Lehtonen. The signings provided hope that the issue would finally be resolved.
The Candidates
Lindback has a towering 6-foot-6, 215-pound frame that takes up a lot of the net. At the time of his signing, he had 90 games worth of NHL experience from his time with the Nashville Predators and Tampa Bay Lightning. Though his career numbers may not be that impressive, he does possess the size, skills and experience to be a capable backup for Lehtonen. Through his four seasons in Nashville and Tampa Bay, he registered 34 wins, a .905 save percentage, a 2.71 GAA and three shutouts.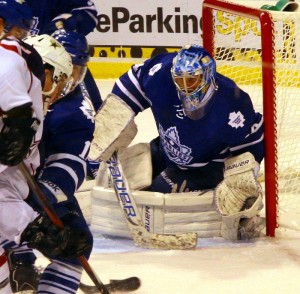 Rynnas is also a big goaltender with a 6-foot-5, 210-pound frame. Rynnas had been with the Toronto Maple Leafs since 2010, but he spent most of his time in the AHL as he managed only three NHL appearances. The 27-year-old netminder is coming off a stellar year with Karpat of the Finnish Elite League. His 1.51 GAA and .939 save percentage were best in the league, and his 28 wins and nine shutouts were among the top three in the league.
The pre-season consisted of two dramatically opposite halves for Lindback and Rynnas. Rynnas dazzled in training camp. He had a mesmerizing performance in the last intrasquad scrimmage in training camp. He made himself huge in the net and maintained quick agility post-to-post. Perhaps the best aspect of his play in training camp was his ability to track the puck. He saw through screens and fought off deflections as well as a number of chances in tight. Lindback seemed to be the odd man out as he was overshadowed by Rynnas and even prospect Jack Campbell.
The preseason games changed that. Rynnas could not carry over his success in training camp, and he struggled mightily in the preseason. Lindback wasn't necessarily amazing, but he got the job done. In doing so, he won the battle to be Lehtonen's backup.
Not a Good Start to This Season
Lindback has only played in two games so far this season, but both performances left something to be desired. Through two games, he has surrendered nine goals and posted a .903 save percentage. His first start was on October 11 at the Nashville Predators. He was solid through the first two periods, but fell apart in the third allowing three goals, two of which were really soft, to give Nashville a 4-1 victory. He finished with 29 saves on 32 shots.
Lindback's second start was the roller coaster 7-5 loss to the New York Islanders on Saturday. He was shaky in net again as he surrendered three goals on eight shots in the third period and finished the game with 29 saves. Not all the blame for both losses falls on Lindback. The Stars' defense has had its issues and the team in general has struggled in third periods, but Lindback was brought in to solve a specific problem.
It seems that every season, the Stars' management and coaching staff say they would like to give Lehtonen fewer starts. They want to rest him so he can be fresh toward the end of the season and into the playoffs. Aside from the lockout-shortened season, Lehtonen has started at least 59 games in each of the past four seasons. The wear on Lehtonen is visible when he plays too often, and with the Stars hoping to build off their first postseason appearance since 2008 last season, the team cannot afford to overplay him again this season.
A Backup Carousel
Since 2010, the Stars have had five backup goalies come and go. Andrew Raycroft struggled in his 29 games with the Stars. Richard Bachman seemed to be the answer in 2011-2012, but he struggled the following season. Cristopher Nilstorp couldn't hold on to the backup role with the Stars, but he helped lead the Texas Stars to the Calder Cup championship last season before signing a deal overseas. Dan Ellis' return to Dallas last season was less than glorious, prompting Nill to pull off a trade at the deadline to acquire veteran Tim Thomas. He started off strong but fizzled near the end of his eight-game stint with the Stars.
Two games make up too small of a sample to panic about, but there is cause for concern. The Stars need Lindback to play better and help take some of the load off of Lehtonen this season. Based on the rough preseason and average performances so far in the AHL, Rynnas may not be ready if Lindback needs to be replaced. Campbell could be Dallas' goalie of the future so whether he is ready or not, Campbell should continue to develop in the minors.
Lehtonen has helped the Stars earn points in each of his six appearances so far this season, even with the team's defensive struggles and third period unravelings. There is still plenty of time for Lindback to turn things around and prove that the backup situation has finally been solved. The hope now is that Lehtonen either gets some adamantium pumped into his body in preparation of a long season or Lindback finally steps up and becomes the reliable backup the Stars have been in search of for years.
The Stars have two regulation losses so far this season. Anders Lindback has both of those losses.

— Goblin Jenkins (@JenkinsSports) October 26, 2014
Lindy Ruff did not give a glowing endorsement of Anders Lindback. Wondering if there is a change of backup in the future

— Bruce LeVine (@BruceLeVinePuck) October 26, 2014
Mohammad received his Bachelor's Degree in Journalism from the University of Texas at Arlington with a minor in English.