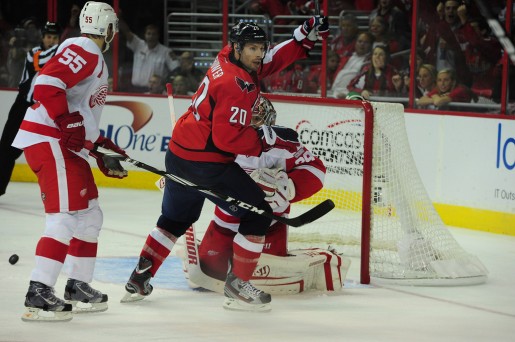 The Washington Capitals are off to their best start in franchise history.  In the last few seasons, the Capitals have set many new franchise records, as they have their most talented core assembled since at least the 80s, possibly even ever.  However, this recent success has come despite the biggest names on the team not providing their usual offensive explosion.  The team has been getting a much needed balance, and that has made all the difference.
The team's supporting cast has been holding up the Caps as they continue their streak.  Particularly, the third line of Joel Ward, Brooks Laich, and Jason Chimera has turned heads, as they have combined for seven goals and 12 points through seven games.
Not only have they been chipping in offensively, but they have successfully shut down the opposing teams' top guns, such as the Pavel Datsyuk line in the 7-1 victory over Detroit.  They have been able to pin opponents in their own zone, cycle low, and push continuous pressure.  That is a very rare combination in today's NHL; a checking line that is a threat every time they hop over the boards.
Despite playing mainly on the fourth line, Mathieu Perrault has left quite the impression as well.  One of the last players to make the team out of camp, the rookie has three goals and two assists for five points through five games (he was a healthy scratch the other two).
Perrault appears to be proving his worth, though he does have a history of fading after an good start.  He brings a dynamic to the fourth line that makes them a threat as well, and with checking help from veterans like Jeff Halpern and Matt Hendricks, the opposing team can't let up there either.
The bottom six aren't the only players making noise.  The Caps are getting help from the blue line as well.  Dennis Wideman is second on the team in points with seven, while Mike Green had a four point night (2 G, 2 A) against the Red Wings on Saturday.
Every defenseman on the Capitals has at least one point.  The only players on the team who remain pointless are D.J. King and Jay Beagle.  They've only played three games between the two of them (1 for King, 2 for Beagle).  In order to keep up this level of play, the Caps will need to continue to get statistical support from up and down the lineup.  If it continues, the Caps could be in line for their third straight No. 1 seed in the Eastern Conference.