The Barrie Colts have a rich and storied history both on and off the ice. Since joining the Ontario Hockey League (OHL) as an expansion team during the 1995-96 season, the team has one OHL championship under their belt along with one appearance at the Memorial Cup in 2000.
Related: Top 3 All-Time Penguins Goalies
The club also bears some high-profile alumni who have gone on to successful careers overseas and in the American Hockey League (AHL). Some have also appeared under the bright lights of the National Hockey League (NHL). Who are Barrie's top-five players of all-time, and what impact did they have at the junior ranks and as pros? Let's read on and find out.
5) Aaron Ekblad, Defenseman
First up is Windsor, Ontario native and "tower of power" Aaron Ekblad, who skated in 175 games as a member of the Colts from 2011 to 2014. During his time in Barrie spanning three seasons, he scored 40 goals, 76 assists, and 116 points to go along with a plus-31 rating. He also notched 22 points in 35 career OHL playoffs games, further cementing himself as one of the best players in Colts franchise history. At the 2014 NHL Entry Draft, to the surprise of nobody across the Canadian junior hockey landscape, Ekblad was selected first overall by the Florida Panthers where he has since developed into one of NHL's best all-around defenseman.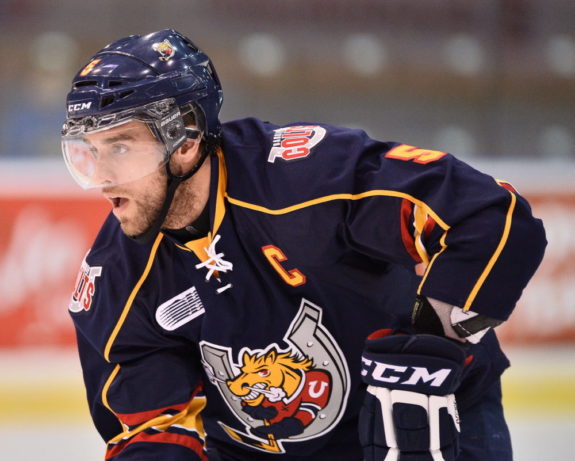 As a member of the Colts, Ekblad "wowed" crowds across several OHL arenas with his elite hockey sense, strong skating ability, and on-ice presence. Listed at 6-foot-4, 215 pounds, he was one of the most physically imposing players in junior hockey and absolute force on every shift. Ekblad will be vividly remembered as one of the most intimidating and dominant defensemen in OHL history. What a talent.
4) Andrei Svechnikov, Left-Wing/Right-Wing
In the city of Barrie, located about an hours' drive from the city of Toronto, the passion for hockey runs high. Talk to the locals about the 2017-18 campaign and one name will come to mind: Andrei Svechnikov.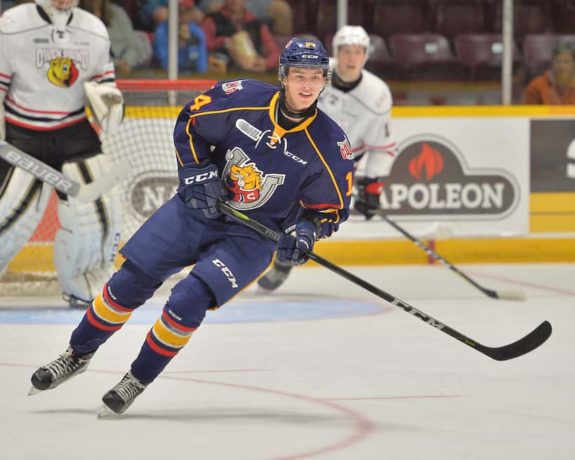 Although Svechnikov only played one season with the Colts, his dominance, raw talent, and ability to marvel on the ice was something to behold. After notching two goals in his OHL debut against the Ottawa 67's, Svechnikov went on to tally 40 goals, 32 assists, and 72 points in just 44 games. That season also saw him notch 24 multi-point games as he took home OHL Rookie of the Year honors. Yes, what a season it was indeed. 
After being drafted second overall by the Carolina Hurricanes at the 2018 NHL Draft, Svechnikov hit the ground running in the NHL scoring 20 goals and 37 points in his full season. Since then, "Svech" has formed a formidable (and lethal) partnership alongside Sebastian Aho in Carolina as one of the league's most exciting and dynamic one-two tandems. The sky is bright for Svechnikov, but hockey fans can never forget his one (and only) season in Barrie.
3) Mark Scheifele, Center
Mark Scheifele, currently of the Winnipeg Jets, had a monster junior career with Barrie. Over the course of 158 contests, he scored a whopping 84 goals, 133 assists, and 217 points, translating to an impressive 1.37 points-per-game. Scheifele will be candidly remembered as Barrie's best two-way forward who could do it all. He was a tremendous power forward, with a heavy shot, and long-powerful strides that took "the O" by storm in ways few could have ever imagined.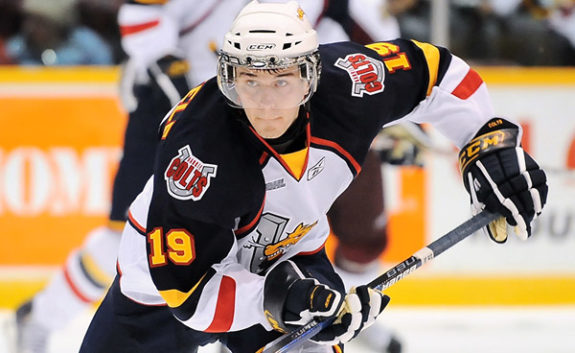 Drafted seventh overall back at the 2011 NHL Entry Draft, Scheifele has stamped his authority with the Jets as one of the best players in franchise history. His dominance, play-making ability, and game-changing attributes seemed to have followed him from his days at the Barrie Molson Center (now Sadlon Center) in junior to the NHL. His next goal? Bring a Stanley Cup to the "White Out" in Winnipeg, Manitoba.
2) Bryan Little, Center
Coming in at runner-up is Bryan Little. A born leader, who embodied what it meant to be a Colt, Little amassed 342 points (153 goals and 189 assists) over the course of 247 games played, solidifying himself as one of the greatest players in Barrie's history.
Related: What Mats Sundin Meant to Toronto Hockey
As we take a look back, Little's junior career was something to behold. Not only does he hold the record for most points all-time (342) in a Colts uniform, but he will also be remembered as a truly remarkable talent who excelled at both ends of the rink. Little scored in bunches with the Colts and was their "energizer bunny" in every way possible. His final two seasons in Barrie saw him accumulate 109 and 107 points, respectively, in just 121 games played.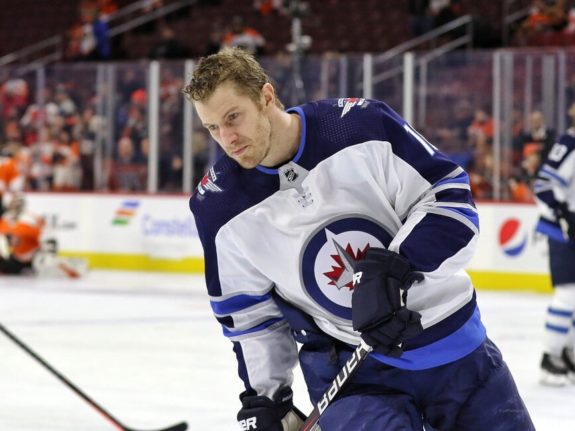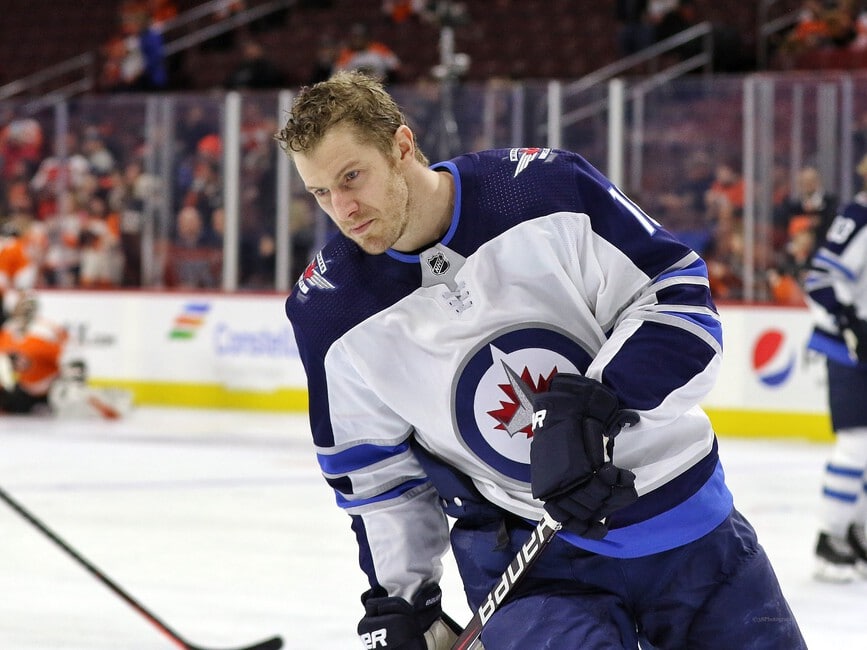 Little's time in Barrie spurred on a solid NHL career spent entirely with one franchise (Atlanta Thrashers/Winnipeg Jets). It says a lot about a player who was never traded, never complained, and just put his work boots on each and every day playing the game he loves. This is a testament to Little himself and the Class A organization that is the Colts. 
1) Kevin LaBanc, Right-Wing
Kevin Labanc enjoyed three phenomenal seasons with Barrie from 2013 to 2016 and should be remembered as the single-best player to ever don a Colts uniform. Labanc was a super stud because of his flawless skating ability, work ethic, direct style-of-play, and sky-high hockey-IQ, traits that he carries to this very day as an everyday winger with the San Jose Sharks. With the Colts, Labanc had 81 goals, 188 assists, and 269 points in 198 games over the course of his junior career. Although his statistical output is something to behold, he tops this list because of his marvelous playmaking skills, "engine-like" approach, and impeccable passing acumen.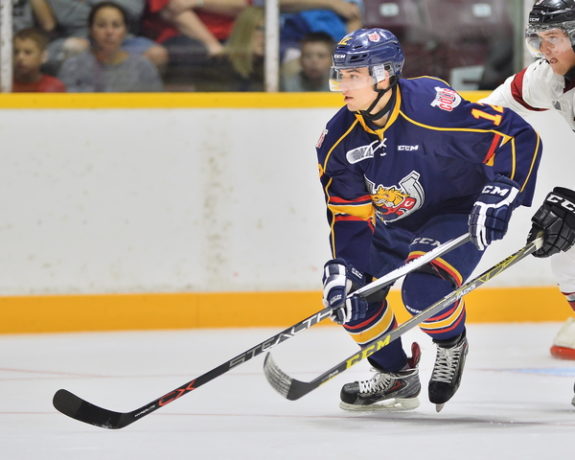 During Labanc's final season in Barrie, he won the OHL scoring title with 127 points (39 goals, 88 assists) in just 65 games. Not only is he considered to be the best player in franchise history, but he also likely holds the title as the club's most enjoyable player to watch. Even out West with the Sharks, Labanc is just one of those players who you can watch anytime. What a talent.
Who's Next?
So there you have it, the top five Barrie Colts of all-time. As a franchise, the Colts strive to put a good product on the ice each and every night, and to develop high-caliber players capable of being good NHLers and good people in society. It's safe to say the Colts hit the jackpot with the likes of Ekblad, Svechnikov, Scheifele, Little, and Labanc. Hockey fans have one (final) burning question: who's next?
---
---
My name is Domenic Lunardo, and I cover all things Blue Jackets here at The Hockey Writers. I am an avid Toronto Maple Leafs fan living in Toronto, with an unmatched passion for the beautiful sport of hockey.