It was the 4th game of the Philadelphia Flyers' 2013-14 campaign.  Craig Berube had been named the head coach of the team when Peter Laviolette was given his pink slip after just three games.  I walked to the room where Berube's first press conference as head coach was held.  In front of me sat Bruce "Scoop" Cooper, an NHL historian who had been around the game since 1969.  If there was anyone to talk to, it was him.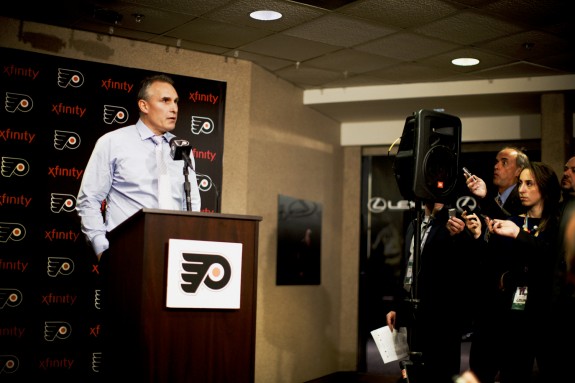 I tapped him on the shoulder and asked, "So Scoop…what do you think about Berube being the new coach?"
He turned to me without hesitation and said, "Chief is the right man for the job."
I'll admit I met the response with skepticism.  I remember growing up watching Berube play in the late 90s for the Flyers.  I, along with many other fans, knew him as an enforcer – 3,149 NHL career penalty minutes and more fighting majors than any other player in NHL history speak for themselves.  Many fans believed Craig Berube was a goon during his playing days.  But you have to be more than a "goon" to play over 1,000 games in the NHL, and Scoop saw right through that.
"I have known [Craig Berube] since he was a 20-year old AHL rookie in 1986.  I knew then he would probably become a coach one day.  Lots of people thought he was just a dumb goon hockey player.  I never did," said Scoop.  "Same with Dave Brown.  I saw their understanding of both the game and what motivates professional athletes, and how to get that out of them."
Where some coaches – like Mike Keenan – would use intimidation and screaming to rile their players up, Chief stays cool, calm, and collected finding other ways to motivate his players.  Take Vincent Lecavalier, for example.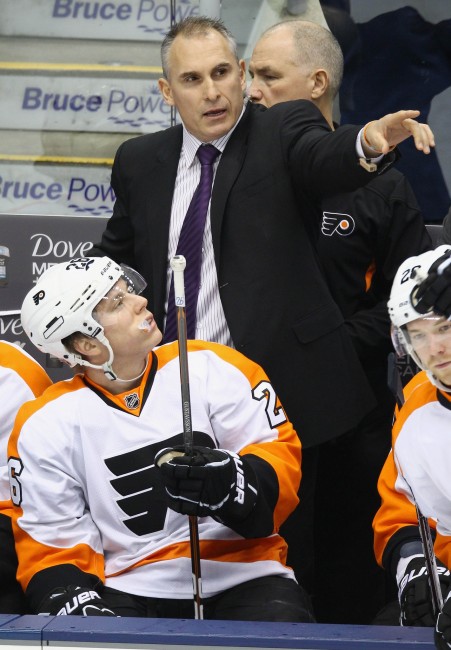 A future Hall of Famer, the Flyers signed Lecavalier in the offseason as a free agent after he was bought out by the Tampa Bay Lightning.  He came into Philadelphia with lofty expectations but had had a season to forget until recently.  The big news story after the Flyers lackluster loss to the Rangers at Madison Square Garden last Wednesday was the demotion of Lecavalier from left wing on the second line with Brayden Schenn and Wayne Simmonds to 4th line center.  But was it really a "demotion", or Berube's knowing ploy to send a message to Vinny that would rekindle his spark and restore his confidence?
Most 4th lines play under 10 minutes a game.  But against Toronto, Vinny played a total 13:32 finishing with three shots, a powerplay goal, and three hits.
He outdid himself in the Bruins game playing 17:02, took nine shots, and scored twice.  The kicker is, by the 3rd period, he'd earned a spot on the 2nd line again.  Berube had found a way to strike a nerve with Lecavalier and light a fire that turned into production.
Scoop mentioned, "What Chief did was get Vinny's attention and he responded.  This shows me how good a coach he is.  The most important thing for a coach to be – beyond knowing the game – is to be a psychologist.  It goes way beyond X's and O's.  This is not rocket science, but there are a lot of coaches who don't know how to do this.  It's easier said than done."
Berube's hockey knowledge goes beyond any single player.  The team has done a complete 180 since he has implemented his system.  He stresses the defensive aspects of the game by creating opportunities from the defensive zone.  Players like Sean Couturier, Matt Read, and Zac Rinaldo have grown leaps and bounds this season and are integral parts of a united Flyers team.
The team sits tied for 10th in both goals per game and powerplay percentage, all the while boasting the 5th best penalty kill in the NHL.  The Flyers sit in 3rd place in the Metropolitan Division two points out of 2nd place with two games in hand on the New York Rangers.  They've been one of the hottest teams since December, and are looking like a potential threat to compete in the playoffs (yes, even against the Boston Bruins).
While numbers and stats are all well and good, there is something else that sets Craig Berube apart from other coaches: his ability to develop accountability of his players game in and game out.
Scoop said it best, "[Berube] coaches the way he played: with honesty, passion, and compassion. Everybody knows what he thinks and where they stand, but he never embarasses or mocks anyone they way say a Mike Keenan would.  Berube gets results by developing his players' accountability to themselves, their teammates, and the TEAM, not by fear and intimidation."
And therein lies the brilliance of the man they call 'Chief'.
 Follow Shawn Reznik on Twitter: @ShawnTHW
Check out our partners at TiqIQ for the best deals on Philadelphia Flyers tickets for all 2013-14 games.