Once more, New Era Field in Orchard Park was transformed into a snow globe. As 44,592 descended upon the home of the Buffalo Bills to set a new IIHF attendance record, the Buffalo suburb – as it is famously known for – went from crisp blue skies to lake effect white flurries. As if the stadium were picked up and shook in more ways than one. The 2018 World Junior Championships and the hockey world received their winter wonderland. One that ended in a USA 4-3 shootout victory over Team Canada on Dec. 29.
A new IIHF World Junior attendance record has been set!

44,592 at @newerafield for the first-ever outdoor game at the #WorldJuniors. Thank you fans pic.twitter.com/yuDhvfQfR8

— WJC 2018 in Buffalo (@WJCinBUF) December 29, 2017
Seemingly in another world that was cordoned off from the wintry affair – the New Era Field press box – Deputy Commissioner and chief legal officer of the National Hockey League, Bill Daly, spent close to 10 minutes with the media between the first and second periods, and fielded questions. The fans in the stands may have had the most fun, but the media who assembled around Daly were the ones getting the inside scoop. The fanfare continuing outdoors, we will steal a line from The Wizard of Oz – "Pay no attention to that man behind the curtain."
Daly's Thoughts on the 2018 WJC & the Outdoor Game
The NHL certainly values the World Junior Championships and what they mean to hockey. Daly did not hesitate to share endearing sentiments about the tournament. The league certainly realizes that each year these games give a look into the future of the league and hockey in general.
"We love this tournament," Daly said. "It has become certainly a staple of the hockey calendar. Something all our clubs look forward to. Some great talent on the ice and future stars of the National Hockey League. It's a fun tournament to watch."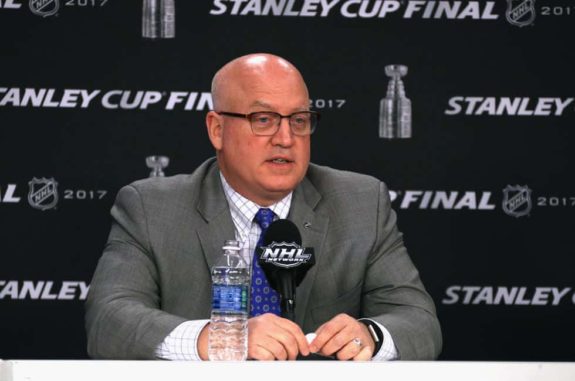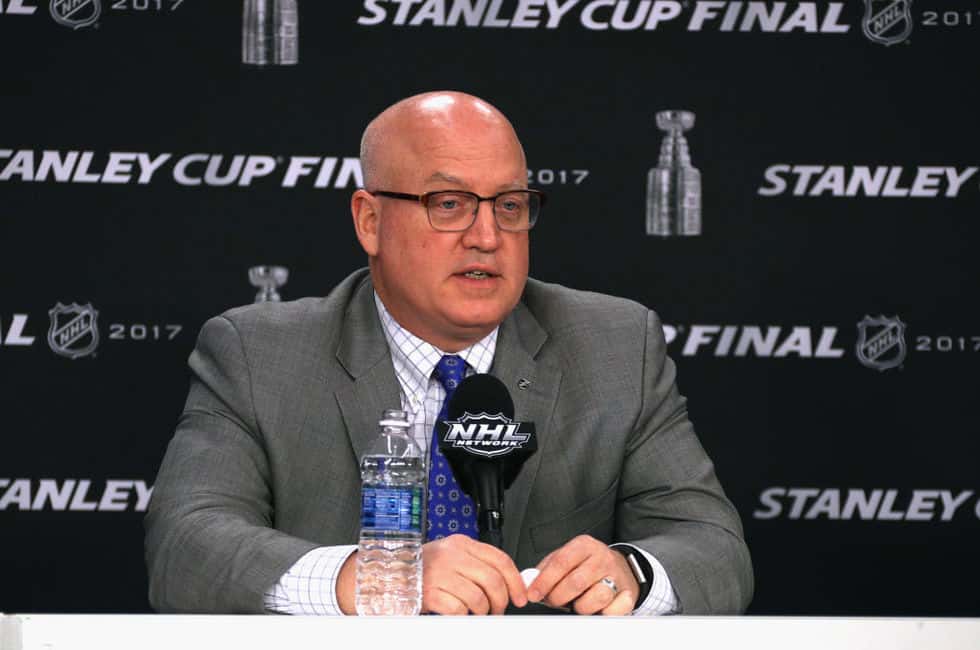 Casey Mittelstadt, Cal Foote, Carter Hart, Brady Tkachuk, Andrei Svechnikov, Rasmus Dahlin. The list from the 2018 tournament could certainly go on and on. These are the next generation of NHL heroes. Hopefully numerous All-Star selections and Stanley Cup champions among them. Daly understands that, perhaps better than others. Asked by the media what his favorite aspect of the World Juniors would be, he spoke with certainly in offering his response.
"The stars of the future," Daly stated. "I think the level of junior hockey and prospects, the popularity of this tournament today versus what it was 20 years ago – big difference. Everybody is very, very interested in the future of the game, and we're seeing the future of the game here."
Interactions With the IIHF and Olympics Talk
The PyeongChang Winter Olympics are in February. The opening ceremony is scheduled for February 9. That really is not far away at all. While Daly admitted that he had spoken with members of the IIHF, it was all just casual discussion and no sort of business talk. The NHL will not be playing in PyeongChang – that is still the case. Beijing is still too far away to tell, and not something that the league is discussing at the moment, at least not according to Daly.
"No official meetings," Daly shared when asked if he had spoken to any IIHF officials here at the '18 WJC. "Horst Lichtner is here, the General Secretary of the International Ice Hockey Federation. I spent the first period with him. A good friend, but no business".
Humorously, Daly was asked if Lichtner was able to change the NHL's mind about their participation in PyeongChang.
"No, no," Daly grinned and shook his head. "I think Horst said, 'When are are we talking about the Olympics?'. That was the closest we got to business." Daly later added, "Certainly not any time before PyeongChang."
One Can Always Ask, Right?
It never hurts to ask, right? But for anyone still trying to hold out hope that NHL players will be in PyeongChang, this notion can be forgotten. It's not going to happen. Even if NHLers decide to stage a protest by not partaking in the 2018 NHL All-Star Game at the end of January – an idea that has received at least a little rumbling – it will matter not. Daly confirmed that if necessary disciplinary action would be administered but he does not necessarily feel that the opportunity will present itself.
"Sure, the rules would be enforced," Daly stated. "But there are standard rules that apply every year. Nothing special for this game."
Deputy commissioner Bill Daly squashes any talk of alternative NHL Olympic schedule.https://t.co/WgCW0GhVam pic.twitter.com/CIpbXTxhnj

— Sportsnet (@Sportsnet) July 25, 2017
Daly would go on to speak on the talks of a potential protest tying into 2018 All-Star showdown in Florida:
"I haven't heard those rumblings," he shared. "Certainly there's a sense that potentially you might see something like that. Quite frankly I know there is some disappointed players who won't get to participate in the Olympics, but I think for the most part, from what I've seen, they have turned the page and put that behind us. We're in a regular season, it will be a regular All-Star Game. We're looking forward to Tampa, and we have no sense that that will happen."
NHL in Beijing – Too Early to Tell
So if 2018 in PyeongChang is out of the question for the NHL, then what about Beijing 2022? Daly and the league are certainly not ruling one way or another, at least not at this point in time. The fact that South Korea and China are so geographically close to one another also means that they pose some of the same challenges. Perhaps especially in terms of potential safety of the athletes participating.
"Each Olympics is different," Daly explained. "It's a different equation. It's a different value proposition. These particular Olympics that are coming up, ultimately the negatives outweigh the positives for our owners. I don't know what Beijing will hold. Obviously some logistical difficulties that we have with South Korea will be the same with China. But maybe there are some other opportunities in China that aren't in South Korea, so we'll see."
Drawing Comparisons to the First Winter Classic
Time always goes by quickly. It is difficult to imagine that the first Winter Classic was played almost exactly 10 years ago at this same stadium. The Pittsburgh Penguins defeated the Buffalo Sabres 2-1 in a shootout that New Year's Day in front of over 70,000 fans. Even Daly had difficulty in fathoming the amount of time that had gone by. But just as equally, he understands the immense return that the one from a decade ago has provided for all outdoor games ever since.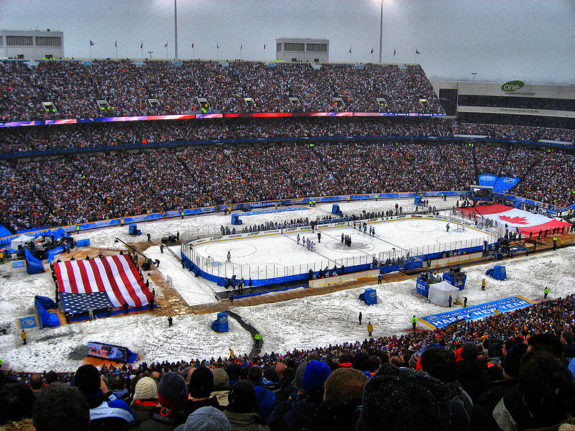 Daly was asked to draw comparisons between the WJC outdoor game and the NHL game of 10 years prior. He responded:
"It's a little colder today," he said. "Certainly the snow is reminiscent of what we saw in Buffalo 10 years ago. I can't believe it's been 10 years already, but it's a great backdrop to this game." He would go on to say, "I think we got very, very fortunate that day, there's no doubt. If it was five degrees warmer it would have been a steady rain instead of snow, I'm not sure we'd be playing these games the way we're doing now. So we got very, very fortunate. It was great. A very fortunate confluence of events. It was a great game. It was a superstar ending in a shootout in the middle of the snow. So it did capture people's imagination, there's no doubt."
Further Winter Classics and Growing Other Opportunities
Attention must be given as to what outdoor games such as this World Juniors one can do for broadening the hockey market. This is particularly the case in  non-traditional markets, unlike Buffalo. At their essence, outdoor games are splendid affairs that tend to draw much more average fans or hockey novices, as opposed to those who are true aficionados of the game. This is what grows the game though – attracting a newer, less-seasoned audience and drawing them into becoming more long term, true blue fans.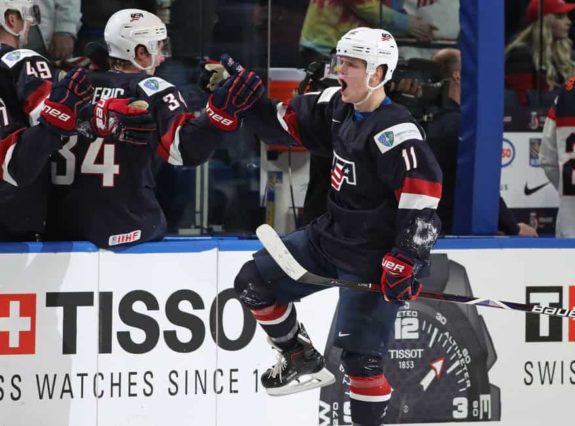 "I do think it captures your imagination a little bit," Daly expressed. "The whole scene here – big stadium, a lot of fans. It's a social experience. It's a different type of hockey experience. And it looks like the players are having fun, so all of that creates a certain appeal and charisma for our game."
The NHL's 2018 Winter Classic in Queens
The WJC outdoor game led into discussion of this year's Winter Classic between the Buffalo Sabres and New York Rangers. This one will be held on the opposite end of New York State in Queens. The Sabres and Rangers will be playing at the home of baseball's New York Mets, Citi Field. Jack Eichel's Sabres going up against Henrik Lundqvist's Rangers.
"We're excited about it for sure," Daly expressed. "It's something we've given a lot of thought to over the 10 years that we've been doing these games about having a Winter Classic in New York. Some of the challenges that that presents, but also some of the opportunities that presents. So we're certainly looking forward to it. Hopefully it warms up a little bit in New York because it's pretty cold, but I think everyone's looking forward to it."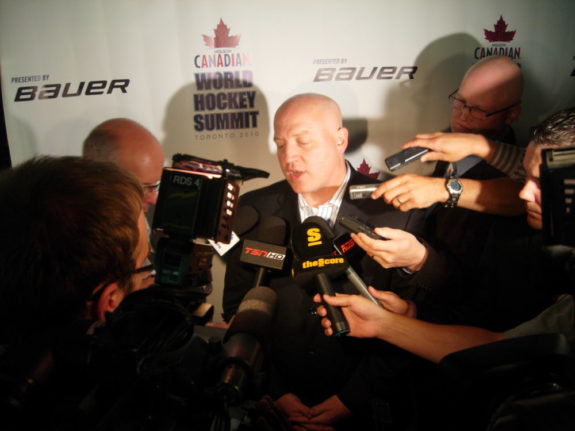 And so the cycle continues. The success of this outdoor game between the Americans and Canadians helps move games of this nature along. More to come. Already the 2019 Winter Classic is known and will be at Notre Dame Stadium in Indiana between the Chicago Blackhawks and the Boston Bruins. Could future World Junior tournaments feature their own outdoor showcases? There certainly seems to be a possibility of that, if not a likelihood. A precedent has been set now, if it wasn't already set 10 years ago. In Bill Daly's opinion, it is a good thing.
General Manager of the Buffalo Beauts (NWHL). Hockey history writer "The Hockey Writers". Credentialed media for the NHL Combine and 2018 IIHF World Junior Championships in Buffalo, NY, USA. Born and raised in Buffalo, NY. Lifelong hockey fan for over 40 years. Proponent of the women's game.