Everyone saw the save. How could you have missed it? With Canada up 4-2 in the third period against the Finns, mere inches preserved their two-goal lead. Goaltender Carter Hart made the initial save, but the puck tumbled in behind him. As it continued to make its way to the goal line, a superhero of sorts came out nowhere.
If there was a pinnacle moment in the early showings at the 2018 World Juniors in Buffalo, it would be Cal Foote's acrobatic save to keep the puck out of Canada's net. With a portion of the puck actually across the goal line, he swooped in and batted it to safety. The look on Foote's face said it all. One of "Not on my watch!", even if it meant eating some of Hart's blocker in the process.
Hockey is a game of inches. #WorldJuniors pic.twitter.com/D1iTisFz1r

— TSN (@TSN_Sports) December 26, 2017
Foote's ongoing determination and consistency, combined with his down-to-earth demeanor, make him Canada's "Mr. Steadfast" for this tournament. What is truly respectable is Foote's humility. Though he may be the one bailing out teammates here and there and having their backs, he is more than willing to express his gratitude and appreciation of D-partners, forwards and goalies alike. It speaks to this young man's character.
THW had the chance to catch up with Foote after Day Two.
The Diving Save
Watching the replay of Foote making his diving save, you had to wonder if he was able to think and react in that split second, or was he functioning solely on instinct? To some extent, he was in the right place at the right time. Then again, his hockey sense and his dependability also ensured that he was where he needed to be. In the thick of it, to defend his goaltender and help cover the net. Foote was able to explain the moment to THW.
"It was so quick, that I think it was more instinctual," Foote said when asked about the save. "It was really quick and I think I was just hoping to get lucky, and I did."
Luck may have played a part, but Foote was there because of sound positioning. Protective in a way. In terms of size, Foote is a physically imposing young man. He stands 6-foot-4 and is approaching the 220-pound mark. There is certainly something to be said for genetics too, as Foote looks very much like his father when he is out on the ice. His movement, focus, and tenacity are very reminiscent of how dad and two-time Stanley Cup champion Adam played the game.
His dad won Olympic gold wearing the 🍁. Now Cal Foote gets to write his Team Canada story, starting with #WorldJuniors. READ: https://t.co/YRPseHcDFh pic.twitter.com/LaISgorOYp

— #WorldJuniors (@HC_WJC) December 28, 2017
Like his father was, the younger Foote is a cornerstone on defense. He has broad shoulders and is capable of bearing the load of responsibility.
Two Elite Goaltenders in Back of Him
As much as he may have bailed out Hart in that moment, Foote was quick to point out the sense of comfort that he feels in having two elite goaltenders in behind him. Hart and Colton Point form arguably the best goaltending tandem at these championships. Canada must feel so because they went with two netminders on their final roster, as opposed to the typical three. Foote spoke to that mindset by telling us how it feels as a defender to have both of these goaltenders manning the Canadian net.
"It's a great feeling," said Foote. "Obviously you feel secure with their presence in net. If you make a mistake, they'll most likely they'll have your back. It is a good feeling for sure."
You do not get much better than Hart or Point. A Philadelphia Flyers second-round selection in 2016, Hart has been nearly impenetrable playing junior in the WHL with the Everett Silvertips. In 17 games this season he has posted an extraordinary record of 13-3-1 and has compiled a 1.32 goals-against average with an astonishing .961 save percentage. Point plays NCAA hockey with the Colgate Red Raiders and has a 1.90 GAA and .938 SV% across 16 games. That includes a record of 8-4-4 to go with Point's two shutouts.
Foote and Canada Are Focusing on Themselves
Foote was the 14th-overall selection in the 2017 NHL Draft. While he may be a cornerstone for his country at the moment, the Tampa Bay Lightning are intending to make him a cornerstone of their own. Foote is in the midst of his third year of junior hockey in WHL for the Kelowna Rockets. By no surprise whatsoever, he is team captain this season.
Foote is known for being a robust and assertive defender. He is capable on offense though, too. In 30 games this '17-'18 season, he has averaged a point a game – six goals and 24 assists. Throughout his WHL career he has compiled 20 goals and 103 assists in 172 games.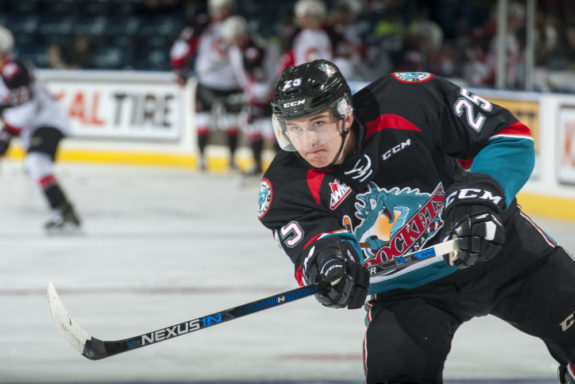 He brings those successes and ability over to Team Canada. With the 4-2 win over the Finns and a 6-0 drubbing of Slovakia, Foote knows that he and his teammates must maintain their focus. There is no resting comfortably or easing up on the throttle.
"I think it's just focusing on ourselves," Foote explained. "I think that we need to continue to build and get better every period, every game. We just want to focus on ourselves, and if we play the right way and focus on the details, the score should be in our favor."
Being Paired With Bean as a D-Partner
Canada's best shutdown defensive pair is Foote and Jake Bean. The two have been partnered together most often, and really seemed to keep Slovakia to the outskirts during the Canadians second tournament game. Opportunities were limited for Slovakia, and in total they mustered all of 20 shots. A sizable chunk of being impenetrable can be credited to Foote and Bean. In typical Foote fashion, he was highly appreciative and complimentary of his partner.
Asked what it meant to have the 13th-overall selection (Carolina Hurricanes) in the '16 draft as his wingman, Foote shared the following sentiments:
"It's awesome. Obviously, he's returned (from the 2017 team). He knows what's going to go on. He is awesome to have back there. Just calms the play down and very poised with the puck. Very easy to play with."
After watching dad win gold, it's Cal Foote's turn to wear the Maple Leaf: https://t.co/TAT4vorPNf pic.twitter.com/nuwNUaYuQw

— TSN (@TSN_Sports) December 17, 2017

When the two of them are on the ice, opportunities for the opposition seem slim to none. Whether it is a speedster, a power forward, or a two-way center, Foote and Bean are stopping them. You can essentially forget trying out-work or out-muscle either.
An Outdoor Showdown With the United States
Look for Foote and Bean to continue to be paired together all tournament long, and most particularly when Canada squares off with the United States in the first-ever outdoor World Juniors game. Already the projected attendees to descend upon New Era Field have blown the previous attendance record for a WJC out of the water. One thing is for certain though – neither Canada nor the USA can afford to get too caught up in the fanfare of this game. Both teams are aware of that, too.
It does not mean, however, that they are not going to enjoy it. The first time for anything is always a historical moment. No matter what your personal feelings may be on the outdoor WJC game – there have been mixed emotions leading up to it, ranging from the utmost excitement, to concerns for participants in the extreme chill of Orchard Park – this game will always be the first. It might be duplicated for future tournaments, but the Buffalo tournament will always have the first.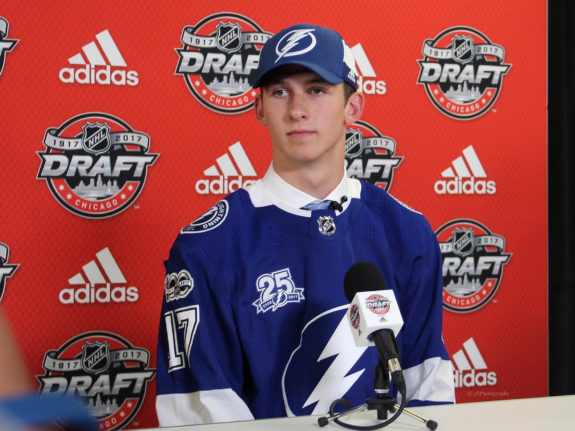 While not losing sight of the game's importance in the standings, Foote still recognizes the unique opportunity that he will be participating in on Dec. 29.
"I am actually very excited," Foote told THW. "Obviously it is a "once in a lifetime" kind of game. But at the same time, it's a big game for us. We obviously had a big win (the first night), so we've got to come ready to play. It'll be fun and cold, and I know we're all looking forward to it."
Dad and Loved Ones in the Crowd
Just as Cal Foote's teammates are providing support to their grizzly bear-sized defender at this tournament, he is doing the same for them. Whether it is Hart, Bean, or any of the others, they have each others' backs. But Foote is also finding additional support in the stands. There familiar faces of loved ones that are beaming down support upon him.
"My dad has made it out. Grandparents, aunt and uncles, and some close family friends. They're in the Toronto area, so they are able to drive down and see it."
In many ways, this is the perfect depiction of what the World Juniors are about in their essence – a sense of pride. Native pride, familial pride, hockey pride. It is a widely admitted notion that the World Juniors are Canada's game. If the steadfast Cal Foote has anything to say about it, their hulking blueliner will see to it that gold is draped over Canadian shoulders on U.S. soil.
General Manager of the Buffalo Beauts (NWHL). Hockey history writer "The Hockey Writers". Credentialed media for the NHL Combine and 2018 IIHF World Junior Championships in Buffalo, NY, USA. Born and raised in Buffalo, NY. Lifelong hockey fan for over 40 years. Proponent of the women's game.