Tonight, the Chicago Blackhawks look to sweep the Winnipeg Jets in their fourth and final meeting. The Hawks look to ground the Jets in a game that Winnipeg will be looking at as more than just a regular season game. That's because the Jets, who are 4-6-0 in their last 10 games, are still in search for their first regular season win against the Blackhawks since Winnipeg rejoined the NHL in 2011.
Blackhawks Look to Uphold Dominance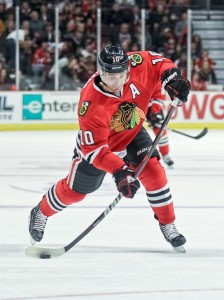 Not only have the Blackhawks discarded the Jets in their previous three meetings this season, they did so with dominance, winning all three games by three goals or more. Since the Blackhawks last defeated the Jets on November 21st, a lot has changed.
Gone from Winnipeg is head coach Claude Noel, replaced on January 12th by interim head coach Paul Maurice. Since the coaching change, the Jets have appeared to right the ship, going 5-1-0 and blemishing the Anaheim Ducks' home regulation undefeated record.
The Blackhawks, on the other hand, have been surprisingly uncharacteristic recently. Losers of two straight, Chicago has failed to put together a winning streak that exceeds two games since they cruised to a six-game winning streak back in November.
Break Out the Brooms For a Sweep?
Still, Winnipeg's quest to down the Blackhawks for the first time since they were the Atlanta Thrashers will not be an easy task. And although the Hawks are in jeopardy of experiencing their third three-game losing streak of the season, it appears that several Blackhawks have Winnipeg's number.
Not only has Corey Crawford stifled the Jets in all three outings, but the Hawks ambushed Winnipeg from every which way. Chicago shellshocked their opponent with 10 different players posting multiple points throughout the first three games. Patrick Sharp has three goals and an assist, and Jonathan Toews has had his way with Winnipeg as well. The captain lit the lamp twice while adding three helpers. In all, 10 different Blackhawks have scored goals against the then struggling Jets.
Winnipeg will counter with a flourishing cast that includes their point leader Bryan Little. In his last seven games, Little has recorded 10 points. In addition to Little, Blake Wheeler's eight points in Winnipeg's last six includes three multi-point efforts.
In order for the Jets to leave Chicago victorious, they will have to improve on other areas of the stat sheet. In the three previous games against the Blackhawks, Winnipeg was outshot 86-77, and toyed with in the faceoff circle, winning only 74 of 176 faceoffs.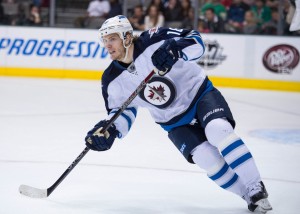 But despite ranking 24th in the league with a 15.1 percent power play, Winnipeg's man advantage gives them a slight advantage as of late. In their last five games, the Jets have gone 3/8 while the Hawks have only scored once in 17 chances.
This is somewhat indicative of their power play numbers throughout their last three meetings. On seven power plays, the Jets cashed in on two. Chicago, however, went 1/8.
Despite Winnipeg's 51 points, tonight's tilt has shaped up to be quite intriguing. If the Jets continue their latest trends, Winnipeg will finally celebrate their first win over Chicago since Vyacheslav Kozlov scored twice in an Atlanta Thrashers win on October 27, 2007.
One thing is for sure – Winnipeg's Pardy will secure his helmet with extra care tonight.