After a terrible December, the Minnesota Wild have bounced back in the first month of the new year. The club has posted a 7-3-0 record in their last ten games. Minnesota has been plagued by some key injuries in the month of January so they've had to rely upon their younger players to pull them out of the rut.
Justin Fontaine has been one of the Wild's young players to step up during the big club's time of need. In the absence of forward Zach Parise, Fontaine has helped fill an offensive void and become a solid contributor to the Wild offense. Now that some of Minnesota's regulars, including Parise, have returned to the lineup, it will be important for Fontaine to maintain his high level of play to prove he is worthy of ice time.
The road to the NHL has been a winding one for Fontaine and he is making the most of his recent opportunity. Here is a look at Fontaine's playing career and how he has contributed to the Wild  this season.
Justin Fontaine in the AJHL
Justin Fontaine got his start playing for his hometown club, the Bonnyville Pontiacs, of the AJHL. He played twelve games in his first year with the Bonnyville Pontiacs where he scored one goal and four assists.
Fontaine's first full season with the Pontiacs was in 2005-2006 and this season counted as his rookie year in the AJHL. During this season, Fontaine hit his stride with the Pontiacs where he scored twenty-six goals and tallied fifty-five assists which was good for eighty-one points. He received the AJHL Rookie of the Year award for his efforts in the 2005-2006 season.
AJHL ranks its top-50 players of all-time. Check out the story by @SUNScottFisher to see who made the list. http://t.co/mdAgMb9Lyh

— Calgary Sun Sports (@SUNSports) January 24, 2014
He followed up this stellar season with another strong offensive effort. In the 2006-2007 season with Bonnyville, Justin Fontaine reached the thirty-goal plateau and notched forty-one assists. All told, Fontaine scored one hundred and fifty-seven points in just one hundred and fourteen career games in the AJHL. He also scored four goals and eleven assists for his career in the AJHL playoffs.
Minnesota Collegiate Connection
After a successful career in the AJHL, Fontaine moved on and played for the University of Minnesota – Duluth for four seasons. His first year with the Bulldogs during the 2007-2008 season wasn't quite as stellar as his year before in the AJHL. In thirty-five games, Fontaine managed just four goals and eight assists. He was also a minus twelve on the year.
Bonnyville's Justin Fontaine is a great story. 3 yrs in #AJHL, undrafted, 4 yrs in college & 2 yrs in AHL. He makes his #NHL debut tonight.

— Kyle Galliver (@KyleGalliver) October 3, 2013
Fontaine didn't let this disappointing freshman season define his collegiate career. Instead, he upped his game and maintained his high level of play for the remainder of his time in Duluth. Fontiane scored fifty-eight goals and ninety-four assists. His scoring continually got better and this led to him becoming one of the school's most recognizable players. He was named to the NCAA All-Academic team and to the Second Team All-Stars in his sophomore and junior years.
Perhaps his most important year in Duluth came in his senior year during the 2010-2011 season. This was the year that his collegiate club won a NCAA national championship. During this season, Fontaine posted the best numbers of his collegiate career having a strong role in his team's success. He scored twenty-two goals and thirty-six assists. He finished his career at the University of Minnesota-Duluth scoring 1.04 points per game.
Pro Career Moves from AHL to the NHL
Still feeling the rush from winning a national championship, the Minnesota Wild signed Justin Fontaine to an entry-level contract just a few days later. Since then, Fontaine has continued to battle to prove he is an NHL caliber forward.
Wild signs former UMD star Justin Fontaine to 2-year contract #mnwild (via the 1500 ESPN SportsWire) http://bit.ly/dTAgaP

— SKOR North (@SKORNorth) April 19, 2011
He spent the 2011-2012 and 2012-2013 seasons playing for the Wild's former AHL affiliate, the Houston Aeros. His offensive output slightly diminished in comparison to his numbers in the AJHL and with the University of Minnesota – Duluth. In the AHL, Fontaine has scored a career total of thirty-nine goals and seventy-two assists in one hundred thirty-seven games. This is good for 0.81 points per game which falls short in comparison to his 1.38 points per game in the AJHL and 1.04 in college.
After spending time developing in the AHL, Fontaine was resigned to a one year, two-way deal and he was given a chance to prove himself at the NHL level this season. Currently, he is third on the Wild in goals behind forwards Zach Parise and Jason Pominville. He's scored twelve in forty-six games during his rookie campaign. His goal output ties him for sixth among NHL rookies in goals.
Fontaine has had a decent season for the Wild and has helped the club turn around its fortunes in January. He record his first career hat trick earlier this month against the Phoenix Coyotes and in doing so he became the first Wild rookie to score three goals in a game.
At 26, Justin Fontaine is oldest player to register hat trick in his rookie season since March 22, 2003 ( #oilers Fernando Pisani) #mnwild

— Michael Russo (@RussoHockey) January 10, 2014
The twenty-six year old has scored some timely goals for the Wild this season. Fontaine scored five goals in the third period, three goals when the Wild have been trailing by one goal, and four goals when the game was tied. Fontaine has scored ten times in Wild victories, is tied for first on the Wild with a +10, and he plays nearly twelve minutes per game. Fontaine was brought in by Chuck Fletcher and he is among a group of youngsters that are being heavily relied upon for success this season.
[See Also: The 2013-2014 Minnesota Wild: How They Were Built]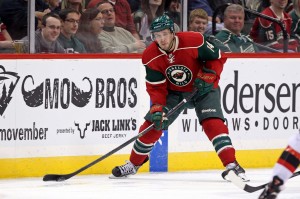 Final Thoughts
Justin Fontaine has found a niche for himself on the Wild with his goal-scoring touch. He has become a regular contributor but he will need to keep this going in order to remain in the game plan. Many analysts question where Fontaine will fit into the Wild in the future. Some of his critics have questioned whether his smaller build will allow him to be effective in winning battles against bigger opponents. In order to remain with the Wild in the near term, Fontaine will need to stick to what he does best, contributing on offense with goals and assists.
Minnesota still struggles when it comes to goal-scoring and Fontaine's offensive skills have helped remedy this issue. The Wild are ranked twenty-sixth in the league in goals scored with one hundred and twenty-seven. For comparison, the Chicago Blackhawks lead the NHL in goals with one hundred and eighty-nine. While he has by no means cured this ailment, Fontaine has played very well as of late and he looks to continue this momentum down the stretch.
Yeo praises Brodziak, Fontaine, Cooke line for the effort on Toews' line tonight. "That line was huge for us tonight." #mnwild

— Minnesota Wild (@mnwild) January 24, 2014
Fontaine will need to continue to contribute on offense to prove his worth to the club. If his production falls off, it is likely that his ice time will also diminish so it is important that he strives for a consistent game on offense. For now, Fontaine has played relatively well during his rookie campaign with the Wild and time will tell if he is able to carve out a bigger role with Minnesota going forward.