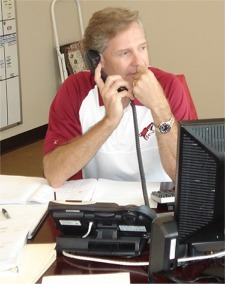 Phoenix Coyotes general manager Don Maloney recently gave two insightful interviews to discuss the state of the team at the NHL season's halfway point.  First, he sat down with Dave Vest of the team's communications department, and a few days later, he answered questions during a live television interview with local sports reporter Tim Ring.  With the team still competing hard for a playoff spot in the competitive Western Conference, Maloney said that while there are successes to celebrate thus far, there remains work to be done if the Coyotes yearn for a postseason invite.
"We had some very good moments, including a very strong start, which is important," Maloney noted.  "We have a good team here, we just need to continue to work on our mix and our chemistry and our health, and if everything comes together then I'm confident we can make a strong push in the second half and really solidify a playoff position."
Cooling Off After Starting Strong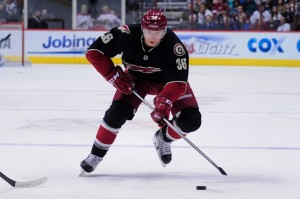 The Coyotes commenced the 2013-14 NHL campaign in impressive fashion, posting a 9-3-2 record overall in October.  They were not dealt a regulation home loss until almost a full two months into the season.  They successfully slugged it out with tough Pacific Division rivals, defeating the Los Angeles Kings at home on October 29 and then snagging an impressive road win over the San Jose Sharks on November 2.  They made yet another statement on November 16 with a commanding 6-3 home victory over the Tampa Bay Lightning, who at the time were perched atop the Eastern Conference standings.  However, problems with inconsistent play began manifesting themselves only one week later when the Coyotes suffered their first regulation loss at home versus the Anaheim Ducks.  The month of November then came to a horrid conclusion when the Chicago Blackhawks paraded into the Arizona desert and pounded the Coyotes right out of the starting gate, scoring three unanswered goals in the first period in route to a 5-2 victory, leading head coach Dave Tippett to hold a closed practice the very next day.  So far in January, the team has lost eight out of twelve contests, including an embarrassing 5-1 drubbing in Winnipeg.
"We've been inconsistent and obviously we're going to need to be better if we expect to be a playoff team," Maloney asserted.  "We've given up more goals [this season] and I believe that's correctable. That's something our coaching staff will continue to work on."
"The West is tough, there are some very good teams out here, but we're a good team too," Maloney added in the T.V. interview.  "We've got some work to do, up front we're still short a bit, still kind of fooling around with the chemistry on our blue line.  Do we have the right pieces in place?"
Improvements This Season Still Encouraging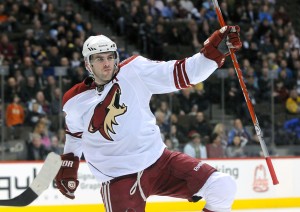 Maloney also noted that even though allowing too many opposing goals is troubling (2.96 GAA is currently 6th most in the NHL), he's nonetheless been impressed with the team's greatly improved offensive output.  The Coyotes are currently scoring an average of 2.80 goals per game, 11th best in the league.  Despite a recent slowdown, their power play is still 8th best at an even 20%.  Six different players have notched at least ten goals so far this season, while five skaters have more than twenty assists, including blueliners Keith Yandle and Oliver Ekman-Larsson.
"We're scoring more this year and the defensemen are helping us do that," Maloney said.  "That's been the most pleasant development this season, that we've been able to become one of the highest scoring teams in our conference."
Maloney also cited strong offensive play from forwards Antoine Vermette and Mikkel Boedker, who normally skate together on the third line.  Vermette recently scored short-handed goals in back to back games (the only two for the team this season), the first during a home contest versus the Toronto Maple Leafs on January 20, and the second on the road in Calgary on January 22.  He also earned a hat trick in Ottawa on December 21, including the game winner in overtime.
As for Boedker , Maloney said he "has really started to establish himself as a top forward, game in and game out. I really like what he's bringing to our team on a nightly basis. He's taken another step forward in his belief that he can be a top forward in this league, and he's showing his strength and his speed and he has created scoring chances on a consistent basis."
Healthy Roster Is Key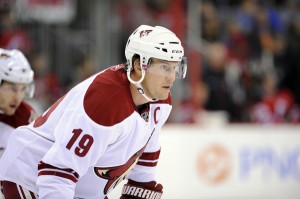 Extended absences of key players are another reason for the team's recent setbacks.  Captain Shane Doan, who always provides invaluable leadership both on and off the ice, sat out almost the entire month of December due to illness, and the Coyotes won only five out of thirteen games played that month.  Doan's unanticipated hiatus was an additional blow to the team, already forced to make do without veteran blueliner Zbynek Michalek, who has been nursing a hip injury for most of the season.  Michalek provides a more tranquil leadership that garners less fanfare, but he was also sorely missed, especially as the Coyotes struggled to kill penalties without him on the ice.
Michalek has done two stints on injured reserve this season and missed a total of 22 games.  After he returned from his first respite on December 10, the penalty kill improved almost immediately, and the Coyotes racked up an impressive streak of ten consecutive PK's heading into their December 17 tilt in Montreal to commence a four game eastern road trip.  However, Michalek's still-delicate hip didn't even make it through the first minute after puck drop against the Canadiens.  He was forced to leave the game, returned to injured reserve, and the team's penalty kill began falling apart once again.
"Michalek is a very important player for us, kind of a stabilizer on our blue line," said Maloney.  "He's our top match-up defender and it's tough for us to replace him."
Dave Tippett on Zbynek Michalek: "He's the type of player that gives you everything he's got and that's what we're looking for right now."

— Arizona Coyotes (@ArizonaCoyotes) January 16, 2014
Thankfully, both Doan and Michalek are now both back on ice for the final stretch before the Olympic break (Michalek will actually play in his second straight Olympics for the Czech team, along with his brother Milan).  On Wednesday night in Calgary, Michalek logged over 20 minutes of TOI for the first time since his return, and two nights later in Edmonton, he logged over 25 minutes.  Doan is progressing well, healthy enough to play, but still not quite back "up to speed" according to Coach Tippett.
Goaltending is Crucial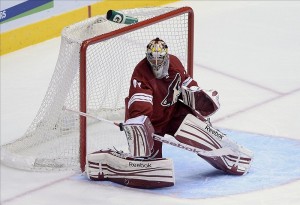 Finally, Maloney stressed the importance of solid play from goaltender Mike Smith.  Overall, Smith has had a decent season, starting 41 games, posting an 18-15-8 record and .910 save percentage.  He has also endured a heavier workload than any other netminder in the league this season, already having faced over 1,300 opposing shot on goal attempts.  Nonetheless, Maloney insists that Smith is more capable than his numbers suggest.
"I think there's another level Mike can get to and if he gets there that will push us into the top half dozen teams in our conference," said Maloney.
Maloney added that at times, Smith seemed distracted by uncertainty over whether or not he would make the cut for Team Canada at the upcoming Winter Olympics, and as a result, he became more easily frustrated and wasn't playing at his best.  Thankfully, Team Canada announced on January 7 that Mike Smith earned a well-deserved roster spot to play in Sochi.  Since the announcement, Smith has seemed to settle down and perform better in net, attaining a .920 save percentage over his last six starts.  He also recorded his first shutout of the NHL season on January 16 against the Vancouver Canucks.
"I think Mike put a fair amount of pressure on himself to get on that Olympic team," Maloney contends.  "He's trying to be too precise, too exact.  He just has to play."
At this point, the Phoenix Coyotes look to seize positive momentum to carry with them into the upcoming Olympic break, and if so, pick up right where they left off when NHL play resumes.  In the nail-biter that has become known as the Western Conference playoff race, the team must build upon its strengths, assess and remedy areas for improvement, and play nothing less than stellar hockey down the final stretch.