This is such a tough stretch of the year for hockey players, with the trade deadline looming. Especially for a rebuilding team like the Chicago Blackhawks, where big changes are imminent. This is the time of the season where it's hard to put the outside noise aside, and it starts to really weigh on the players. Yet the Blackhawks are rising above all that in a refreshing way.
Related – 3 Takeaways from Blackhawks' Exciting 5-3 Win Over Maple Leafs
After a much better record in January (7-6-0) than December (2-11-0), I predicted the team would continue their momentum into February. So far, they sit at 5-3-1, with three more games to go. They're also coming off of four straight wins. Not too shabby. The Blackhawks have been finding ways to make the most of their current group and their time together. They continue to grow, develop and build a winning culture. Let's look at a few ways the team is capitalizing while they can.  
Ongoing Player Development
The Blackhawks have done an excellent job of intermingling developing players with the more experienced players, in an effort to maintain their upward trajectory. Obviously injuries have helped dictate the call-ups from the Rockford IceHogs. But the coaching staff has worked hard to find the best fit for each player when they get the call to the big club.
It all started with top prospect Lukas Reichel, whom the Blackhawks brought up for four games in December and January. Reichel is a skilled player, and head coach Luke Richardson indicated it didn't make much sense to play him among the lower lines. Reichel was placed on the second line for his first game. For his most recent three games he was deployed on the top line with Max Domi and Philipp Kurashev, gaining valuable insight among the top-six forwards.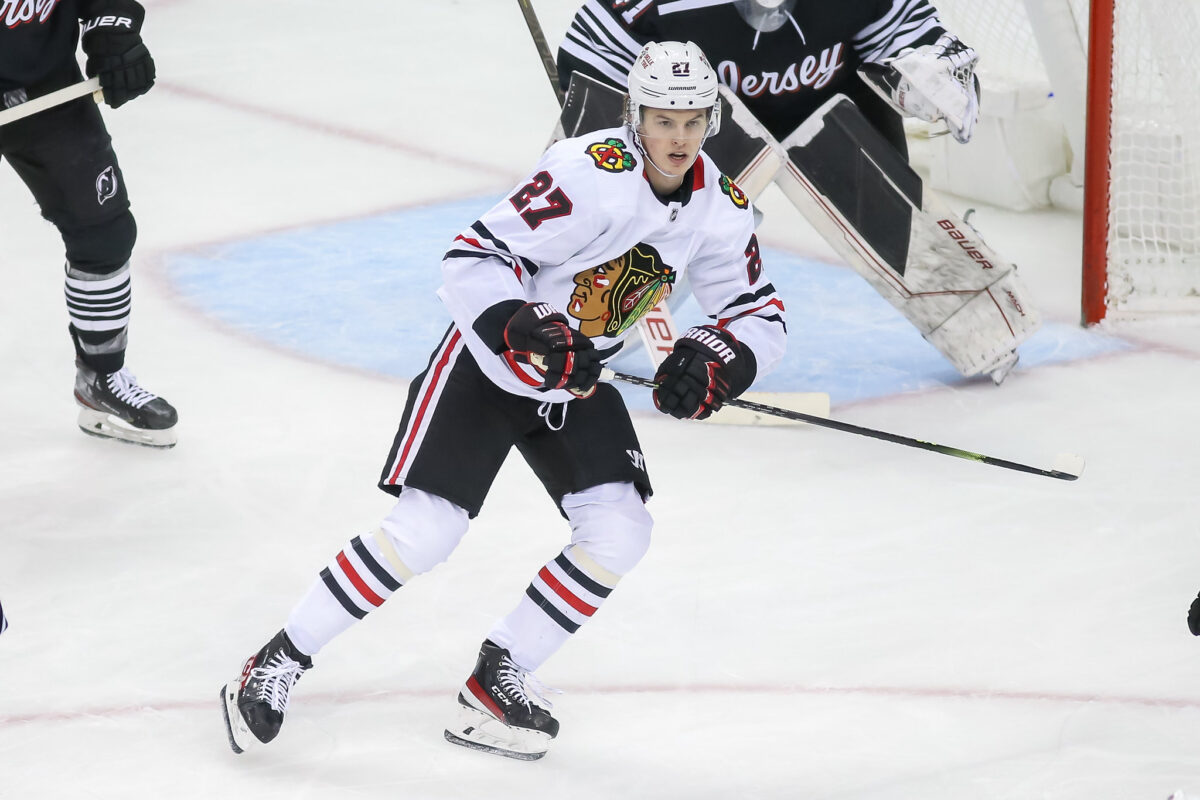 Forward Brett Seney played in early January and was immersed on the third line left wing. He centered the fourth line the last two games. Luke Philp also made an appearance for two games in late January.
A recent prime example of player development is Cole Guttman. He was thrown straight into the fire on the second line alongside Tyler Johnson and Taylor Raddysh. The 2017 sixth-round draft pick scored his first NHL goal just three games in, and his second goal the very next contest. He's taking advantage of his opportunity; and what better mentor than two-time Stanley Cup winner Johnson as a linemate?
Cole Guttman with an absolute snipe for his first career NHL goal. #Blackhawks pic.twitter.com/xvbKV1ZAUn

— Charlie Roumeliotis (@CRoumeliotis) February 20, 2023
The latest player to add to the forward bunch is 29-year-old David Gust. Gust is having a stellar season with the IceHogs, and the Blackhawks rewarded him on Thursday with a two-year, two-way contract. They also called him up to the big club. I would expect Gust to draw into the lineup on this road trip.
These may seem like some rather unorthodox players the Blackhawks are mixing in. But they're rebuilding, and that means some unconventional decisions. Perhaps the organization will find some diamonds in the rough.
Meanwhile, defensemen Ian Mitchell (21 games) and Isaak Phillips (13 games) have seen their fair share of time up with the Blackhawks. They're working to soak up what they can before the likes of Jake McCabe or Connor Murphy potentially might not be there anymore. As a matter of fact, Phillips played alongside Murphy in their last contest versus the Dallas Stars. The 21-year-old had a really solid game.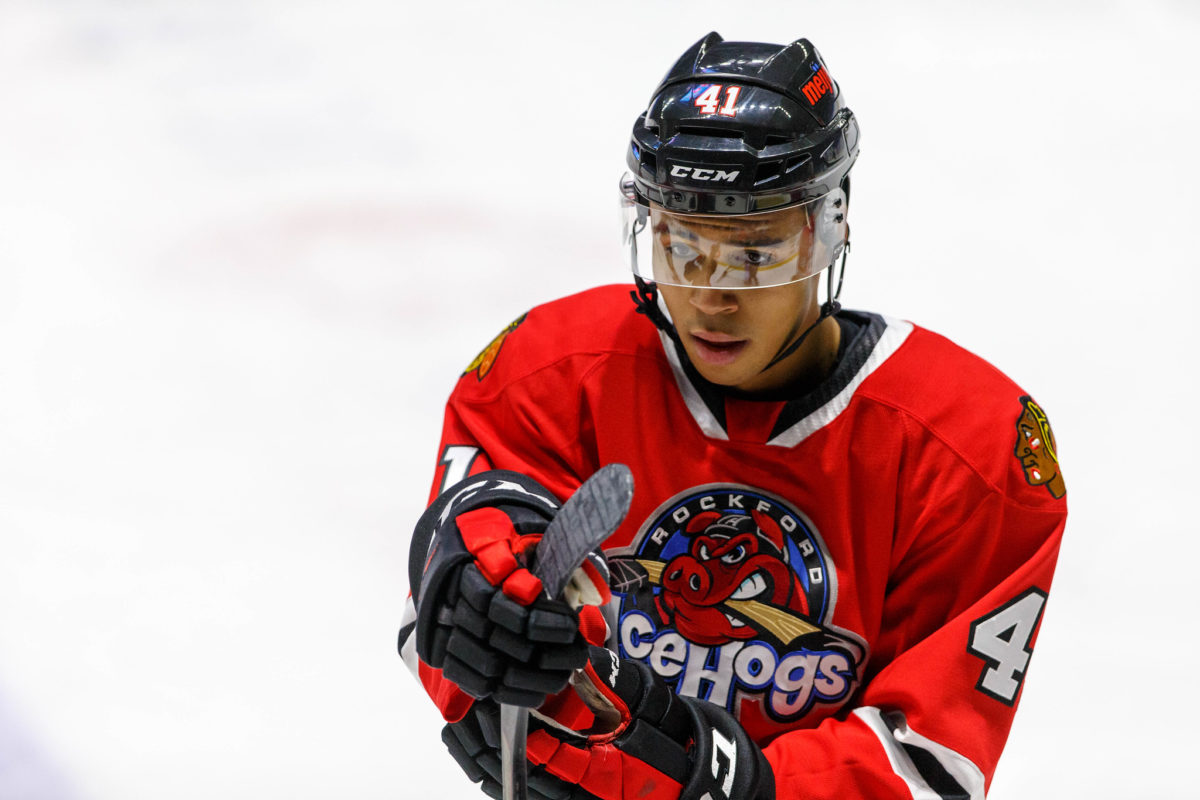 Who knows who will be around after the trade deadline to mentor these youngsters that are on the cusp of becoming NHL regulars. It behooves them and the team to provide some quality time with the veterans now, and they're doing just that.   
---
Latest News & Highlights
---
Blackhawks Faceoff Numbers Standing Out
The Blackhawks have been at the top of the league in faceoff wins since the beginning of the season. That's pretty impressive, considering they struggled mightily in this department over the last few campaigns.
Related – Blackhawks News & Rumors: Toews, Jones, Guttman, Injuries
Yes, a lot of it has to do with Jonathan Toews' elite skill in this area. Continuing with the theme from the last topic, Domi recently gave some insight about what Toews' presence does for the team.
When [Toews] is in the lineup we can all learn so much from him on both sides of the rink. He's unbelievable at the faceoff dot. There's so much to learn from him and we're grateful for that but now we have to go show it. Whether it's on the PK or power play or 5-on-5 or 6-on-5, any element of the game. There's a spot here that will never be filled in terms of Jonathan Toews. He's an absolute legend like Kaner.
But with Toews now out due to complications with long COVID and Chronic Immune Response Syndrome, the team is STILL dominating at the dot. Nobody can match the captain's 63.3% at the dot, but Domi currently has a 54.7% faceoff success rate. Sam Lafferty is at 52.4%, Reese Johnson at 55.8%, and even newcomer Guttman is winning draws at a 52.8% clip. Only Jason Dickinson is below 50%, at 47.9%.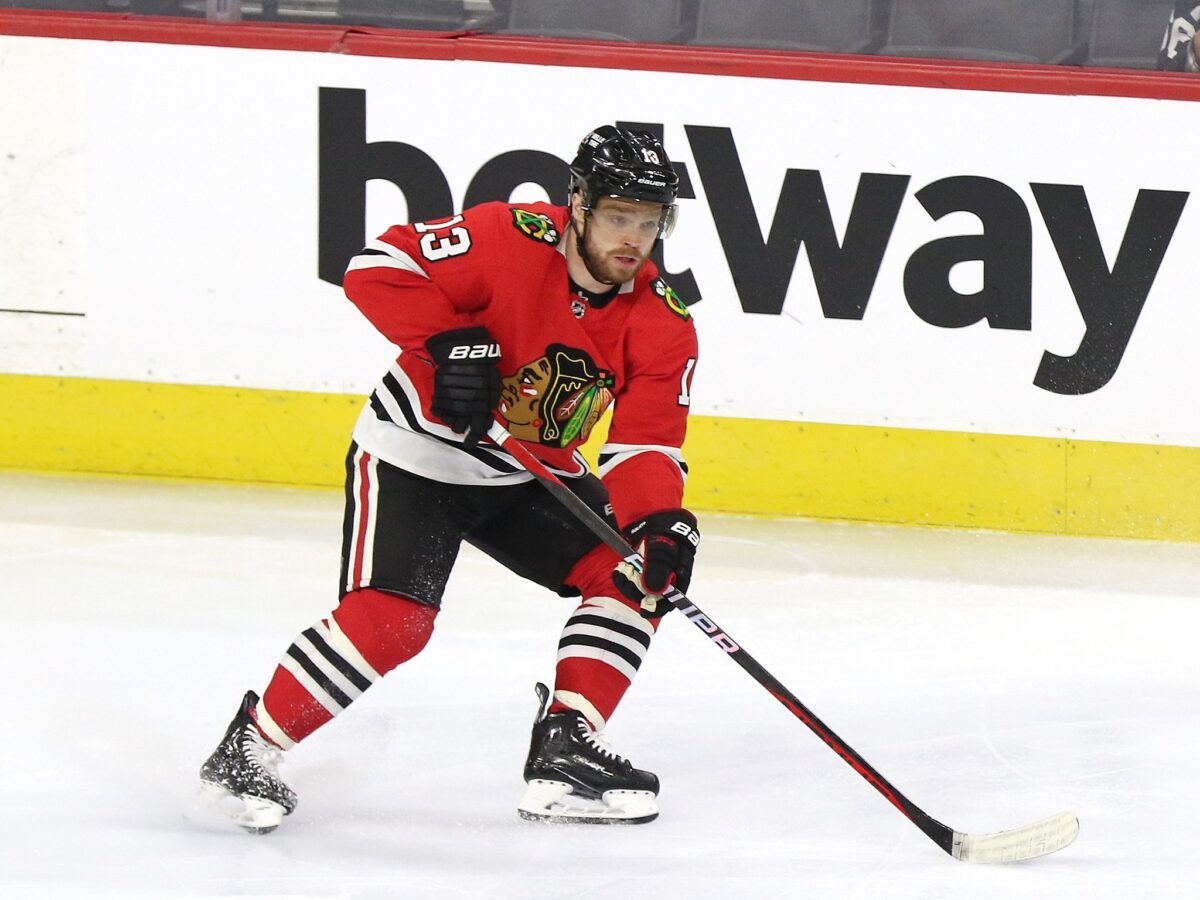 Overall, the Blackhawks currently have a 54.9% success rate at the dot, which is good for first in the league. Obviously, winning draws will lead to more possession and more offensive production. It appears the Blackhawks have managed to turn a former weakness into a new strength.
Kane Leading the Way
Kane's leadership tends to get lost with the dynamic personality of Toews, the Blackhawks' captain. But as Kane has matured he's become a leader in his own right, both on and off the ice. We also know he thrives on mentoring young players. When the Blackhawks beat the Vegas Golden Knights on Mar. 21, Kane received the traditional victory belt after the game. In the midst of all the trade deadline drama and the emotions I'm sure he must be going through, Kane said all the right things to his teammates.
the belt? who else but 𝐡𝐢𝐦 pic.twitter.com/vEXneZQFc9

— Chicago Blackhawks (@NHLBlackhawks) February 22, 2023
He spoke about the group sticking together and playing for each other. He also said he enjoys playing with them, and that the standings don't reflect what a good team they've become. It speaks volumes for a young, rebuilding squad to hear this from a superstar who's won three Stanley Cups.
Meanwhile, how about Kane's on-ice contributions?! There's no doubt that wherever he ends up, that team should consider themselves lucky. There appears to be no issue with Kane's lingering hip injury right now, and he definitely still knows how to put on a show.
Related – 3 Positive of the Blackhawks Keeping Patrick Kane
In the last four contests, Kane has notched seven goals and three assists, including a hat trick on Feb. 19 against the Toronto Maple Leafs. His partner in crime, Domi, is credited with three goals and seven assists in that same span. The two are finally finding that chemistry that they've been working on all season. They're putting the team on their backs right now, and it's been really fun to watch.
HATTY FOR PATTY 👀

Patrick Kane (@88PKane) completes the @Enterprise hat trick halfway into this contest to give him five goals in his last two games. pic.twitter.com/ydNYkZtc64

— NHL (@NHL) February 20, 2023
We still don't know if Kane will remain with the Blackhawks or waive his no movement clause and be traded to a playoff contender. Heck, we also don't know if Domi will be traded. But right now Kane and his teammates are focusing on what they can control, and that's winning games.
Blackhawks Building a Winning Culture
When the Blackhawks endured tough losses to the Montreal Canadiens and the Maple Leafs last week, they could have easily thrown in the towel. Especially with all the deadline rumors swirling. But they didn't. Instead, they showed their resiliency by fighting back in a come-from-behind win against the Ottawa Senators, and then a rowdy United Center win to the Maple Leafs' team that had just defeated them.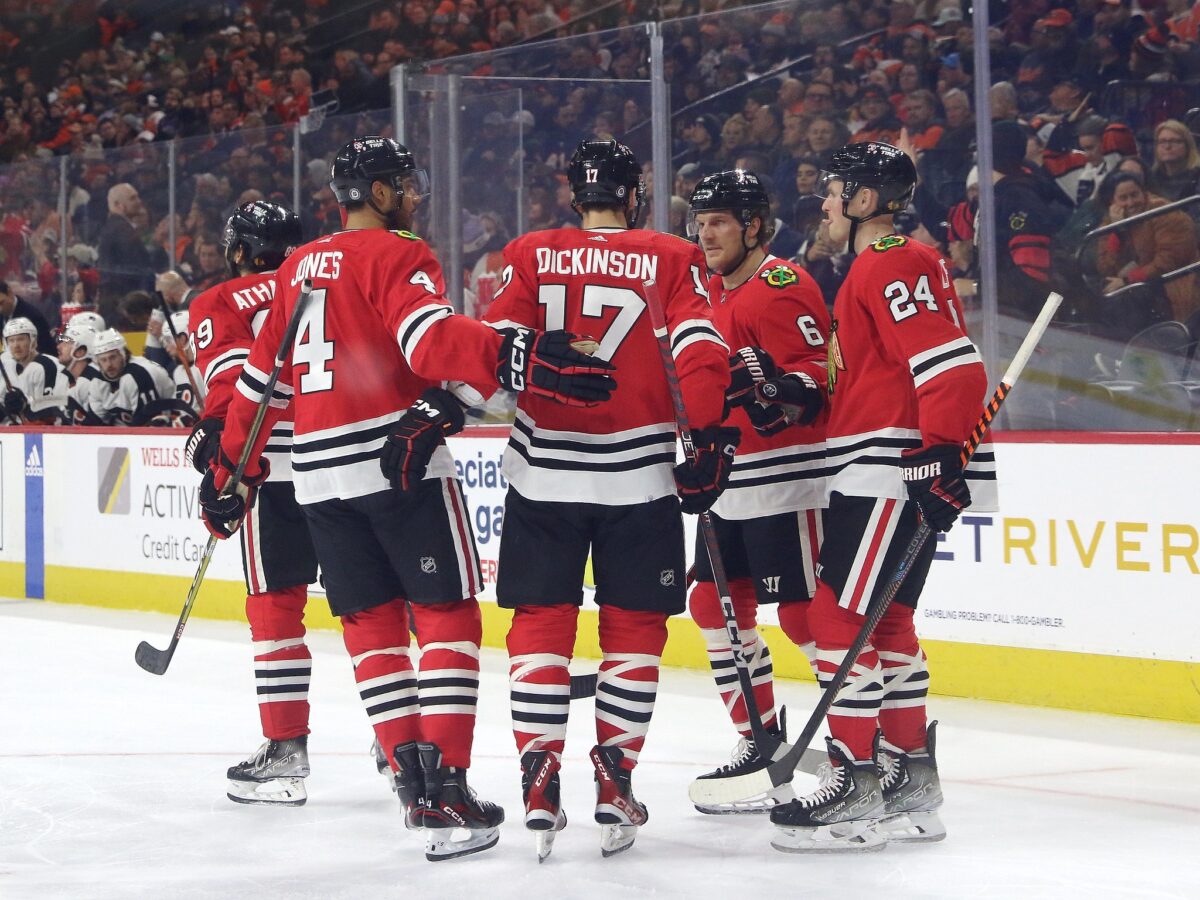 But they weren't done there. In back-to-back nights, the Blackhawks fought back from a 1-0 deficit and then a 2-1 deficit to beat the Golden Knights in a 3-2 shootout win. They were down 3-0 against the Dallas Stars on the road, but stormed back with four unanswered goals to win 4-3.
Along with tying their season-best four wins in a row from October, this was the Blackhawk's eighth multi-goal comeback win in 2022-23. This is a new franchise record. Coach Richardson gave credit where it was due.
I've said it all year, these guys don't quit. It was hard. We got some penalties against and then they scored on the power play and we were down in the game and we're tired. It's easy to fold and pack it in. But these guys, they are resilient and I think they like playing with each other.
Domi concurred.
It's great to see. You look at the last four games, we've beat some pretty good hockey teams. Take that and just keep building here.
I personally LOVE how the Blackhawks are kind of sticking it to management here in this month of February. Sure, losing this season is the ultimate goal to help the rebuild along. But the players need some motivation too. Kudos to them for building that winning culture with the group that they have now, before they lose bodies at the trade deadline.
Related – Blackhawks Acquire Zaitsev From the Senators
This overcoming of adversity is going to make them a stronger, better team moving forward. Well, whoever's left on said team after Mar. 3, anyway. But the steps they're taking now will indeed help them in the future.