At the time of this writing, the Chicago Blackhawks and San Jose Sharks are both at the bottom portion of the NHL standings. As a result, they both will be among the league's most notable sellers at the 2023 Trade Deadline. Players like Patrick Kane, Jonathan Toews, and Max Domi have been getting a lot of buzz as trade candidates from the Blackhawks, while Timo Meier, Erik Karlsson, and James Reimer are in the rumor mill from San Jose.
With both of these teams being clear sellers, fans may assume that they will not be doing business with each other before the deadline passes. However, I'd argue that they could be ideal trading partners, as Chicago has a clear target from the Sharks that they should be making a big push for. Let's dive into why.
Sharks Defenseman Requests Trade
On Tuesday (Jan. 3), NHL insider Frank Seravalli reported that Sharks defenseman Ryan Merkley has requested a trade from San Jose. With that, Seravalli noted that the Sharks are aiming to honor it, so there's no doubt that Merkley is in on the trading block. With the Oakville native being a former first-round pick and still just 22 years old, some teams will likely express interest in him. This is especially true when noting that his value isn't at its highest, as his trade request has been publicized, and he has yet to emerge as a full-time NHL defenseman.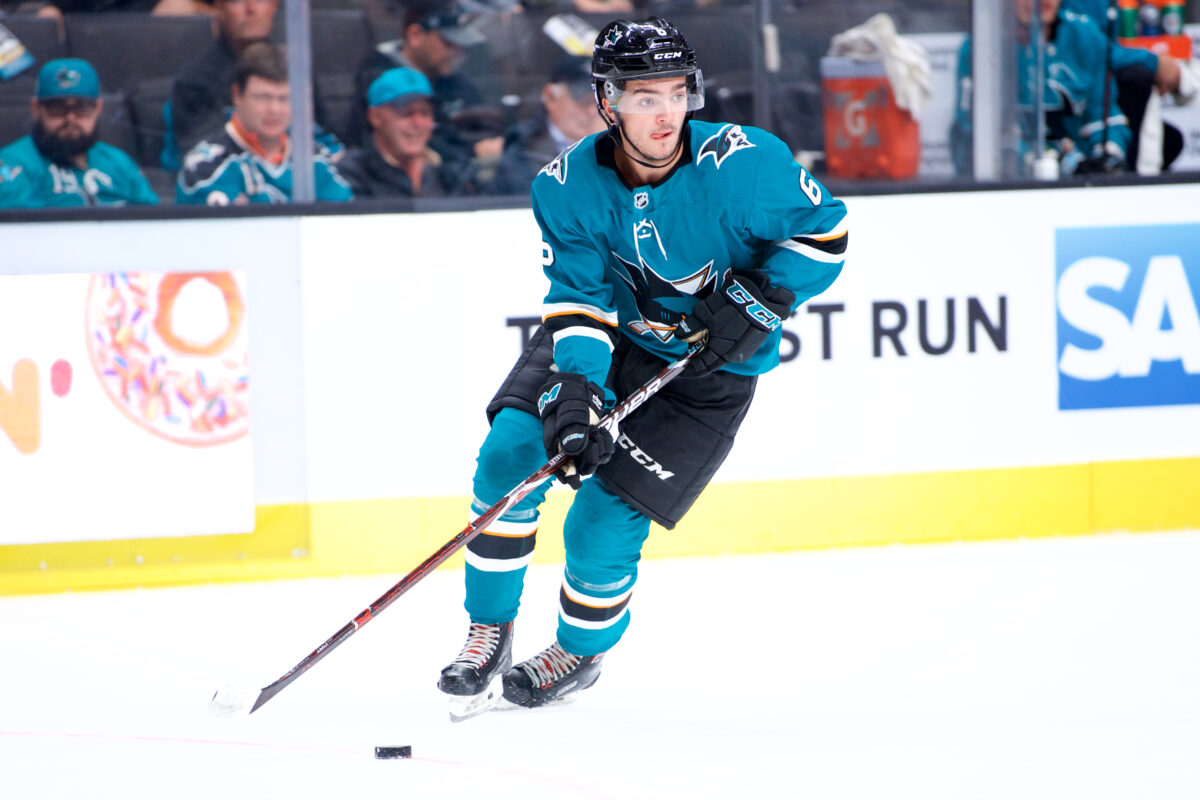 The primary reason why Merkley has requested a trade is that he has not been given too many chances by the Sharks. Since being drafted in 2018, the 6-foot, right-shot defenseman has appeared in just 39 NHL games, where he has one goal, five assists, and a minus-10 rating. He also has spent the entirety of this campaign in the American Hockey League (AHL) with the San Jose Barracuda. In 30 games with the AHL squad, he has recorded 14 assists and sports a minus-8 rating. Overall, his offensive numbers have been decent in the AHL, but the Sharks are still not calling him up.
Over the last few seasons, it made sense that Merkley was not called up to the NHL. Even with the Sharks being a poor team for multiple seasons now, the right side of their defensive group has been strong since his arrival, as San Jose had a strong one-two punch of Erik Karlsson and Brent Burns. However, even with the latter being traded to the Carolina Hurricanes, Merkley was unable to secure a spot on San Jose's NHL roster. With all of this, it is easy to understand why he wants out.
Blackhawks Make Sense as Landing Spot for Merkley
Now, why does this Merkley trade request impact the Blackhawks? It's simple. He should be a prime trade target for the Blackhawks, as he would fit perfectly into their rebuild. Although it has been roughly five years since he was drafted, he is still a young prospect who may have the upside to blossom into a top-four defenseman. However, it is also clear that he is never going to hit that level with the Sharks, so a change of scenery to another rebuilding club like the Blackhawks could spark him to take that next step.
Related: Blackhawks' 2022-23 Trade Targets: Tampa Bay Lightning
---
Latest News & Highlights
---
When looking at the Blackhawks' current defensive group, Merkley would likely have zero trouble making their NHL roster. He could be a potential upgrade over either Jack Johnson or Ian Mitchell on Chicago's bottom pairing. Furthermore, with Merkley being known for his strong offensive ability, the Blackhawks would likely utilize him on one of their power-play units. In a role like this, he would finally have the opportunity to succeed, and that could be enough for him to find his offensive game at the NHL level.
With Chicago being in a full-on rebuild, they are in a position to take a chance on a player like Merkley. He is a typical "low-risk, high-reward" prospect and if he can be had for a cheap price, I see zero reasons for general manager (GM) Kyle Davidson not to pursue him. After all, if he reaches his full potential, he could become a key part of Chicago's core once they are competitive again.
Blackhawks Have Assets to Acquire Merkley
As stated above, it is unlikely that the Blackhawks would need to give up too much to acquire Merkley. I'd argue that a mid-tier prospect and a fifth-round pick would be enough to bring Merkley to Chicago. When noting that he has still a decent amount of potential, I believe that this is a price that Davidson should have zero issues paying. One specific Blackhawks prospect who the Sharks could certainly express interest in is Michal Teply.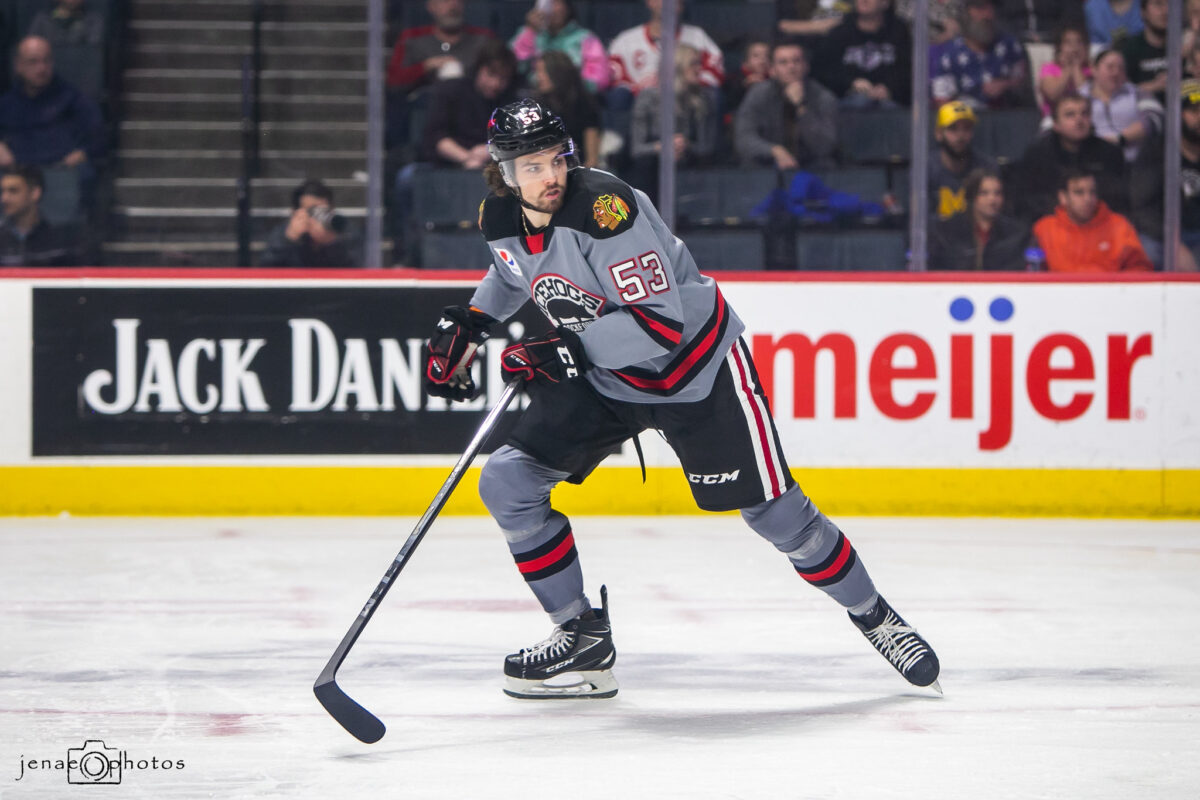 Teply is currently playing with the Rockford IceHogs, where he has five goals and 12 points in 26 games played. Overall, the big-bodied winger has the tools to one day become a bottom-six forward at the NHL level, so it would make sense for the Sharks to make a push for him. Furthermore, he also has been praised for his excellent stickhandling and passing abilities, so he offers a strong skillset along with his size.
Ultimately, I could see this swap benefitting both the Blackhawks and Sharks. Chicago would be taking a gamble on a former first-round pick who desperately needs a change of scenery, while the Sharks would be landing a decent prospect who could compete for a spot on their roster as soon as next season. Let's see if these two Western Conference clubs end up striking a deal from here.
---
---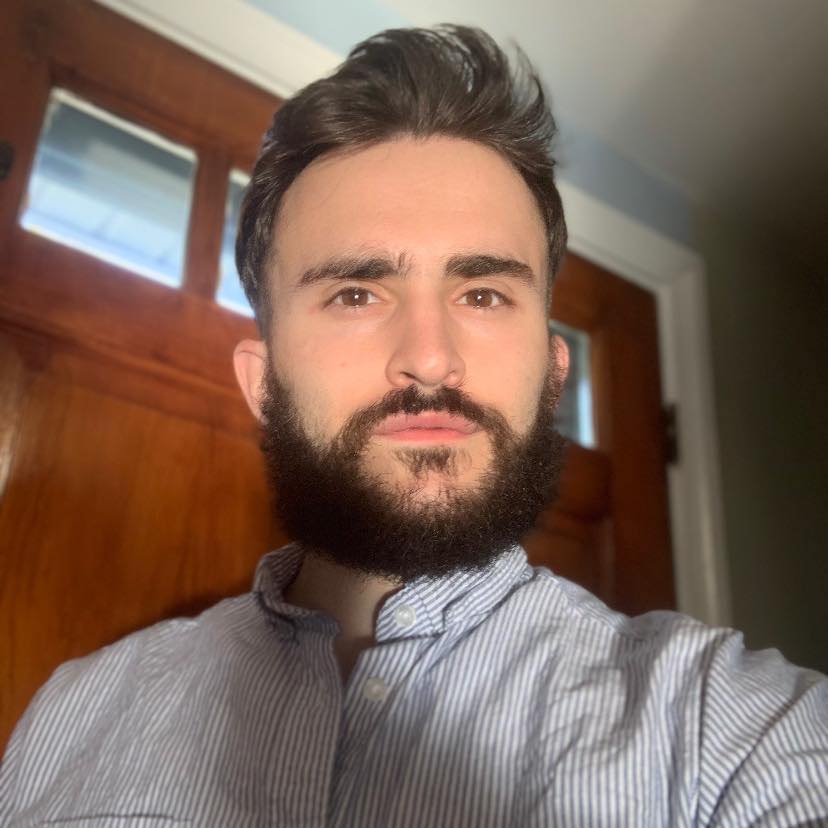 Michael DeRosa is a contributor who covers the Boston Bruins, Chicago Blackhawks, & Detroit Red Wings for The Hockey Writers. Since 2017, he's written and edited for numerous websites. Besides his work for THW, you can also find him on NHL Trade Rumors.