The Chicago Blackhawks' last decade of success has been fueled by a group of core players. Household names like Jonathan Toews, Patrick Kane, Duncan Keith, Brent Seabrook, Marian Hossa, and Niklas Hjalmarsson have anchored the Blackhawks' three modern-day Stanley Cup championships. If the organization is to win its fourth in eight years, this "core" will no doubt be the driving force.
While nearly every Stanley Cup winning team has at least a couple of elite players such as those comprising the Blackhawks' core, depth and role players are often the difference between hoisting the best trophy in sports and spending the summer wondering what might have been. It's what the Blackhawks have had during their championship seasons and often what they lacked during the seasons they fell short.
This year, particularly over the last two months, the Blackhawks' role players are finding success. The group has contributed to the team's charge to the top of the Western Conference. But, the group is young, and generally lacks Stanley Cup Playoff experience. Let's examine who Quenneville & Co. will rely on for strong and consistent performance when the calendar turns to April.
Nick Schmaltz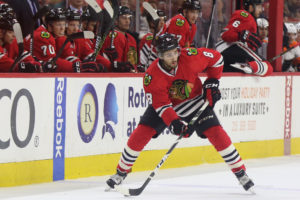 None of the players comprising Chicago's youth movement has as much raw talent as Nick Schmaltz. At 21 years of age, the University of North Dakota product averaged nearly a point per game (0.96 to be exact) during his two years of collegiate competition. Schmaltz's passing and play-making ability were on display, particularly during his 11-goal, 35-assist (top-5 nationally) sophomore campaign that earned him All-NCHC (National Collegiate Hockey Conference) Honorable Mention. Entering the 2016-17 season, he was almost universally regarded as the Blackhawks' top prospect.
Schmaltz has spent this season making the transition from prospect to pro. The transition was tenuous early in the year when Schmaltz tallied four points (goal, three assists) during his first 26 NHL games prior to being sent down to Rockford in early December. Since a mid-January recall, the young forward has emerged. In his 27 games since the recall, Schmaltz has tallied 20 points (five goals, 15 assists).
It is clear that Schmaltz is a top-6 forward in Quenneville's plan as the Blackhawks approach the playoffs. Whether flanking Toews on the top line or centering Kane and Artemi Panarin in Artem Anisimov's absence, Schmaltz's performance will play a critical role in the team's trek towards another championship.
While Schmaltz has been electric between Kane and Panarin at times, where three highly-skilled forwards can put their play-making ability on display, this team is no doubt at its best if Anisimov is healthy and can slide back into the second-line center role. Schmaltz may develop into a top- or second-line center, but an abysmal 29.9% face-off percentage will not translate well to the postseason nor mesh with the Blackhawks' puck-possession style of play. But, a Schmaltz – Toews – Richard Panik line has the potential to give the Blackhawks two "top lines" and create significant match-up problems for their postseason opponent(s).
Ryan Hartman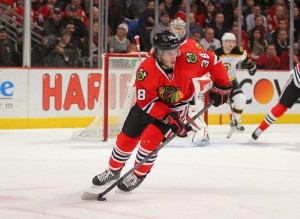 Ryan Hartman might be the most well-rounded and versatile of the Blackhawks' young guns. Hartman's play has been relatively consistent throughout the year, whether playing on the top line with Toews, sliding into the third line opposite Hossa, or even filling a fourth-line role.
While Hartman arguably does not have Schmaltz's raw offensive talent, he has been every bit as productive. Hartman's offensive production is solid for a "third-line player", with 18 goals and 11 assists during 69 games. But Hartman's contributions go well beyond the basic offensive numbers. Whether it's providing new-age enforcement, gritty shot blocking, or net-front presence, Hartman is the kind of player that sacrifices for his teammates, something that has earned their admiration.
On a healthy and deep roster, Hartman will ideally enter the playoffs as a third-line winger opposite Hossa. And centered by either a gritty and experienced Marcus Kruger or hard-working Tanner Kero, the majority of NHL teams would be hard-pressed to roll out a third line with that kind of production and two-way play.
John Hayden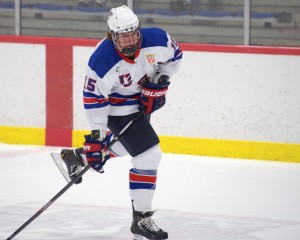 What a pleasant surprise. Hardly on any fan's or media member's radar a couple weeks ago, Hayden finished up his collegiate career at Yale and quickly signed a 2-year contract (including 2016-17) with the team that drafted him in the third round of the 2013 NHL draft. Hayden joined the Blackhawks and played in the final two games of their three-game sweep of Eastern Canada. In his first five NHL tilts, he has a goal, two assists, and plus-five rating.
Depending on his play down the stretch and the health of Anisimov and the rest of the team, Hayden could create an embarrassment of riches and some real interesting line combination possibilities for Coach Quenneville in the playoffs. Assuming a full and healthy compliment of forwards, Hayden's logical place may be in a fourth-line role. But, with a game that has already started to develop through four years of collegiate play, a 6'3″, 223-pound frame, and some offensive capability, Hayden could significantly bolster and help solidify a fourth line, something Quenneville & Co. have been searching for throughout the 2016-17 season.
With a first NHL goal like that, John Hayden will definitely get used to saying that @Allstate​ Play of the Week tag! pic.twitter.com/I9Em0Ek14v

— Chicago Blackhawks (@NHLBlackhawks) March 24, 2017
Tanner Kero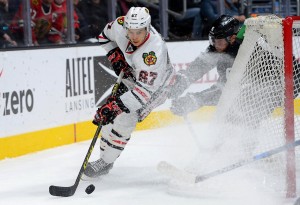 Largely under the radar, Kero has been a mainstay among the Blackhawks' bottom-six forwards this season. Quenneville clearly likes what Kero brings to the rink, as most recently evidenced by his two-year contract extension. Whether it's Kero's effort, solid two-way play, or role on the penalty kill, it's clear that Kero and Kruger will anchor the third- and fourth-line center positions for the Blackhawks as they enter their ninth consecutive postseason.
Perhaps of mild concern is that Kero has been serviceable at best in the face-off circle, winning 45.4% of the time. Kero's ability to earn ice time despite that rather pedestrian number could be reflective of an overall weakness the Blackhawks may have to battle going forward. The team ranks 27th in the league in face-off win percentage, with Toews being the only center to win more than half of his draws (55.8%).
Will Youth Prevail?
So, with the Blackhawks primed for another run at Lord Stanely's Cup, it seems many of the stars are aligning. The team is near full health (sans Anisimov). Their goaltending has been among the league's best (.921 save %, ranked third). The core group of elite players continues to play at a high level. So can the Blackhawks' youth: Schmaltz, Hartman, Hayden, Kero, and perhaps even Panik and Panarin, who are relatively unproven in May and June, etch their names in history? That is the million dollar, or dare I say, the 34.5-pound question.