The Carolina Hurricanes are doing what they do. Once again, they are approaching the end of a season practically out of the playoffs, but technically still within reach. With an extremely steep hill to climb, the 'Canes have not quit on the season, although a confluence of the near-miraculous is needed in the remaining games. For the remainder of the season, it's one game at a time, with points needed in every game.
The Lack Smack Worked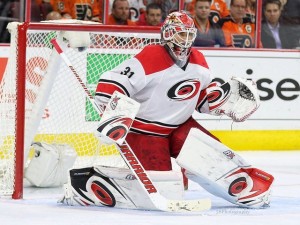 Eddie Lack got the start in goal against the Montreal Canadiens Thursday night. His play of late has been much better than a month ago, a rarity this season. Between the two concussions and horrid play, his season has largely been one to forget. But, his outstanding play against a very good Habs team, and in a few games prior, has gotten Lack out of the crosshairs of head coach Bill Peters. Peters smacked Lack publicly a few weeks ago and the tactic seems to have worked.
It's been that way recently for the Hurricanes, as they have put together a string of successful outings that defies their previous play. And here the team is again, much like last season, hoping for the nearly impossible with only 10 games remaining so as not to look back on another wasted year saying "if only".
Where Things Stand
In the last week of March, the standings have a few teams jockeying for playoff position. As of Saturday morning, the 'Canes are five spots out of the second wild card position with 77 points. Ahead of them are the New York Islanders in that position with 82 points and nine games remaining. Also, the Boston Bruins have 82 points and eight games remaining, and the Tampa Bay Lightning have 81 points and also eight games to play.
In theory, the Hurricanes with 10 games remaining have an extra chance or two to make up ground. They have to hope for points, preferably two, in each of their games, while also hoping the teams in front of them get as few points as possible. It's not rocket science.
One would think that a 10-game winning streak to close out the season would put them in a tremendous position to be in the playoffs. The odds of them winning all of their remaining games are certainly low, but stranger things have happened. The have a better chance of winding up with a mixture of outcomes, most of which leave them short like last year.
#Canes need to go 8-2 to maybe make playoffs. Best final 10 finish was in 2008-2009 when we went 8-2 in final 10. Swept by Pens in playoffs

— Tyler Ferraro (@FerraroTyler19) March 24, 2017
Catch-22
Fans have been lamenting the fact that the Hurricanes have not made the playoffs since 2009. It has been a lengthy drought for fans who not so long ago tasted a Stanley Cup. Many of those fans have remained loyal, but many have stayed at home, perhaps in some way contributing to the team's malaise. Does a team play better when the house is full and they are wildly supported? That is a question for another column.
But, with the NHL's lowest fan attendance on a regular basis, it is easy to see the "Catch 22" scenario. Fans will come if they win, but it's tough to win if fans don't come. This wheel has gone around for the past several years and is not likely to stop until the team is playing in late April and early May.
I've been to house parties with higher attendance than this #Canes #Leafs game.

— NHL Watcher (@NHL_Watcher) March 12, 2017
Maybe this will be the season the Hurricanes will catch lightning in a bottle and make it into the playoffs. It would help things a great deal from the excitement side of the equation. Another, "almost" will be very deflating. It will bring another offseason with hopes that "Maybe GM Ron Francis will trade for some players that will help us make the playoffs," chatter. And the Hurricanes wheel will go around again, with the team doing what they do.