The Columbus Blue Jackets took care of business Tuesday night by defeating the Tampa Bay Lightning by a 4-2 score. The game wasn't as close as this score might indicate.
The Blue Jackets jumped out to a 4-0 lead before the Lightning scored two late third period goals that didn't factor in the final outcome of the game. This was their third win of the season against the Lightning in five tries. Joonas Korpisalo was outstanding and earned first-star honors making 36 saves.
The Blue Jackets desperately needed this win. However the win was overshadowed by a potentially devastating injury to one of their most important players.
Boone Jenner's Status
With the Blue Jackets firmly in control of the game, Boone Jenner was the recipient of friendly fire from Patrik Laine when his shot hit Jenner in the hand/arm. He immediately went to the locker room.
Losing Jenner for any length of time would be a huge blow to this team as it takes away one of their most versatile players who plays all situations. Now add to the fact that Riley Nash might have played his last game as a Blue Jacket because of his injury and you have an even bigger gaping hole at center ice.
Let's discuss Jenner for a second. His importance cannot be understated. He only knows one speed: full throttle. He brings energy to games while taking his teammates along with him.
But then he's playing in every important situation on the ice especially in the defensive zone. He takes draws. He's one of their best forecheckers. He's one of their most dependable players overall in terms of knowing what you'll get when he's out there.
The Blue Jackets have no one on this team that can replicate what Jenner brings every game. Head coach John Tortorella sounded less than optimistic when discussing this potential loss.
"The situation that we're in here, that's the guy you want leading the charge," Tortorella said. "I'm not so sure we're going to get good news there."
The team practices Wednesday at noon. It's easy to expect Jenner will not practice. After some tests and a diagnosis is determined, we should get some update as to the extent of his injury. Depending on the severity of the injury and so few games left in the regular season, there is a chance this could end his season.
The Blue Jackets are hoping they dodged a bullet but we all await the final word from the team on this situation. This could potentially be the final blow in a season of many ups and downs.
Zac Dalpe's Big Night
You have to feel good about this story. Zac Dalpe opened the scoring Tuesday night for the Blue Jackets when he drove the net and accepted a pass from Max Domi. This was no ordinary goal for Dalpe. It was his first in the NHL since October 2016 as a member of the Minnesota Wild. He beat then Toronto Maple Leafs goalie Jhonas Enroth.
This goal was symbolic to his hockey journey. Dalpe was acquired by the Blue Jackets via waivers and was eventually named the captain of the Cleveland Monsters. He has been an instrumental part of the organization because of the way he carries himself. But he was still trying to live his dream of making it back to the NHL.
Dalpe got his chance and is making the most of his opportunity. He admitted postgame he was close to crying because of how emotional this moment was for him.
"I knew it was a lot of days in between my last goal and now," Dalpe said. "Definitely joy and some relief. I still want to prove to people and myself that I can play at this level. Getting the goal is the cherry on top and now it's just waking up tomorrow and trying to be that consistent player that I've been searching to be my whole career."
Dalpe's sons were upset that dad had to leave them. But on his way out, he told them I'll get you a goal. Mission accomplished. "I knew my wife had them stay up in the first so luckily I scored in the first."
"It's probably a meaningless goal to a lot of people but it's just a lot of hard work that I've gone through. And I take pride in my kids watching me and being a mentor for them."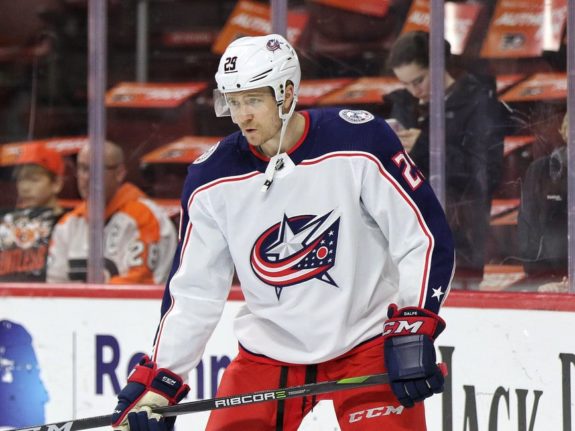 Dalpe's story is a perfect representation of just how much goes into scoring a goal. If you watched it live in person or on TV, it looks like a great goal with a perfect pass and finish. But for that goal to happen, it took Dalpe dedicating himself to being ready for the moment not knowing when his moment would come. He stayed the course and got his chance. So this was no ordinary goal. It symbolized years of hard work chasing down a dream. For feel good stories, this is as good as it gets in the perseverance department.
Blue Jackets Gain No Ground
I talked Monday in my piece about how daunting making the playoffs would be. Tuesday night helped prove the point. The Blue Jackets took care of business. But thanks to an unfavorable out of town scoreboard, they remain in the same place they started Tuesday, five points out of the last playoff spot.
Both the Nashville Predators and Chicago Blackhawks won their games. The Predators scored late in the third in Detroit and then won in a shootout while the Blackhawks defeated the Dallas Stars.
Remaining games are going to get fewer and fewer in quick order. The Blue Jackets have just 15 chances left to earn points in the standings. They need a minimum of 10-3-2 to have a shot at this. It's not impossible. Look at the Predators. They were dead but now have won 10 out of 12.
But if the Blue Jackets get a worst-case scenario on Jenner, the hill only gets more slippery for them. Had they handled their business in Detroit, we're having a different conversation being just one point back instead of five. That weekend could end up being the difference between being in or out when this is all said and done.
---
---