With Commissioner Gary Bettman and NHLPA Director Donald Fehr apparently intent on reviving The Cold War via a strategy of mutual assured destruction , it is exquisitely difficult to find causes for joy in the world of professional hockey right now.  This is particularly true for a club like Columbus, who is coming off of a 30th place performance and the trade of their "face of the franchise."  However, as I return to The Hockey Writers,  it seemed fitting to use my debut to highlight some actual and potential positives that Columbus fans can hold onto as the lockout lingers and Nationwide Arena remains empty.
First — falling in that fuzzy "potential" category —  is the recent revelation that John Davidson has formally made his exit from the St. Louis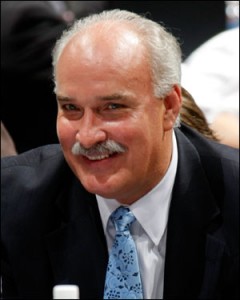 Blues organization.  On its surface, the timing seemed somewhat bizarre, since there is not much urgency at the moment to do much of anything on the front office front.  However, his exit came just about 90 days from the expiration of his previously-publicized negotiation window, during which he interviewed with Blue Jackets executives.  One could accordingly envision a situation in which the Blues and Davidson reached an accord, providing for a 90-day exit, an undisclosed financial settlement and a "gag order" preventing either side from discussing the transactions.  Certainly, nobody is talking in substance about the move at this point in time.
Greg Wyshinski at Puck Daddy surmises that Davidson could be headed to Columbus, Calgary or back to the broadcast booth — pretty much the options that were circulated at the time of the initial intrigue.   While Davidson unquestionably has some affinity for Calgary, his ties to Columbus appear significant as well.  Avid fans know that Davidson has been the perpetual interview guest of Jackets' TV broadcaster Jeff Rimer during the first period break of every Blues/Blue Jackets game — at least those games where Davidson was present.  The Columbus situation presents the kind of opportunity at which Davidson excels —  a floundering young team with talent, but little direction.  Indeed, this club, with the likes of Dubinsky, Anisimov, Erixon and Bobrovsky, a wealth of young defensemen in the system, $15 million in cap space and three first-round picks next season, might be more attractive to Davidson than the Rick Nash-dominated squad he reviewed in June.
Columbus GM Scott Howson is — charitably speaking — embattled.  Whatever his virtues and vices,  if NHL franchises could invoke the parliamentary vote of confidence, Howson would lose in a landslide.  Craig Patrick has been a steadying hand, but he candidly admits he is not looking for a full time gig.  Davidson would bring instant credibility, re-enforce the concept of change and direction adopted in the wake of the Nash deal, and provide the long-sought veteran stewardship at the hockey operations helm.  Will it happen?  It's difficult to say at this point, but the fit appears to be there for Davidson to keep his roots in the midwest and become a savior once again.   It would also be a kind of poetic justice, in light of Ken Hitchcock's "Coach of the Year" shift from Columbus to St. Louis.  We'll keep tabs on this one.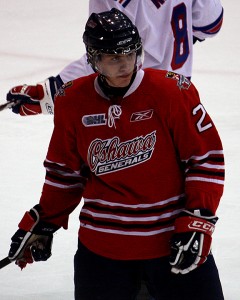 Next, let's turn our sights up to the Oshawa Generals, where Columbus prospect Boone Jenner is plying his trade at present.  That's actually quite an understatement, as Jenner thus far appears to be mastering his trade in the young season.  The 19 year-old center has 7 goals, 5 assists and 12 points in  . . .5 games played.  That's stunning.   It's good enough to lead the league in scoring at this point, and suggest that Jenner might be progressing faster than scheduled.  Remember that his age precludes his playing in the AHL this season, so it will either be Oshawa or Columbus for Jenner once the labor unpleasantness is resolved.  While the parent club is well-stocked with defense, scoring will be by committee this year, and another member of the committee would be welcome.
In a similar vein, 2012 1st Round pick Ryan Murray has 1 goal and 3 assists in 4 games  — a point-per-game pace that virtually any defenseman would find acceptable — even as Everett  has managed just a single win.
Of course, it's perilous business to place too much emphasis on junior success as a predictor of NHL performance, but the opportunity for these guys to get more seasoning in game conditions without sacrificing their eligibility to be with the NHL squad.  Similarly, if the lockout is not resolved within the next 11 days, youngsters such as Ryan Johansen, Cam Atkinson, Matt Calvert and Tim Erixon will be wielding sticks in anger for Springfield — again gaining some real-life work that can only help.
Consider that the Blue Jackets this season have a greater chance of fielding three credible scoring lines than at any time in their history.  Sure, the star power of Nash is gone, but some combination of Brandon Dubinsky, Artem Anisimov , Derick Brassard, R.J. Umberger, Ryan Johansen, Cam Atkinson, Nick Foligno, Vinny Prospal, Mark Letestu, Boone Jenner and Matt Calvert will contend for the roles.  That's not even considering the very real likelihood that the cap space and first round picks could be parlayed into additional scoring help.  Sure, that roster doesn't promise many 40 goal scorers — and maybe not 30 goal scorers — but there are a whole bunch of guys who could notch 20+ without breathing too hard.  Last season, Nashville demonstrated that such a distribution of scoring can succeed, as the Predators had only two players with more than 20 goals, and only another six with more than 10.  Columbus has every reason to believe that this contingent is capable of easily clearing that bar.
So, despite the gloom and doom of the CBA negotiations, there are hopeful signs stirring for the organization.  True — hope is not a strategy — but absent training camp or games, it's all anybody has right now.  If this fiasco can be unwound relatively soon, the fans may yet see that new scoreboard, the All Star festivities and some exciting hockey in the confines of Nationwide Arena.  One can't help but wonder if the exodus of players to Europe, and the accompanying risk of a)not returning to the NHL and b) injury might give some of the owners pause.  Do you think the Rangers are sweating just a bit at reports that Rick Nash hurt his shoulder in Switzerland, while also facing losing a full season of his productivity?   Who knowAfter all, even the Cold War ended.
Fan of hockey at all levels, with focus on the Blue Jackets, Miami RedHawks and the business side of the game. I try to bring a rational, even-handed analysis to my writing, wtih just a touch of snark. I use my legal background to bring some more insight on the business side. Love family, travel, hockey, golf and curling.