The long wait for hockey's return is nearly over. Training Camp opens next week and Regular Season games are less than a month away. Break out your jerseys and Canadian beer of choice, hockey fans, because puck drop is right around the corner.
The first hockey action of the new season begins this weekend in Traverse City, MI. For the eight teams involved, the annual NHL Prospect Tournament is an opportunity to see prospects participate in game action before most return to their Junior Teams. For many of the participants, it will be their first time donning an NHL sweater on the ice.
The Blue Jackets 13th Preseason trip to Traverse City features their strongest roster yet. On paper, the 2014 prospect team is lethal. The squad is highlighted by four first round forwards, the 2010-11 CCHA Rookie of the Year, a WHL All-Star who followed up an 109-point campaign with a league best 33-point postseason, and a World Junior Championship Best Goaltender recipient between the pipes. With such an impressive collective résumé coming home with anything less than the club's third tournament championship would be a disappointment.
The following is a quick and dirty breakdown of the players representing the Blue Jackets this weekend in Traverse City. Each prospect will be looking to make a name for himself just as Boone Jenner did a year ago. Not every participant will go on to defend Nationwide Arena, but the prospect tournament is the first step to NHL stardom.
* * * * * * * * * * * * *
FORWARDS
Josh Anderson
95th Overall pick (R4) of 2012 Draft
2013-14 Team: London Knights (OHL)
A veteran of 238 games at the Junior Level, Anderson has earned two OHL titles and 122 points over an impressive career with the London Knights. A natural leader who plays smart with the puck, Anderson's team play has improved every season. In 2013-14, while sporting an "A" for the Knights, the OHL All-Star earned a +31, a mark higher than the combined +/- of his previous two campaigns.
Anderson not all finesse either. He averaged 79 PIM over the last two seasons. The Burlington, ON product is projected to play for the Springfield Falcons in 2014-15. If he excels in the AHL as he did in London, we could see Anderson push for a roster spot with the big club as early as 2016-17.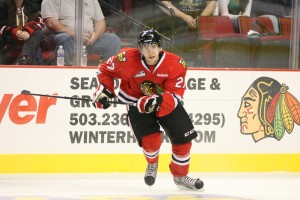 Oliver Bjorkstrand
89th Overall pick (R3) of 2013 Draft
2013-14 Team: Portland Winterhawks (WHL)
I've written before about Bjorkstrand as a dark horse candidate to crack the Blue Jackets line up in 2014. Bjorkstand has arguably the highest ceiling of any player in the system. He racked up 109 regular season points for the Portland Winterhawks this year, good for third best in the league. The WHL All-Star capped his campaign with a league best 33-point playoff performance.
The Danish standout has earned more accolades than we can possibly list here. Bjorkstrand has averaged more than a point a game in his last two WJC appearances. The 2011-12 Danish Cup MVP is a dynamic scorer with elite vision and presence. Expected to play on the second line in Traverse City, Bjorkstrand has a chance to prove his playmaking skill set can be effective against some of the game's best young players.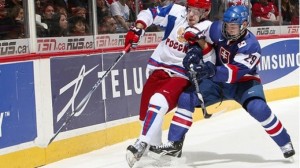 Marko Dano
27th Overall pick of 2013 Draft
2013-14 Team: HC Slovan Bratislava (KHL)
The last of the Blue Jackets three first round selections in 2013, Dano took the fast track in development by playing among grown men in the KHL. Dano doesn't dazzle on paper, but he's is a Todd Richards player through and through. The gritty Slovakian plays a mean two-way game fueled by tenacious effort.
Dano performed well in his brief AHL stint last spring. He notched six points in ten games with new teammates and added another two points in five playoff games. Dano plays a conservative game, prioritizing defensive responsibility over goal scoring. Dano will be one of the most physical players on the ice in Traverse City. If Dano and Bjorkstand can find chemistry quickly, they'll headline the best second line in the tournament.
Kyle Hope
ATO (Amateur Try-out Agreement)
2013-14 Team: Owen Sound Attack (OHL)
Hope is a fitting name for the Blenheim, ON native joining the Blue Jackets on an ATO agreement. He's a long shot to ever crack the NHL, but Columbus brass liked the stout winger enough to kick the tires. Hope boasts extensive OHL experience, splitting five seasons between the Oshawa Generals and Owen Sound Attack.
At 6'2 and nearly 200 pounds, Hope is a brutish forward who thrives in the dirty areas. His aggressive style has been known to get Hope into penalty trouble, though, amassing 433 PIM in 268 career OHL games, spending more than 95 minutes in the Sin Bin in four of his five OHL seasons. He tallied 48 goals in 54 games with Owen Sound in 2013-14, so he's an intriguing player to watch this weekend if he can stay out of the box.
Sonny Milano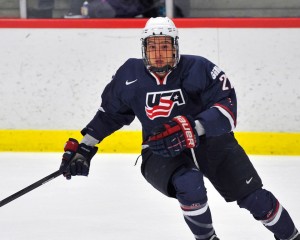 16th Overall pick of 2014 Draft
2013-14 Team: USNTDP
The latest Blue Jacket to sign an entry level contract, Columbus was thrilled to see Milano still on the board when their pick came up in June's draft. Milano boasts elite hands and puck handling skills coupled with dizzying speed. The evasive forward has a talent for taking defenders off balance.
We already know he looks good in red, white, and blue. Milano racked up 86 points in 58 appearances with the U.S. U18 National Team in 2013-14. Thanks to choosing the Plymouth Whalers over Boston College, Jackets fans get a chance to see Milano display the skills that made him the club's top pick in 2014 in Traverse City. Word is Sonny will be joined on the top line by fellow first rounders Alexander Wennberg and Kerby Rychel to form a formidable trio bound to give opposing coaches fits.
Milano – Weinberg – Rychel

— Aaron Portzline (@Aportzline) September 11, 2014
Nick Moutrey
105th Overall pick (R4) of 2014 Draft
2013-14 Team: Saginaw Spirit
Nick Moutrey has been a solid, though not spectacular, contributor for the respected Saginaw Spirit franchise the last three seasons. He took a big jump in 2012-13, but hasn't shown much growth since. Last season Moutrey nearly doubled his PIM from the year prior, but tallied two less points.
At times the Shelburne, ON native displays great vision and passing skill, but he'll need more consistency before he's ready to contribute at the AHL level. Moutrey posses solid speed for a player of his stature (6'3" 207 lbs) and he'll need it to keep up with the caliber of talent on display at the Prospect Tournament.
Julien Pelletier
107th Overall pick (R4) of 2014 Draft
2013-14 Team: Cape Breton Screaming Eagles
Pelletier has the makings of a future NHL winger: creative hands, vision, and natural playmaking instincts. The Cape Breton Screaming Eagle's areas of concern, skating and strength primarily, are fixable with quality coaching over time. Equally content, scoring as he with an assist tally; the French Canadian product had 25 goals and 25 assists last season. A balanced playmaker, Pelletier plays a similar game to Columbus forward Mark Letestu.
Peter Quenneville
195th Overall pick (R7) of 2013 Draft
2013-14 Team: Brandon Wheat Kings (WHL)
Yes, he is related to Blackhawks coach Joel Quenneville. (Second cousins) Quenneville is coming off a strong 50-plus point debut season in the WHL. In 2012-13 Peter was a stud for the USHL Dubuque Fighting Saints, leading the team to a Clark Cup Championship.
Quenneville is an intelligent player with great mustacheod pedigree who doesn't spend much time in the box, but could play with more grit. The Edmonton native is a long-term project for the organization so he'll be interesting to watch in Northern Michigan as Quenneville plays alongside the most talented teammates of his young career.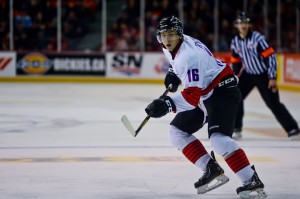 Kerby Rychel
19th Overall pick of 2013 Draft
2013-14 Team: Windsor Spitfires / Guelph Storm (OHL)
The second of the Blue Jackets trio of 2013 first round picks Kerby Rychel exceeded expectations in 2013-14. As captain of the Spitfires , Kerby racked up 38 points in 27 games before being dealt to Guelph. The California-born forward excelled in his new surroundings, quickly adapting to new teammates as he racked up 51 points in 31 games. To top it off, Rychel was the league leader in playoff points and assists as he led the Storm to an OHL championship.
Rychel is an ideal fit for the Blue Jackets system and has an outside shot at making the big club this season. At 6'1 and over 200 pounds, Rychel is not often overpowered and isn't afraid to throw his weight around. Growing up with an NHL father, Warren Rychel, surely helped Kerby develop a diverse game.
A power forward capable of scoring in the clutch, making the smart pass, and winning a fight if need be, there are a handful of NHL teams who would happily put Rychel on their opening day roster to start 2014. Columbus has the luxury of allowing Rychel to develop, but fans will likely be eager to see more of the talented winger after Traverse City.
Lukas Sedlak
158th Overall pick (R6) of the 2011 Draft
2013-14 Team: Springfield Falcons (AHL)
Sedlak is a less mysterious prospect than most due to spending all of last season with Springfield. The Czech center faired well in his first AHL season tallying a respectable 8-6-14 in 54 games. A former QMJHL Import Draft first round selection by the Chicoutimi Sagueneens, Sedlak is a powerful utility forward with scoring ability. He'll play a Corey Tropp-type role for the Blue Jackets Prospect squad.
Markus Soberg
165th Overall pick (R6) of 2013 Draft.
2013-14 Team: Frolunda J20 (SuperElit)
A young unrefined version of Matt Calvert, Soberg's greatest asset is his hustle. The speedy Norwegian is committed to making the jump to North America starting next season with the Windsor Spitfires. Soberg's trigger-happy style often catches opposing defensemen and goaltenders off guard, but his risky play doesn't always pay off. Look for the slender (6'0 174 lbs) Soberg to make a few highlight reel plays in Traverse City if he can quickly adapt to the North American rink.
T.J. Tynan
67th Overall pick (R3) of the 2011 Draft
2013-14 Team: University of Notre Dame (NCAA)
Tynan will be one of the most mature player competing in the Prospects Tournament. Fresh off a four year run at Notre Dame, Tynan regained some of the magic in 2013-14 that made him a third round pick after a stellar Freshman season. While Tynan improved from a down Junior year, he still fell 16 points short of his CCHA Rookie of the Year campaign.
The Illinois native is one of the most curious participants for Columbus in the tournament. He's shown flashes of brilliance, but his play the last three seasons has been erratic to say the least. Tynan is a strong leader and served as an assistant captain for the Irish in his senior year. He's small for an NHL player at just 5'9" 165 lbs, but hey, that never stopped Martin St. Louis or Napolean-complexed Brad Marchand.
Alexander Wennberg
14th Overall pick of the 2013 Draft
2013-14 Team: Frolunda (SHL)
The crown jewel of the Columbus developmental system, Wennberg is hoping Traverse City won't be the last place he sports the Blue Jackets crest this season. The talented Swedish center has made it clear he intends to make the opening night roster in 2014. Like Dano, Wennberg opted to play among men rather than a junior league and he excelled notching 21 points for Frolunda of the SHL.
It would be easier to list the things Wennberg can't do than go on and on about his various talents on the ice. In fact, the only real concern is how long it will take him to figure out scoring at the NHL level. As we saw with Ryan Johansen, sometimes it takes a couple seasons to click. Wennberg offers great size and a dynamite résumé. He's the recipient of an Elite Prospects Award, the SHL Most Goals by a Junior Award, a two time WJC Silver Medalist, was a nominee for SHL Rookie of the Year, and is ranked by NHL.com as the 13th overall prospect in the league.
The question isn't if Wennberg will be a top-six NHL forward, it's when. Wennberg has risen to every challenge he's faced in his career and if the pattern continues you can catch him at Nationwide Arena October 11 against the New York Rangers.
DEFENSE
Mike Dipaolo
ATO
2013-14 Team: Charlottetown Islanders (QMJHL)
The Blue Jackets official roster release has Dipaolo listed as a forward, but he's been a defenseman his entire career. The 6'4" 209 pound bruiser will be a physical force the likes of which many of the prospects have never dealt with. In two seasons with the Sarnia Sting and his latest in Charlottetown, Dipaolo established himself as an intimidator with little hesitation to drop the gloves. If someone takes a cheap shot at one of the Blue Jackets top prospects, expect Dipaolo to retaliate Jared Boll-style.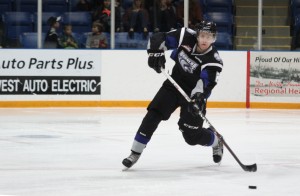 Dillon Heatherington
50th Overall Pick (R2) of 2013 Draft
2013-14 Team: Swift Current Broncos (WHL)
Columbus is expecting big things from the massive Calgary-born defensemen. The Blue Jackets like their big defensive prospects and Heatherinton fits the bill at 6'4" 205 lbs. Power and shutdown defense aren't all the brusing d-man brings to the table. He's a talented blue line quarterback as well, tallying 35 points last season for Swift Current.
Heatherington isn't far from NHL-ready, but a crowded Blue Jackets defensive corps will allow him time to fully develop his talents. Heatherington will make life difficult for small forwards who are used to weaving through Junior level players. Look for Heatherington to contribute heavily on the powerplay and as a top four d-man.
Thomas Larkin
137th Overall pick (R4) of 2009 Draft
2013-14 Team: Evansville Icemen (ECHL) / Springfield Falcons (AHL)
Another towering blue liner (6'5" 206 lbs) in the Blue Jackets arsenal, Larkin is the only English-born player on the squad. The Colgate University product excelled in the ECHL last season tallying 20 points and 60 PIM in 33 games, but struggled to make an impact with Springfield.
No stranger to the penalty box, Larkin spent 176 minutes in the Sin Bin during his 147-game career with Colgate. Traverse City will be an opportunity for the relatively seasoned d-man to gel with future AHL teammates as he hones his game. If he someday makes the team, he'll be Central Ohio's own "Tower of London."
Oliver LeBlanc
197th Overall pick (R7) of the 2014 Draft
2013-14 Team: Saint Johns Sea Dogs (QMJHL)
An assistant captain for the Sea Dogs, LeBlanc plays a true team game. He makes tape-to-tape passes and displays superb ice presence. Undersized, LeBlanc will spend a couple more seasons in the Juniors and this likely won't be his last trip to Traverse City. If LeBlanc can improve his defensive awareness and gain strength, he could turn out to be a steal for the Blue Jackets.
Isaac MacLeod
ATO
2013-14 Team: Boston College (NCAA)
After four years playing for one of hockey's top collegiate programs at Boston College, MacLeod will look to stick with an ECHL squad this year. Columbus will give the super sized blue liner (6'5" 213 lbs) a chance to earn a spot in their system. Look for MacLeod to utilize his maturity and experience to make his best case to the Blue Jackets brass.
Austin Madaisky
124th Overall pick (R5) of 2010 Draft
2013-13 Team: Evansville Icemen / Springfield Falcons (AHL)
Madaisky has bounced back and forth between the AHL and ECHL since 2012. He's been unable to stick with Springfield full time, but look for him to make a strong case to be a full time Falcon starting in Traverse City. The former Kamloops Blazer hasn't yet been able to translate his offensive talents to the pro blue line, but the potential for Madiasky to develop into a top four AHL defensemen is there.
Marcus McIvor
ATO
2013-14 Team: North Bay Battalion
A mainstay on the Battalion blue line since 2011, McIvor is another player looking to make a name for himself at the tournament. He's no lock to earn a contract, but McIvor has intriguing potential. As a leader of the Battalion, McIvor helped the team capture the Bobby Orr Trophy as the OHL's Eastern Conference Champions before falling to Kerby Rychel and the Guelph Storm in the OHL Championship Series.
Kevin Ryan
ATO
2013-14 Team: Niagara University (NCAA)
A powerful D-man in college for Niagara, Ryan joined the ECHL South Carolina Stingrays for the last eight games of their 2013-14 campaign. Ryan managed a respectable three points in those games for South Carolina, but it wasn't enough to earn a contract. The Buffalo native will look to stick with an ECHL franchise this season, be it with the Blue Jackets in Kalamazoo or elsewhere.
Blake Siebenaler
77th Overall pick (R3) of 2014 Draft
2013-14 Team: Niagara IceDogs
An offensive defenseman with excellent puck control, Siebenaler will see plenty of ice time in Traverse City. The Ohio-born product was a teammate of draftmate Sonny Milano with the Cleveland Barons U16 club in 2011-12 and the tournament will be their first chance to re-spark the old chemistry.
Siebenaler is a clean passer, but must improve his defensive game. His tendency to push up ice can be a liability though Blake makes up for his mistakes with stellar play in the offensive zone. Siebenaler posses NHL size (6' 192 lbs) and vision, but at 18 years old the Blue Jackets are in no rush to bring him up.
Nick Walters
ATO
2013-14 Team: Brandon Wheat Kings / Lethbridge Hurricanes (WHL)
WHL journeyman Nick Walters began his Junior Canadian career as a part of a defensive corps headlined by former number two overall pick Ryan Murray in Everett. The St. Louis Blues, an organization with close ties to Jackets GM Jarmo Kekalainen, selected him in the fourth round of the 2012 NHL draft. Connections to Jarmo and Murray were likely enough for Walters to earn a ATO with the Blue Jackets in Traverse City, now it's up to him to make it worth their while.
GOALIES 
Anton Forsberg
188th Overall pick (R7) of 2011 Draft
2013-14 Team: MODO (SHL) / Springfield Falcons (AHL)
The elder of the Blue Jackets tandem of Swedish netminders, Forsberg has come a long way since being selected in the seventh round three years ago. Forsberg holds a WJC Gold Medal and AHL playoff experience under his belt, but that won't be enough to fend off the highly touted Oscar Dansk for the starting job in Springfield. The job won't be won or lost this weekend, but make no mistake the battle for the Falcons starting goaltending gig begins in Traverse City.
Oscar Dansk
31st Overall pick (R2) of 2012 Draft
2013-14 Team: Erie Otters (OHL)
The third netminder selected in one of the best goaltending draft classes in recent memory, Stockholm native Oscar Dansk enjoyed a stellar season with Erie in 2013-14. This after Dansk struggled to hold together an inexperienced and overmatched Otters club in 2012-13. The improvement from a disturbing 4.11 GAA, .888 SVS% to 2.39 GAA, .909 SVS% in just one year is a true testament to his mental game which we all know can be a goalie's Achilles' heal (looking at you, Steve Mason).
Dansk led the Otters, who also happen to have a guy named Connor McDavid, to the OHL's second best regular season record. Dansk earned the "Dave Pinkney Trophy" for lowest team GAA in the OHL in addition to OHL Third All-Star Team honors. A two time WJC Silver Medalist, Dansk was named Best Goaltender at the 2014 WJC tournament. The Blue Jackets showed confidence in Dansk by signing him to a pro contract, but Forsberg won't give up the starting role in Springfield without a fight. This promises to be the most exciting position battle in Springfield in 2014-15.
* * * * * * * * * * * * *
Columbus comes into Traverse City brimming with talent, but they're not alone. Buffalo, St. Louis, and host Detroit also boast particularly strong rosters. The action begins when the Blue Jackets face off against the Minnesota Wild Friday at 3:30.