Christmas is coming and the Columbus Blue Jackets are sending a letter to Santa Claus. What do they want and need for the 2020-21 season and beyond?
The NHL is expected to return to play in mid-January, as training camps open in just a few weeks. Making the playoffs isn't Columbus' goal, but a deep run and raising the Cup are on their "wish list." What will it take to make that happen? Here are five presents the Blue Jackets would like to see under the tree this year.
#5 Big Years from the Young Wingers
When projecting the Blue Jackets' lineup for 2021, the intrepid team of Blue Jackets columnists at The Hockey Writers were unanimous in predicting that Alexandre Texier (age 21) will play on the top line alongside center Pierre-Luc Dubois (22). Liam Foudy (20) and Emil Bemstrom (21) should see ice time early in the season while winger Gus Nyquist recovers from surgery.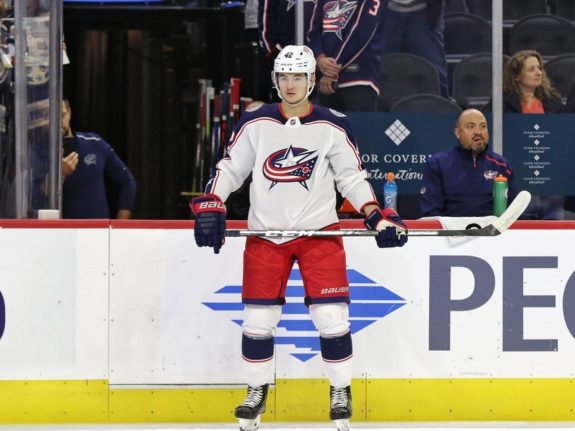 It's tempting to add Oliver Bjorkstrand and Eric Robinson to this list but, believe it or not, both are already 25, as is newly-acquired center Max Domi.
#4 Kraken Prefer Goaltending to Defense in the Expansion Draft
Not long after the 2021 Stanley Cup is awarded, the Seattle Kraken will decide on the core of the newest NHL team through the Expansion Draft. The rules for the draft are the same as those used by the Vegas Golden Knights in 2017, where each team, other than Vegas (exempt from the draft), can protect certain players, but the rules are designed to ensure that quality players are made available to the Kraken. 
We can't read the minds of the Blue Jackets' brain trust, but we can (and, of course, will) speculate. Likewise, we don't know what Seattle's plans are. Will they lean toward the older, more experienced goalies who are likely to be available, including Anton Khudobin of the Dallas Stars, as projected by The Athletic ("Seattle Kraken expansion mock draft 5.0: Who could the Stars lose?" Dec. 8, 2020) and  Dallas Stars Daily Links? Perhaps Jonathan Quick of the Los Angeles Kings or Corey Crawford of the New Jersey Devils? Or will they select young goalies with great upside? Or a couple of each?
Columbus has a pair of star goalies right now: one is exempt from the draft because he is a second-year player (Elvis Merzlikins) and one who should be protected (Joonas Korpisalo). The organization has three good prospects in the pipeline: Daniil Tarasov, Veini Vehviläinen, and Matiss Kivlenieks. According to the expansion rules, at least one goalie must be exposed. Kivlenieks is the most likely candidate.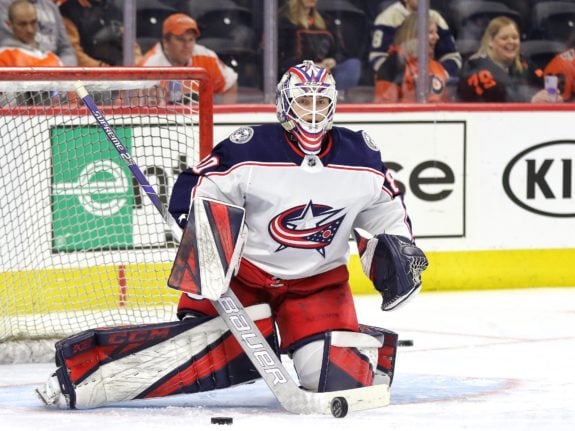 Why would the Blue Jackets wish to lose a goalie with potential? Because the likely alternative is to lose defenseman Dean Kukan. After trading Ryan Murray and Markus Nutivaara, the team's defensive depth isn't what it once was. And because the club will probably protect Seth Jones, Zach Wertenski, and Vladislav Gavrikov, Kukan is the most tempting player exposed.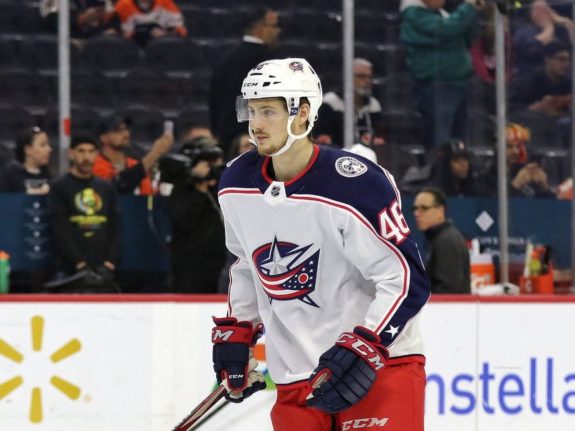 The Blue Jackets, of course, have other players who will be unprotected and available to the Kraken. I expect the list to include D-men David Savard, Gabriel Carlsson, and Scott Harrington, as well as forwards Nick Foligno, Mikhail Grigorenko, and a half-dozen others. But Seattle's decision will likely come down to Kukan or Kivlenieks, and Columbus can afford to lose the latter more than the former.
#3 Healthy Goalies
The 2019-20 season was a nightmare of injuries. Shortly after being selected for the NHL All-Star Game, Korpisalo went down with a knee injury. Merzlikins took over the crease and became a star, but he too was knocked out of the lineup by injury, twice (a concussion in February and a groin pull in the postseason).
Related: Blue Jackets: The 5 Most Significant Injuries of 2019-20
The 2021 season is likely to include a compressed schedule, perhaps with a higher percentage of back-to-back games than usual. Having two healthy goalies, either of whom can steal a game, will be an advantage for Columbus, which is expected to be a low-scoring team – unless:
#2 A Trade Partner Offering a Scoring Winger
If there's one area where the Blue Jackets need help, it's scoring. The 2019-20 season saw Columbus tied for third-fewest goals scored in the league (tied with the Stars who went to the Stanley Cup Final, but, still…) General manager Jarmo Kekäläinen may sign a free agent, such as Mike Hoffman, but he may also play the waiting game and hope to steal a proven goal scorer from one of the 10 or so teams currently over the salary cap.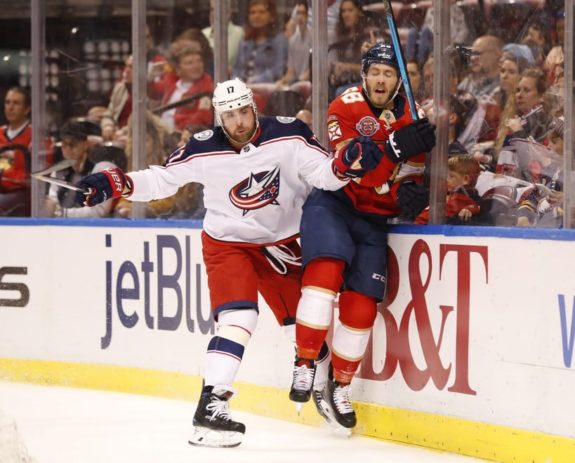 He has low-cost players on entry-level contracts who could be swapped for a player with a higher cap hit, and some prospects and draft choices could be dangled in front of teams with a cap problem.
#1 A Contract for Pierre-Luc Dubois
First-line center Dubois is a heart-and-soul playerm but he's a restricted free agent and needs a new contract. He doesn't have much leverage, other than holding out of training camp. Kekäläinen can be patient because he holds all the high cards right now, but having a happy Dubois in camp and ready to go for the 2021 season would be good for both the team and the fan base.
Bribing Santa with Milk and Cookies?
There are a few things that the Blue Jackets can do to help make this wish list come true:
Ice time for the young forwards. Unless that scoring winger arrives, those youngsters are likely to get time in the top-six, especially with Nyquist unavailable for the first weeks or months of the season. Coach John Tortorella will give ice time to whoever earns it.
"Persuade" the Kraken to select a player other than Kukan in the Expansion Draft by offering a prospect or draft pick. But hindsight is a part of hockey and Vegas was bribed to select William Karlsson rather than Alexander Wennberg. How'd that work out?
Pay Dubois for potential. Even if the club takes the "What have you done for me lately?" approach to contract negotiations with their star center, they should pay him well. His continued growth and development (remember that he's only 22) led to a stellar performance in the 2029-20 postseason (10 points in 10 games).
Dear Santa: It's not like they're asking for Connor McDavid or Auston Matthews to fall into their laps for a low draft pick. They're not even asking that the pandemic to end so fans can return to Nationwide Arena. Heck, you could even classify these as "stocking stuffers" rather than "brightly-wrapped-presents-under-the-tree." No, the Blue Jackets aren't asking for too much, just a few little things that would improve their chances of winning the Cup in the next couple of years. 
---
---